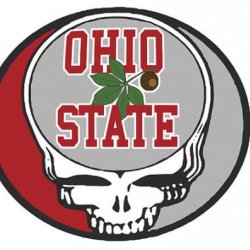 saintstephen11
---
MEMBER SINCE January 04, 2017
Recent Activity
well that sucks. Hoping for noon game on Fox. Nothing better.
root for Bama to go undefeated. They will get in regardless so if they beat everyone else that will help keep a 2nd and 3rd SEC team out.
You had me until #3. ND isn't losing to anyone else if they get past GA. If ND can beat GA they will crush UM.
Rooting for GA.
Chase Young (even over Fields).
I'm not convinced that LSU is elite yet. Their defense doesn't look that great. Let them beat Bama and then I'll change my mind.
Hopefully it is a noon game.
the lines for all games are always set to get the money bet evenly. Having 50% of the money on each side is the only way to ensure they make money on each and every game.
Bama is in with zero or one loss. There is no scenario where they get left out. Clemson is already in too. The other teams are playing for two spots unless miraculously Bama loses twice.
Most years, Knox and Pridgeon do not start for OSU. The two of them coupled with Jordan playing out of position gave us one of our worst lines in years (and they still weren't bad).
OU, Bama and Clemson are already in the playoff unless they have two losses which is unlikely for any of them. OSU's best chance is to go undefeated. I can easily see a scenario where OSU is a one loss conference champion and getting left out again this year (even without a bad beat on the schedule).
If they loved money they'd stop with all the SJW horseshit and stick to sports. I haven't watched since they started that crap and I know they lost viewers in droves because of it. I know they have fired a few of the most militant ones but too little, too late.
Auburn beat Oregon. Washington lost to Cal.
The statistics are most likely horseshit too. It truly is an unknowable number.
My company makes 100s of millions, I am only making a small fraction of that. Am I being exploited?
If you don't think you have much of a case, you ask for a lower number that you think will get you a quick settlement. They are definitely going to fight a million dollar lawsuit, but a small amount of money it is easier to pay it off quietly than pay the high legal fees to fight.
signed contract and videotape each session.
I second what Atl says. There is good debt and bad debt. If your debt isn't making you money then it is bad debt. The only way I wouldn't pay down debt as fast as possible is if my interest rate is lower than what I can make on that money elsewhere. If your student loans are say 5% and you can put the money in risk free investments at 10% (you can't) then it make sense to invest the extra money rather than paying down the debt, but other than that getting out of debt as quickly as possible is a smart move.... otherwise you are just giving your hard earned money away for nothing in the form of interest.
That can be said of everything ever written in print.
someone translated this in the comments. hysterical. The memes are also pretty funny.
You need to read more articles then as it was in every article on the topic that Gruden thought it was funny and enjoyed that he posted it.
Maryland beat the second best ACC team so they have my attention. The ACC may not be strong, but Syracuse has played Clemson very tough the last two years and probably should have two Ws to show for it. Maryland destroying them is a good victory.
One of our losses is in conference. Rutgers lost to Iowa.
Two for SEC.
Early season losses ...
SEC = 7
B1G = 4
for completeness ...
ACC = 7
PAC10 = 8
Big 12 = 3 (10 teams)
Maryland will kick the snot out of TTUN. It will be a blood bath.