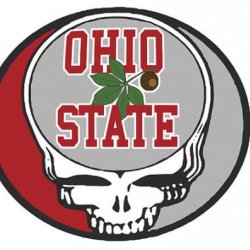 saintstephen11
---
MEMBER SINCE January 04, 2017
Recent Activity
I have always believed that Arya is the one to kill Cersei.
he is committed only because he didn't officially decommit ... whatever the hell that is.
OSU is not even in first place right now.
Baldwin and Burrow handled their exits with class. I will root for them going forward. Tate? not so much.
The transfer portal season isn't over yet. We will see if Michigan keeps all three.
I truly believe he is homesick. It could be something as simple as his hot girlfriend is back home banging his best friend. 19 year olds don't think the same way as adults. Think back to how stupid you were when you were 19 and shit that mattered to you then is laughably dumb today. This could have nothing to do with football at all. And if so, be very grateful that we have Fields or Miami's 3rd string QB would be our starter. Think about that for a second.
Unfortunately many do not see that this is the only reasonable conclusion.
+1
We hope Patterson stays your QB because he blows.
In the aftermath, we would have wound up with only 1 of the 3 QBs any way you slice it ... so which one do you wish we had? I'd take Fields.
If Fields didn't come in Baldwin still would have transferred. He either still would have been homesick or he would have been 2nd string ... so he would have transferred. And if he had beat out Martell, Martell would have transferred. Of the three, I'll take my chances with Fields.
Not going to bad mouth him. He handled it much better than the midget did. It sucks but with our schedule we could still win the B1G with Chug at QB. National championship is out if Fields gets hurt.
It could be worse, we could have Shea Patterson as our QB ... so there is that.
PSU's presumed starting QB is in the portal. Doubt he'd want to be a backup but something happened there for him to leave. Wonder if he got beat out.
Martell is listed as third on the depth chart at Miami. There was an article the other day that mentioned it.
There is a very simple solution to this whole mess and that is to make a scholarship like a contract. You sign a four year deal no transfers until your four years are up. You sign a one year scholarship, then you can transfer at the end of the year. Two years, then transfer when your commitment is up (two years). This way everyone knows what they are committing to. One school only wants to give out 1 or 2 year scholarships then that is their choice. They risk losing kids that want a four year commitment.
too late. we have already raised a generation of self entitled kids who can't handle adversity. It is our fault.
From what little I saw, your 4th string QB is the best of the bunch (Joe Milton).
4 best vs. 4 deserving. No one in their right mind thought ND was one of the 4 best teams last year. Vegas would have had them a huge dog against OSU if they played at the end of the year. They were one of the 4 most deserving though. So did the committee get it right?
We would have beat ND by 3 touchdowns last year if we had played them. They were a shit team that got exposed once they had to play someone good.
There were hints of a boom post-Cavazos. Didn't happen ... yet.
read the article. He is 3rd on their depth chart. That is more than a couple of scrimmages.
Pretty much knew he wasn't going to win the job down there. Given yesterday's performances, he would have had a better chance had he stayed. Still probably would have been second string here, but better than 3rd string down there.
you need to let go of that stat. One it is dumb and two it is wrong.
they missed one too. Didn't Quinn Nordin get kicked off the team for calling Harbaugh a motherfucker?