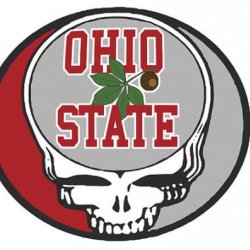 saintstephen11
---
MEMBER SINCE January 04, 2017
Recent Activity
And Old Miss is Maryland.
This is the correct take.
Rooting for Wake Forest too. Surprised that one wasn't on the list.
My faint memory of Moss was that he had severe grade issues and had trouble getting eligible.
The only places I'd rate lower than Arby's and Skyline are Taco Bell and White Castle ... BK is probably on par with Arby's but definitely better than Skyline.
sorry. let me focus all of my energy towards PSU and TTUN so that the team doesn't lose. I'd hate that my posts are the reason why we don't make the CFP.
You will see Clemson - OSU this year (barring a fluke). If it isn't in the semis, it will be in the final. LSU/Bama/Ga/Oregon are not beating Clemson.
This is the equivalent of the pitcher throwing an inside pitch because the hitter is hanging over the plate and then batter charging the mound and hitting the pitcher over the head with a bat. I'd be shocked if he wasn't suspended for the season.
I'm not convinced LSU beats Georgia. The only way Georgia loses that game is because Kirby manages the game like James Franklin ... or is it James Franklin managing the game like Kirby? I get confused.
as long as they don't pull him prematurely.
Wow. What a bunch of whiny bitches and most of them don't even know the facts of the case. I hope we beat them by 70 this year.
Probably against FERPA laws.
Like Don Cherry this past week.
Osu would beat LSU by 21+ points. Offenses are about equal but defenses are light years apart.
Clemson is the only team in our way to a championship (assuming all teams play to their capabilities). OSU has a letdown then all bets are off (see Purdue last year).
I'll take OSU (-21) vs Bama all day long
fewer yards than our backup this year too. lol.
Read their words ... right out of Mullens mouth. LSU is the most deserving team. He didn't say they were the best team. So the goal has switched (which will hurt Bama). It isn't the 4 best teams, but rather the 4 most deserving teams.
I'm rooting for Auburn over Georgia and Alabama and then a Georgia victory in the SEC CCG.
Let the committee try to figure that one out.
If your facts were accurate you might be onto something, but they aren't so ....
I'd set the over/under on games missed at 2.5.
Beating LSU or Bama will be easy. Clemson is the tough game.
Vandy, Arkansas and Rutgers are the three worst P5 teams in America.