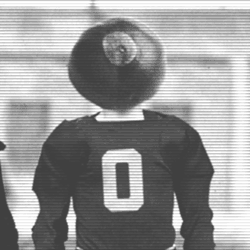 SackMan
---
from Columbus, IN
MEMBER SINCE August 22, 2017
Favorites
COLLEGE FOOTBALL PLAYER: Ryan Shazier
COLLEGE BASKETBALL PLAYER: Aaron Craft
NFL TEAM: Indianapolis Colts
NBA TEAM: Indiana Pacers
MLB TEAM: Cincy Reds
Recent Activity
I have always held the sentiment that this guy deserved a lot more of the blame than Schiano gets. Alex Grinch was the only common denominator on the team, as Schiano still put together respectable, albeit not stellar, defenses during his tenure. Grinch also came off very sanctimonious and defensive in his interviews, like it was him versus the players. So naturally when I heard about his comments to Ryan Leaf about our players being lazy, I was not surprised one bit. He seems to let his ego get in the way of effectively doing his job, which he is not even very good at doing in the first place. I do not like Alex Grinch as a mentor to young men.
Ironically, using student loan money to pay off a debt for something other than coursework is most likely, in and of itself, an NCAA violation.
He is explaining that you cannot use absolute values when determining something that is entirely relative. Strength of schedule, is indeed, completely relative and can never actually be determined accurately before all of the games have been played.
Unfortunately for us fans, I do not believe having won awards in journalism qualifies one to assess a teams ability to stop the run...
See, I thought the exact same thing when he asked Urban about Joe Burrow, turns out he actually is a genuine dumbass.
They had to add another buy this year because November fell just right to where there ended up being 5 Saturdays. They had to add another buy to line up the last weekend to Thanksgiving.
Alabama got into the Playoffs in 2017 after losing their last game to Auburn and not even making the SECCG.
I hate narratives like this, "What won't be lost on the Committee is the way OU took over in the 4th quarter and battled back"
Oklahoma put themselves in that hole! It's not like OU started the game down by 4 touchdowns and the entire goal was to come back and win.
They gave up 48!! points to a team that got smoked by OkState and Baylor!
One of the only two non-biblical male names you're fond of is "Chance", because the others sound stupid? Slightly ironic.
"Its not like we can schedule ourselves" - Nick Saban (probably)
Rest guys that are healthy against a B1G opponent? You are going to have to explain the thought process behind this theory. There is absolutely no way this is happening.
Baron Browining's play on the field this year really solidifies Bill Davis' inability to coach the linebacker position.
Dude, he sat out the whole season last year, just let the kid play.
Degenerates never learn, do they?
Idk whats funnier, the fact that we are third (below PSU as well) or the fact that we aren't even a full percentage point ahead of Minnesota, for crying out loud.
After complaining last week, I would like to think I had something to do with bringing back the "Sad Gergia Fans" sections. Always hilarious!
I know I have pondered this same thing as well, it does seem a bit like sour grapes from us fans. However, it was almost instantaneous how fast Georgia went from "eh" to Bama level talent.
Just replace Urban with "The GOAT". Done.
Awwhh man, I was waiting all day for the "Sad Georgia Fans.." section of this article. i really enjoyed that the last couple weeks! Please bring it back!
It is hard to say, I would take a poke at it, but I am feeling a little flaccid today.
I don't think that word means what you think it means.
How about Bama plays Georgia in the regular season for once--you know....since they're in the SAME CONFERENCE and all. No one wants to watch two SEC teams play each other in the playoff that played each other in the regular season ONCE in over 10 years. What a pathetic way to dodge the best teams in your conference.
THE MIGHT SEC IS THE KING OF COLLEGE FOOTBALL -- Anyone know the last time Georgia beat Bama? Yeah that was 12 years ago. LSU? That was 2011, 8 years ago, the same year they proceeded to lose to them in the National Championship Game a couple months later. The SEC always has been BAMA and everybody else. The SEC conference as a whole can blow off.
I believe he threw for his career high in yardage against us last year, if I am not mistaken.