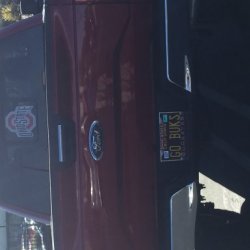 SAC-TOWN BUCKEYE
---
Sacramento, CA. (via Sacramento)
MEMBER SINCE February 14, 2015
Born & raised in Calif but grew up a Woody Hayes Fan!! I bleed Scarlet & Gray in Calif.
Favorites
SPORTS MOMENT: Anytime we beat TSUN
COLLEGE FOOTBALL PLAYER: Eddie George
COLLEGE BASKETBALL PLAYER: Tyler Hansbrough
NFL TEAM: Miami Dolphins
NHL TEAM: San Jose Sharks
MLB TEAM: Atlanta Braves
Recent Activity
Hugs & reach arounds....yup, that's classy!! Keep postin bro...I'm impressed!
To bad there's so many haters on this site! The dude is gone....let it go!!! For all the posters referencing "Tathan" grow up & act like you have an IQ!!! Ok, start downvoting me now...no worries, I don't come here much anymore anyways!!!
I think Schiano stays 1 more year before finally leaving for a NFL coordinator/College HC position. Chris Ash has been given 1 more year at Rutgers, and in my opinion will be let go after that! Bingo....Ash back to Cbus as D coordinator!
BatArea Buckeye is a fucking idiot!!! Go jump on someone else bandwagon....
I like many others completely stay away from the open threads anymore because of all the negativity. Some posters comments actually take me away from the game because I found myself angry at such stupidity...and that is just unacceptable to me!!
I love me some buckeye football and will continue to visit this site daily, although I rarely comment I do enjoy most content! Keep up the great work 11W and THANK YOU to the OP for putting this out there for ppl like me who feel 100% the same as you!!!
GO BUCKS
How about the dirty dozen....seems like a different receiver is catching 2 TD's every game...
Ummmm, how many yards did Jonathon Taylor have rushing against us last year?? What about 2014 when Wisconsin had a Heisman candidate in the backfield....how many yards did he rush for?? Just Sayin, we hear this every year about Wiscy….
Yes Texas is a blue blood, but they haven't been revelant for years...no interest (clickbait) no story.....
I had to log in just to up vote this!! Haven't laughed this hard in a long time!!
Arizona, UNC, Nova, MSU. Carolina goes back to back for ole Roy with a win over Nova in the final!
Looks & sounds like he's got a little Jack Tatum in him!
GO BUCKS
Wish I could upvote this 100 times...well put sir!!
GO BUCKS
Wish I could upvote this X1000
Go Bucks
Congrats JT, we couldn't have asked for a better person to represent us both on & off the field!!
If not for J.T. in 14 we wouldn't of made the playoffs! J.T. had a freckin Heisman type season to put us in that position! You can spin in anyway you want, would Cardale have won all the regular season games? I highly doubt it!!
Agreed Byaaaahhh, lots of armchair coaches here tonight that obviously know much much more than UM & the coaching staff! What I just don't understand is why their not on staff & payroll!! Personally, I think it's laughable that ppl base playing time on the spring game or against 3rd string defenses! What they (& us) don't see is the closed door practices or QB meeting rooms, beyond me what happens there...and even if I was privileged enough to be there, I (or them) still wouldn't have the experience or knowledge to make the correct decision! GO BUCKS
I think what killed us was not dominating Wisky. The committee clearly did not respect Wisky or their schedule, Wisky only moved up the rankings by default! I think if we win big last night (as we clearly should have) we were in! The committee saw a OSU team that couldn't hit deep passes and consistently shot themselves in the foot to stop drives!! We started out 21-3 then forgot how to play championship football!
I don't think Auburn winning out spells doomsday for us! If Auburn wins out that means Georgia will be a 2 loss team without a conference championship. It also means Alabama will be a 1 loss team with no conference championship AND a WEAK schedule!! I think the committee puts us in over both. Clemson is the team that worries me most, even if they lose to Miami they have a strong schedule as a non conference champion, the committee will have to debate that and hopefully last years debacle in the dessert is a forgotten memory. If Clemson wins OSU is in....of course this is all based on the good guys winning out!!
With the win over PSU, I think we jump Wiscy as well & move to #3 when the ratings come out Tuesday!!
Buckeye Strong in Roseville, CA.
Agreed Mayfield is a great QB & a favorite for the Heisman, but Mayfield has to be on the field to score points and get in rhythm with his receivers! I think our running game goes for 330+ yards and wins the time of possession battle to limit OU's opportunities! I like our defense, especially in the 2nd half to score a TD and set up a FG on turnovers. Good Guys win this one, running away in the 2nd half against a tired OU defense 45-16!!! GO BUCKS
Good to see the TRUE Buckeye fans commenting on all the negativity tossed around on the boards tonight!! After seeing members calll players "trash" & suggesting they "tape legos to their feet" and walk home.... after calling out coaches & players because we weren't winning 35-0 after the 1st quarter!! WTF is wrong with these fair weather fans? Makes me want to puke and leave the site during game days!! Chill out people & get a life!!!