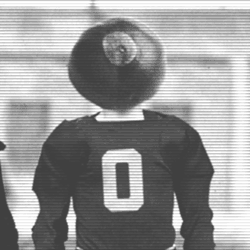 rWill22
---
Member since 25 November 2013 | Blog
Recent Activity
Oh my gosh chills at 3:03. Have never seen the angle where Brutus is waving the State of Ohio flag.. How amazing
Love it. Couldn't help but sneak a peak at Nick Bosa a few times on that defensive line. Boom.
Try to Google Map a trip from Geelong, Australia to Columbus, Ohio -- 1 day, 3 hours. Cam must just like frequent flyer miles..
May have lost his spot at Bama after this weekend? Only logical reason I can think of..
He's breathing so damn heavy.. Looks like he's finishing a marathon after every statement.
Only update I have.. nearly EVERY recruit was at Midway last night.
https://twitter.com/joshsweat9 -- This twitter profile is linked to his 247 profile..
There has got to be a way to tie Urban to this - ESPN
Great analysis, Bassdropper. Considering the MAC has had more top 5 picks in the past two drafts than the B1G..
I believe I heard Peter King on The Really Big Show say the same thing.
Hoke would be broke by mid-afternoon in the Big Apple..
Somewhere Mark Emmert is shaking his head in disgust at the notion of a free meal.
Bassdropper attempting to interpret this tweet is similar to the fake signer at Mandelas funeral...
Being a student and around a lot of these guys, I didn't want to get involved with this thread. BUT, I can tell you that I've seen EzE out more than any other player...
*Raise your hands if you want Braxton as your quarterback next year*
You know it's April when 11W forums are dissecting one of the worst photoshop efforts in the history of mankind...