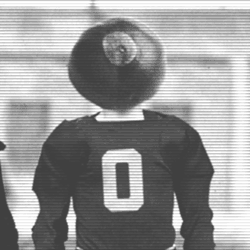 Rural Meyer
---
Member since 13 June 2012 | Blog
Recent Activity
Using years passed as a reference im calling an offensive player, Curtis Samuel
While I have no "insider info" I really think it's Louisville in cincy. Both teams have been trying to add each other but neither wanted to play on the road.
It's funny you say that... Because UK already offered both of them.
I've been looking for years for one of those jerseys. Anyone have any ideas?
I would imagine the chance is .001 that he joins this year. It's not uncommon for other coaches to watch practice and swap notes.
Everyone's pissed off, they can be mad at me all they want. The sad part is though I could criticize any other player and would have gotten up votes for it. #touchysubject
Those stats are taken out of context for a four year starter. Craft was a great teammate, competitor, student, and defender but was simply a run of the mill basketball players. Basketball is the game of getting buckets.
Craft couldn't make players open and that's why we struggled to have a balanced offense. IMO Scott would have done a much better job of dumping the ball down low and finding our perimeter players in better position. When Aaron had the ball he puts his head down and hope he scores.
Never questioned his intensity or commitment, but neither of those make you a ball player. The ball was simply in his hands way too much for my taste, and for his fourth consecutive year (excluding maybe kansas) we lost to a team who we were suppose to beat.
We go to the the sweet 16 with Shannon as our full time point guard. You simply can't have a point guard who can't shoot or pass.
Craft will go down as the most overrated player I've ever seen. Another game he takes the last shot, another game he plays sub par D towards the end of the game, another game he does an awful job passing. Good riddance, he's a great kid and I'm happy for him but my god he's a bad basketball player.....
and don't get me started on LSJ
I've heard a slew of people saying Daniel Cage got an offer. Can you confirm he does not?
Me and you are on the same page my friend
Ulmer is where it's at and who I want in this class.
The fact that they havent shifted either Decker or Fragel to another postion speaks well about the depth we now have. If we were really that thin I would have imagined one of them would start at another postion or would take some pratice snaps at another postion at least.
That projection is wack. Zeller was 1.... He has a wingspan of a T-rex
I think this is eluding to Urban converting Billy Price to the o-line now that we have another DL prospect
Paul Chryst to Pitt is the deciding factor for this kid, I think Pitt gets the hometown kid. I think the chances are better that tOSU gets Quick and/or Foster are better then that of Dorian.