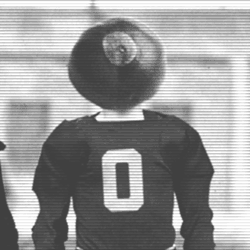 RUNTOWIN
---
MEMBER SINCE December 01, 2013
Recent Activity
Are you serious or kidding around? I mean, victory cigars are an actual thing.
Only reason I'll watch any of it will be to see if Burrow can light up Clemson's D like I think he can.
I've been nothing but extremely pissed about the replay official stealing the strip/scoop n score. But after reading this, I truly hurt for JO and the rest of this Buckeye team and staff - the whole program.
Reviewing Wilson's acrobatic catch, while the call went in OSUs favor, actually killed the momentum of their drive. In fact, they called a run to JK dead to do the review that looked like might go to the house...at least to the 5.
In sports, a team should have to overcome the other team and their own mistakes. No team should have to overcome officiating. Especially, when the play in question was called correctly on the field but overturned by some mystery man. To say, OSU shouldn't have made mistakes and it wouldn't have had to worry about officiating is flat out stupid.
Truly believed if OSU held them to 34, OSU would win. Could've never predicted the drops in the red zone or the TD taken off the board. If 1/3 don't happen it's a win.
He's so confidant without being cocky. He's smooth and cool but looks like a normal, middle aged dad-type. He's cutting edge but as an old school look in his eye. He just keeps seeming like the perfect for OSU.
Clemson's OL will not have seen anything like what the Buckeye's DL is capable of bringing. Unless it's in practice against their own guys. The DTs will need to be in the backfield ALL DAY and the rush lane integrity will have to be perfect all game long. If the Front Seven can stop the run and allow the secondary to get comfortable, I think the Silver Bullets will hold them under 31. If they can...OSU has a REAL chance to win.
"I wish that I could stay here and start working right now,..." To me...that's a really telling statement. I'm not happy with this thing. Wonder if the Clemson OC is doing a presser at his new HC job today...
Kills me that the cycle keeps repeating itself in regard to position coaches and coordinators being considered locks as HC's. There are a lot more assistants who come from a great head coaching tree that bust than boom. I think the new blue print is in place at OSU. Build an ORGANIZATION and appoint the guy from within that understands all the moving parts that are in place and can enhance the organization. Rather than having a shit organization and expecting somebody to come in who's never managed a program (Chris Ash comes to mind) and expect them to build the next great dynasty. It's unrealistic. But as long as a guy can go get paid millions to fail, it won't change.
What's the record for most points scored by a Buckeye team in a full season? I think the record was set in 2013, right? This team should be on pace to break it, I'd think. What about points allowed?
I think scheme has to be entered into that list. Remember in the days before Day when the passing game was throw it deep, throw it deep, or throw it to the sideline to the RB at the LOS? It was very incomplete. Now, with Day, it's a real passing offense.
I'd love to know how many missed tackles there were among the players making 85% of them. I don't think there'd be many. It was a lack of gap integrity that usually led to the big plays on the ground...not bad angles or missed tackles. So, if the new scheme makes it easy to play fast and still know where to be, this team could once again dominate the run game like the Silver Bullets we are all craving!
Exactly. And have there been any stories at this point of Urban being involved in anything from a football standpoint? I haven't heard anything other than him observing practice. His duties at FOX seems like a full time gig to me. Between the time it will take to travel back and forth plus the time to prepare for the show and do whatever little bit he is supposed to do for OSU, when will he have time to really bother Day?
Please get rid of that. Seems like pee wee pre game.
Everyone on the outside wants to say the Buckeyes are the underdog this year. However, I have yet to read an actual analysis for that conclusion. I'm not talking about one from the dip shit Gameday host from up North either.
Home game - check. (But who cares?)
Returning QB - check. (Again, who cares? What's he have around him?)
Anything else?
Awesome story! I could read stuff like that all day!!
Oh my God, I love the thought of this..."but so far he's looking like a beautiful blend of both Urban Meyer and Jim Tressel." If Ryan Day is this, he can be coach forever.
That's great! Thanks for the info. My wife is worried that we will get there and the trees will still be bear and it will look like winter. The cog railway looks awesome! So does driving up. Have you done that? Lots of breweries in Portland it looks like.
Thanks. Will the leaves and flowers all be out by then?
We are staying in North Conway and planning on going up to the top of Mt. Washington, a day trip to Portland, and several short hikes (have 4 kids ages 4, 8, 12, and 13). Do you have any pearls of wisdom on where we should go or what we should do?
I think they'll be good to go when it comes to in-game adjustments. That's what he's been doing his entire career. I guess the wild-card with that could be how well he does it with the new "OC" from Ok State. I think the biggest thing will be keeping control of the team through any adversity they may face early. Let's say the team is down by ten heading into the 4th quarter of the UC game. What do they do?? If they play their ass of but still lose...how do they respond? That kind of stuff will be where Day defines his 1st year, in my opinion.
Does the "NH" mean you're in New Hampshire? Going there the 1st week of June for vacation. Worried about the weather being cold and rainy. What do you think?
I just hope they can make every type of block so the run game (with the RB) can be complete. I want to see our RB's run power...not only the QB. That's one of the things I loved about watching the Okie State offense...they could attack in so many ways running and passing. OSU hasn't really been that way since we had Vannett and Heurman because there hasn't been a TE who could really block. For the RB to get the ball on power, the TE must be solid at both leading through and kicking out. For Fields to get to run power, JK must be able to kick out, lead through or seal back side. Very hopeful to see that stuff return to the offense. Those create explosive run plays.
These guys just can't keep their mouths shut! IT'S AWESOME!