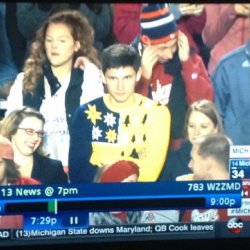 RuGettinIt
---
MEMBER SINCE December 02, 2013
Recent Activity
If we're in a dead period with no visits, how is Leigh on campus at FSU?
Coronavirus strikes again....
I'll take "Struggling to find things to write about" for $1000 Alex.....
A little late to the game don't you think. The Buckeye players were quite outspoken from the get go.....
The same Raiders that got rid of Gareon Conley....mkay
Michigan doesn't get by Rutgers in my simulation....
Cost has toilet paper? Not where I am. I happened to be there today and there was not a square to be spared....
Yeah I got blasted for saying that letting Styles go might be a mistake and was told that bloodlines don't matter....
You mean like Stephen A.....
I don't see how anyone could favor this team to win in any game left on the schedule. They are mentally, physically, and fundamentally unsound. The offense is stagnant and they all stand around watching. There is no go to player on the team. Hell I'd leave both Wessons on the bench to start the game. Play Young in the middle. Let the Wessons be the 6 and 7 men.
Right what a stupid play.
Holtmann is clueless
It's called help defense guys....try it
They pass the ball down low and have 4 guys standing on the perimeter and not in position to take a kick out. WTF kind of offense is that...
Bunch of guys just standing around on offense. No one moves, no one crashes the boards.
It's curious that there have been no published post game interviews on any Buckeye sites. Haven't heard anything from Holtmann.
Unfortunately, it seems Holtmann teams are fundamentally, physically, and emotionally weak. There also seems to be no sense of team or family. This was the same issue with Matta's teams the last few years. Just the polar opposite of the football program.

Why would any Buckeye fan watch that game last night? You want change you have to hurt them in the pocket book by killing their numbers....
My guess is that both these guys will transfer. I kind of already had that feeling about Washington after the last game.

Amazing how little you state about what you see Holtmann doing to turn this around. You must have Bball coaching background, so please enlighten. Please tell me what is our offense? Is it a motion offense or do we like to run? It appears that it is the stand around and watch Kaleb or jack up Ill advised 3 pointer offense.
What are the fundamentals and ball handling skills you see being taught? After all, we are once again at the bottom of the nation in terms of turnovers. Why was Washington benched when he is the best ball handler we have?
We're not going to win if we continue with the turnovers and poor shooting. That's one thing that's for certain.
Holtmann appears clueless. Team has no offensive identity. Their fundamentals absolutely suck. What does he recruit for? What is his philosophy? I feel like he is still learning on the job and wasn't ready for a job like tOSU.
It just surprises me that we can't either recruit players who understand or coach fundamentals. If you can't handle the ball, rebound, and play defense then you're not going to consistently win. On top of this the Buckeyes have no consistent shooters.
After some of the Twitter posts by meatchicken fans, I wonder how they feel about the lack of targeting calls and referees. At least 2 should have had been called on the Gumps. Don't whine meatchicken fan, it's unseemly and certainly had no impact on the game....
I know I won't watch for the second year in a row...
They're in it for the long game. Anything good for a non ESPN owned conference is bad for their brand. Can't have the Confederate Playoff Championship game with a Fox brand Northern team in it...
sEcSPiN got what they wanted. Their conferences in their championship final. They can now continue their southern diatribe ad naseum for another year.This is worse then the BCS format. They've ruined the game.