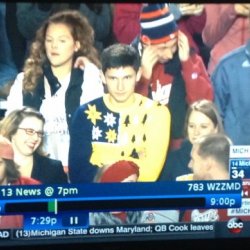 RuGettinIt
---
Member since 02 December 2013 | Blog
Recent Activity
Have you met the tOSU fan base (say it like Barney Stinson)
You mean like the Ohio kids that went to Duke, Kansas, MSU, etc. when Thad was coach. Give Holtman some time.
Banking a scholarship for future use instead of using it on a player who may never play. It also spreads scholarships out over future years.
So, Young was not a recruiting win?
Yes, would have liked to have kept Jent if he wanted to stay. Hate to see a former player and Alumni with his playing and coaching experience leave.
Jim letting everyone know that Mrs. Harbaugh wishes he was this big.....
tOSU needs to get the football media staff to work on leading the reporting. No way we should be letting the twats at ESPN and other outlets be leading the discussion on our coaching search. McDermott PFFFFFFFTTTTTTT....
Two words....Cluster *uck
Kids don't commit to coaches they commit to schools....wait what....
Yes, that is exactly how you build the resume Meyer has...by playing the lesser player.....c'mon man.....
I'll take "The Rise and Fall of tOSU Basketball" for $1000 Alex.....
I like the comment in the article about 12 players on the team and building the bench. Great idea and one I have advocated for a long time, along with learning how to rebound and shoot free throws. I will ask when has Matta ever built a bench beyond 6-8 guys in any season he has been the coach.
Loving never should have come off the bench...
And Billy Joel does? We talkin PRESSURE.....
Another good "Pressure" song.....
Maybe Thad should have a conversation with John Cooper about "PRESSURE"....
Who on this staff is going to coach him up? There hasn't been any decent player development in years and I wouldn't be expecting any moving forward. Personally, I think Nick Ward saw this and went to MSU where they know how to develop players.
Another loss and same attitude and comments by players and coaches. Clean house, the whole house.....
Who cares at this point if any of these guys come back. What did Lyle do this year other than take on Loving's shit attitude and play. Hell I'd consider wiping the whole team and maybe just keep the freshman and incoming recruits.
Can't wait to hear the same tired excuses from the same tired players and coaching staff. I don't know why Loving wasn't sent packing two years ago. He is the epitome of everything wrong with this program....
i don't know how Smith could give Matta a vote of confidence....nothing says we strive for nothing better than mediocrity than another year....
What a shit show.....so glad we have Matta's great leadership to look forward to next year....
The ole tOSU is not a CBB blueblood arguement...man that is old and tiresome. Duke was nothing and MSU wasn't all that on a consistent basis and their coaches were not household names when they arrived on the scene.
tOSU had good runs with Taylor and Williams in the past before Thad arrived, so I would disagree that Thad made tOSU "relevant". I often wonder what the program would have been like if Williams had not left to go back home to Maryland. And to say this is just a one year thing is to be blind to the consistent slide that has occurred over the last 6 years.
Thad had done a great job in the past, but the past is the past and the current state of affairs is mediocre at best.
The package deal stuff always cracks me up. If you get an offer from tOSU and you want to play there and your buddy doesn't get his offer well what are you going to do? At some point in time you have to get on with your life.....