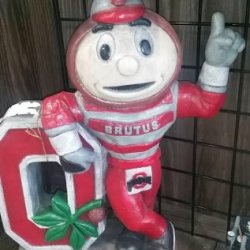 Ruby5
---
MEMBER SINCE September 27, 2016
Recent Activity
Let's not forget that Teague is a good blocker and seems to have good hands. That is a key to being a starting back in this offense. We just haven't seen enough of the other guys yet. I have no issue with rotating 2 backs that have different styles. Mack truck and shake n bake will keep a D on their toes.
Not sure why someone would down vote your comment. Maybe it needs to be reviewed by the SEC referee crew. They might have multiple looks and angles which we can't see. SMH
This is the first time in a long time that I'm not worried about guys going to the draft. O Line will be best of class again with the addition of Wray and NPF. Good backups as well. Teague doesn't cut like Dobbins but he's a beast. Watching Dobbins offseason work ethic will make him elite next year. Plenty of talented receivers and TE's. Lose Young, Coop, BB and the secondary. Browning finally living up to the 5 star, M Harrison hopefully stays, Werner, Borland, Zach Harrison takes over for Young. The kid played well against Clemson. Secondary is the only issue I see. 7 Banks needs to step up. Get Coombs back in as the coach and he will have those guys ready!
I'm still not over the game but man our future looks bright.
Oh man pointing that out made it more painful. Dang
Good catch on my oversight. Excuse my ignorance but which one got hurt Crowley or Chambers? I thought it was Chambers.
Based on Ryan Day's comments about not chasing guys that don't won't to play for Ohio State, this news comes as absolutely no surprise. My take on Day's comments yesterday pointed directly toward Phillips telling them he was flipping. Good luck winning championships with Utah. Kerry Combs is shaking his head right now.
Coach Mick will have Williams looking like a Mac truck in a year. I fully expect his speed to get better as well. There is nothing wrong with having a back that can guarantee a first down on 3rd and 2 or TD inside the 5. I think this is a really good addition to Teague and Chambers. No doubt this kid will play with a chip on his shoulder to prove to everyone that he belongs. Welcome to the Buckeye Nation!
Seriously.... I had to follow Barf's post. Life isn't fair. I will go crawl back into my hole like that badger..... errr wolverine??
BOOOOOOM! Way to go Chase Young. Hoping that the coaches can put together a game plan to get you free against Clemson.
My brother and I were texting each other the same thought. I'm a Mack fan and unfortunately he has been dinged up a lot in his career. However, Olave is clearly the best receiver and Fields go to guy.
I feel like the Bucks won the lottery with him. Just goes to show you that recruiting stars mean nothing once you walk through the doors at the Woody.
I thought the same thing. 3 weekends off (bye week) gives him plenty of time to rest any little nagging injuries that are part of the game, at this point in the season. It also give Harrison another week of more PT. As long as he doesn't flex after a sack, he will play more than 18 snaps.
The Rutgers QB has upvoted everyone today. I heard the kid the kid has personally thanked the NCAA for the additional game suspension.
Chug is living the dream. There is no way he showed up last year thinking he was going to be getting the PT he has this year. If all goes well, he is going to get a full quarter this weekend. I actually thought he should have gotten the full half last Saturday but Day probably doesn't want his #2 getting dinged and not being able to play.
Could anyone provide any insight as to why Coop would have needed surgery for a sprain?
A quick start is needed in the trenches tonight for sure. I really like the physicality Teague brings to the backfield. Chambers looked pretty impressive last week as well.
While Hoak might be "good" he is not great. I have been told Fields is "the best QB in college." That has yet to be seen but I sure am looking forward to seeing it come to fruition.
Coming from my source, who's kid was an All American QB in the 2019 class, Fields is going to be a great one. This person firmly believes that Fields is the best QB he has seen on the Elite 11 circuit the last few years. That is saying a lot when you have seen all of these kids up close and in person. My source thinks Lawrence is an absolute stud (proved it last year) but Fields is a better all around QB. I believe there is no question that Fields will start and do quite well. Some of you should just worry about him getting hurt instead of how fast he learns the offense. If he gets hurt, the Bucks are up the creek without a paddle.
Liam is legendary. I want to be friends with that guy!
Best player interview IMO. JO is articulate and very interesting to listen too. I hope he absolutely balls out and stays healthy this year. I would love to see him get a pick six against TTUN.
Cooper has H Back written all over him. That kid's side step is impressive.
As a Steelers and Ryan Shazier fan, I'm glad to see him continue the grind on the road to recovery. I do think he would be foolish to strap the pads on again. However, I love the fact that he is inspiring the folks in the Steelers organization from top to bottom.
Just close the transfer portal and we are all set.
I guess Colorado State was technically closer. This new norm is really upsetting. Correct me if I'm wrong but Ohio State paid for his knee rehab.