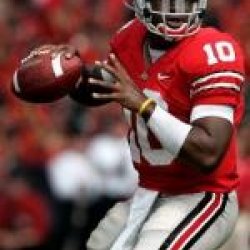 Royball
---
Member since 10 October 2012 | Blog
Favorites
SPORTS MOMENT: '06. The Game.
COLLEGE FOOTBALL PLAYER: Troy Smith
COLLEGE BASKETBALL PLAYER: Mark Titus
NFL TEAM: Tennessee Titans
NBA TEAM: Cleveland Cavaliers
Recent Activity
Pretty sure it was Tuberville, considering he did an all-access piece with SI leading into the OSU game, and they were able to abuse our secondary for about 3 quarters...
But they are losers. Just like the Empire.
Dammit, my comment was going to be "more worried about him only leg pressing 3 plates than what he's actually wearing"... great minds, I guess
I'd like to see EGW and an older guy (Brionte Dunn? Warren Ball?) to make sure he doesn't try to do anything crazy like bring it out from 8 yards deep (like what we had with Evan Spencer back there last year). Either that or Kevin Feder.
He means Taivon (sp?) Jacobs
Yup, I can completely see where you're coming from. Their QB and skill on the perimeter is pretty terrible, but I also look back at the build of Harbaugh's old Stanford teams. They were built around a dominant line, adequate RB's who can make one cut and go, QB's who can manage the game and hit the occasional big play, and some great TE's. As for their defense, their staff is undeniably stellar, and I'm sure they're going to have a good enough defense that they'll be able to hold their own against #B1G offenses.
With Jake Butt already in place, they already have a terrific TE who can block and be a weapon in the passing game. They have a stable of talented, but unproven, backs, and plenty of slobs up front to mold from Hoke's recruiting classes. As for QB's, Harbaugh's body of work speaks for itself. The only thing that makes me think they'll disappoint is because their receivers are ahem, a clown show.
Back to back Michigan State, followed by what could be a 9-2/8-3 Michigan team at their place
Yeah, but is #Elite15 as #elite as Joe Flacco?
Damn, you had to figure he would be shadowing Greene all game, who might be the most underrated/clutch player in the country. Don't know who else they would have to step up to the task.
I was at the game, and one thing that struck me when we first got into the stadium was just how pumped Wisconsin fans got whenever they saw some other Badger fans, like they were few and far between. It wasn't until we got into our seats and started doing a pre-game O-H-I-O around the stadium that you could hear and feel just how overwhelmingly pro-OSU the stadium was. By the late 3rd quarter, when the Wisconsin fans had left, there was one sliver/corner that was empty, and a pretty much packed crowd everywhere else. Easily 75-25 OSU, based on how loud we were, you would have thought it was 90-10.
Russell Wilson only set the all-time record for pass efficiency in a season, I'd say he's a good candidate (if we're just saying best since VY).
Gah, beat me to it by 4 minutes. Gotta feel good about our chances...
Love that the list in '08 says 'F.S. Shugarts'. Just had traumatic flashbacks: 'false start, #76, offense. Five yard penalty, repeat first down'...
Forgot to mention, said his best relationship was with Larry Johnson
Had a great visit yesterday, and during an interview earlier today, stated that he no longer has a favorite, more a top group of Notre Dame, OSU, MSU, Michigan. Wants to get back to Notre Dame, and visit Penn St. at some point.
Love it. I say offer both Jones and Waller when Herman swings west (which I thought was this coming week?).
Does anybody think of Bryce Petty when watching him?
Has to feel extra sweet for these guys, considering that we've had our National Title runs foiled year after year by USC for about 5-6 years now.
He's at it again: http://www.landgrantholyland.com/2014/2/2/5371790/ohio-state-recruiting-kerry-coombs-locker-room-pitch-video
Also featuring a little cameo by Raekwon
Correct me if I'm wrong, but I thought this was the story Anderson was talking about, since it came out about 2 days after his twitter comments:
http://sportsillustrated.cnn.com/college-football/news/20130904/alabama-texas-aggies/index.html
If so, talk about not living up to the hype.
Yup, this season especially is going to be a year-long zero tolerance policy
Nice, long strides, and that throw at 1:42... beautiful. Great size, nice throwing motion, fast... what's not to like?
Don't think I'll ever have it in me to root for ND after reading this:
http://www.startribune.com/opinion/182204731.html?refer=y
It sums it up so well, it feels like you did it on purpose