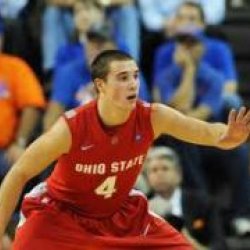 rosycheeks
---
MEMBER SINCE September 26, 2013
Favorites
SPORTS MOMENT: Every time Ohio State beats Michigan
COLLEGE FOOTBALL PLAYER: Every Buckeye that's ever beaten Michigan
COLLEGE BASKETBALL PLAYER: Aaron Craft
NFL TEAM: Aaron Craft's favorite team
NHL TEAM: Team USA
NBA TEAM: Whoever will give Aaron Craft a chance
MLB TEAM: Cincinnati Reds
SOCCER TEAM: USMNT
Recent Activity
Who's the best LB in the country? Him.
Long before he became CAR-DALE-JONES, I made a comment on here about how awful he was. Glad to be so, so wrong... And yet, I would still say that 3-game stretch was a weird, awesome blip on the radar, and I'm not the least bit surprised he hasn't made it in the NFL.
Is Miami's long snapper really named Mason Napper???
Right or wrong, he still is a slimeball.
This is also true.
I've heard two kinds of takes. (1) Dabo shouldn't give him one. He wasn't on the team. (2) Dabo's a slimeball.
How about he was under no obligation whatsoever to give him one, but he could have, but he decided not to, and that's perfectly fine. Sorry there are no extremes there so I wouldn't be good on First Take.
Nah there's gonna be a decline.
+1 for cherry cheeked killer
I totally wanted to watch that whole thing. That's the offseason in a nutshell.
I don't play video games, so when I see stuff like this, I'm frightened by how realistic it looks.
You're telling me the odds are OSU will decline when replacing a legendary coach with a first-time head coach? Man, you are really out on a limb there.
Alright, alright, 61-39.
Suck it, Michigan.
Putting the wrong Addazio on the text chain... Can't believe I'm the first to mention it. Big gaff!
I don't for the life of me understand why Michigan guys come on an Ohio State board and seem like they're trying to make friends. I mean, welcome and stuff, but I just don't get it.
RB is the position where you want to whiff, if you're gonna whiff. Plenty of athletes out there who can be handed a ball and told to run with it.
Give your holder a pat on the helmet, kid.
This isn't a new tradition, but I'd continue the one where they beat Michigan every year.
I'm glad this guy is coaching. Somewhere else
Hear hear (here here?).
No they didn't. https://www.thelantern.com/2015/01/ed-warinner-promoted-to-offensive-coordinator-tim-beck-named-co-offensive-coordinator-quarterbacks-coach/
Herman and Warriner didn't co-coordinate
Kosta Koufos being known for his defense and rim protection was not something I saw coming.
Day's level of success on the recruiting trail so far is remarkable. Win this fall, and this is going to be a juggernaut.
I didn't say the floor for OSU 2019 was 6-7. I said the floor Ryan Day as coach of OSU was Luke Fickell. Good coach.
Did I say Fickell as the floor is bad? You read a whole lot into that.
Very interesting. That team has some real up and coming shooters.
Ceiling: Urban
Floor: Fickell