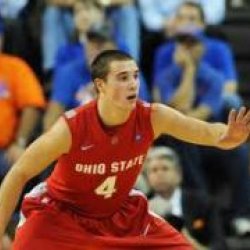 rosycheeks
---
MEMBER SINCE September 26, 2013
Favorites
SPORTS MOMENT: Every time Ohio State beats Michigan
COLLEGE FOOTBALL PLAYER: Every Buckeye that's ever beaten Michigan
COLLEGE BASKETBALL PLAYER: Aaron Craft
NFL TEAM: Aaron Craft's favorite team
NHL TEAM: Team USA
NBA TEAM: Whoever will give Aaron Craft a chance
MLB TEAM: Cincinnati Reds
SOCCER TEAM: USMNT
Recent Activity
He's the best. Well deserved.
Sounds like the international soccer community is asking for trouble.
So is acting like you were shot when someone breathes on you. *shrug*
I don't care that he addressed it. It was still dumb. Alabama got the ball back with 1:30 to go instead of 0:51 to go. For the record, they were at their own 33 yard line with 35 seconds left -- when the game should have been over. That ending was far closer than it should have been.
Oh, and not just a passing play, but a low-percentage passing play.
Zeke put the game away, but Urban opened the door by calling a passing play for some absolutely idiotic reason.
Yeah, what? Nobody's amazed that he managed to put one foot in front of the other really fast for 85 yards. It's the fact that he did it against Bama in the national semifinal to effectively put the game away.
Looks like you're right. Not sure who DV'd you but it wasn't me.
As I recall, OSU was after him pretty hard, and after he chose TTUN, OSU ended up with...Chris Olave.
Could be way off on that, but if true, then LOL.
If he's going to be present for the week, I hope for the case of the charity that that's not publicized.
Probably staged. But still a valid response.
I mean, their results over that time period are right there with TTUN's...
I wonder if he's kicking himself
I couldn't get past, "What kind of a believer are you in Kyler Murray as a pro"? Answer: "You know what, it depends on what do you think, um, what do you think his, his, uh, his career is gonna be like?"
PROFOUND.
<click>
Are there two Chris Ash's in that picture, or does he have a twin, or what? I couldn't care less about the big black boxes, I am transfixed by the dueling Ash's. Hands in pockets, same clothes, even the shirt collars are identical.
Interesting stuff. My company uses it, and the baseline for my team's position is 25. When I've seen some 21's come through to me for interviews, the difference in the candidates has typically been pretty apparent. I can't imagine anyone scoring a 9.
Dang it. Wrong Notre Dame. It's hard to find good workers these days. If you want something done right, you have to do it yourself.
Wow, what a dork. This guy reminds me of the least competent guy in my workplace.
GREAT ARTICLE ON ESPN'S SITE
What's this "ESPN site" you're referring to. URL?
Put the phone down, Dad.
Guys, maybe he didn't mean it in a bad way.
"A short foot race"...lol. And then did he fumble the gun too?
I'm surprised it took this long.