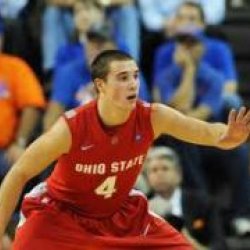 rosycheeks
---
MEMBER SINCE September 26, 2013
Favorites
SPORTS MOMENT: Every time Ohio State beats Michigan
COLLEGE FOOTBALL PLAYER: Every Buckeye that's ever beaten Michigan
COLLEGE BASKETBALL PLAYER: Aaron Craft
NFL TEAM: Aaron Craft's favorite team
NHL TEAM: Team USA
NBA TEAM: Whoever will give Aaron Craft a chance
MLB TEAM: Cincinnati Reds
SOCCER TEAM: USMNT
Recent Activity
Isn't saying it's racist MORE insulting?
Answering either true or false implies that Kanell has a brain, so I will recuse myself.
"Baron's one of the smartest guys, as far as seeing things and catching things, he's as sharp a guy as I've ever been around," linebackers coach Al Washington said of the Texan.
Is Day making all the new coaches watch Urban pressers??
Is Tuf Borland the most ordinary-playing multi-year captain in OSU history? Not a shot at Tuf -- he's solid. But to think he could become a 3x captain next year is amazing.
What do you think the LB rotation should look like right now?
I don't think there will be anyone more conflicted this weekend than Fickell himself.
I don't know about this. Can you imagine what a W over OSU would do for his program and his career? I'm sure he loves OSU, but man, I have to think he really, really wants to win this weekend, and there's not a whole lot of internal conflict about that.
"I don't even think I've completed 87 percent of my" Well done...
280
I pray I'm still saying this in week 3.
I've been thinking it, and I think this is a great time to say it out loud (to my computer screen): I am glad that Ryan Day and not Urban Meyer is the head coach of tOSU football team. Nothing against Urbs, either.
While watching the Florida-Miami disaster on Saturday, my 6yo asked, "Dad, why are there rankings already? Nobody knows who's good yet."
Out of the mouth of babes.
Was Cardale in attendance for that story? Wondering who Urbs nodded at at the end.
Kevin Wilson:

Wilson said the Buckeyes will use social media and other media sources to find information on their opponents going into each week's game.
On Justin Fields: "When he takes off running, he's maybe as fast as I've seen at quarterback ... "Been around some talented players, but his skillset is about as high as I've been around."
Kevin Wilson worked one in there too.
Yeah, odd that Urbs sat down with her if she's that awful, right?
This dad's secret is to have mom make it.
But when I do, I like zucchini rather than beans.
Who's the best LB in the country? Him.
Long before he became CAR-DALE-JONES, I made a comment on here about how awful he was. Glad to be so, so wrong... And yet, I would still say that 3-game stretch was a weird, awesome blip on the radar, and I'm not the least bit surprised he hasn't made it in the NFL.
Is Miami's long snapper really named Mason Napper???
Right or wrong, he still is a slimeball.
This is also true.
I've heard two kinds of takes. (1) Dabo shouldn't give him one. He wasn't on the team. (2) Dabo's a slimeball.
How about he was under no obligation whatsoever to give him one, but he could have, but he decided not to, and that's perfectly fine. Sorry there are no extremes there so I wouldn't be good on First Take.
Nah there's gonna be a decline.
+1 for cherry cheeked killer
I totally wanted to watch that whole thing. That's the offseason in a nutshell.
I don't play video games, so when I see stuff like this, I'm frightened by how realistic it looks.