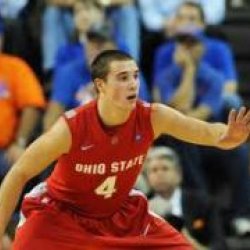 rosycheeks
---
MEMBER SINCE September 26, 2013
Favorites
SPORTS MOMENT: Every time Ohio State beats Michigan
COLLEGE FOOTBALL PLAYER: Every Buckeye that's ever beaten Michigan
COLLEGE BASKETBALL PLAYER: Aaron Craft
NFL TEAM: Aaron Craft's favorite team
NHL TEAM: Team USA
NBA TEAM: Whoever will give Aaron Craft a chance
MLB TEAM: Cincinnati Reds
SOCCER TEAM: USMNT
Recent Activity
Haven't read it. Seriously.
Take what Zach Smith says with a boulder of salt, like an entire salt mine, but he has really good things to say about Dennis. Not saying you're wrong though.
This is dumbest article I can recall reading. For example:
Point #1: No team with a Takeaways per game number of 2.0 or greater has made the Title game in the last four years

Negative for: Clemson
Shucks, should have taken the ball away less, Clemson.
The vast majority of this article was arbitrary.
Georgia's playoff scenario is simple: win, and the Dawgs are in, lose and they're out.
I don't know. If Georgia loses a tight one to LSU, I think they'd still be in heavy contention in the eyes of the committee. They shouldn't be punished for losing a tight game to the #2 team (yeah, I said the #2 team), so the question is whether W's by OU/Baylor or Utah gain them enough ground on Georgia.
These idiots make these videos for clicks. Sorry I obliged.
Ha - this would be a fantastic move by TTUN. So Kyle....WOULD YOU TAKE IT???
I've gotta be missing something. Those throws were long, but by no means were they obscenely long, especially by NFL standards. I have a hard time believing there were only 6 throws in the NFL in 2018 that were longer than those two throws. Again, I must be missing something.
Bump. Michigan channeling their past.
Special teams will be REALLY important.
437
Nah nah nah, you can't make cross-race comparisons. What kinds of journalism is this? Kyle Young is obviously Brian Scalabrine.
I would have just asked one question: Kratch, why do you do this?
Hard to believe this guy is NOT an agent and that Chase didn't know what he was doing. That said, I don't care. Let the man play.
If she did, guarantee she was late for the game
L.o.l.
These guidelines are really dumb when you see them in writing. Lots of variation in the precedents. Did I say variation? Should have said inconsistency.
I'm just gonna assume Dawand doesn't really have little brothers.
Unpopular take: CC is a blowhard analyst. His style rubs me the wrong way - seems to try to insert himself into as many narratives as he can. Not OSU's best, by any means.
Wait, you're telling me that in the middle of that run, you grabbed the remote and turned the TV down? My cheers were way louder than the TV.
OP, here's all you need to know. She just parsed out "it's fine" vs. "I'm fine." In other words, you're fighting a losing battle. You might as well have asked the ratio of unicorns to mermaids.
Ah, "calm down." The two words in the English language that never, ever, ever have their intended effect.
we don't play the same teams as Michigan, Nebraska isn't a tough road environment, Jim Delaney hates Michigan
This is all true.