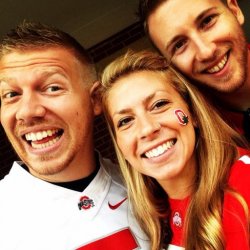 Rosstafarian
Fairborn, Ohio
MEMBER SINCE September 25, 2014
2011 tOSU Alum - B.S. Economics
2013 WSU Alum - MBA
Favorites
SPORTS MOMENT: Soccer - split 3 defenders to score a lone goal in the 90th minute against West Carrollton.
COLLEGE FOOTBALL PLAYER: Beanie Wells
NFL TEAM: Cincinnati Bengals
MLB TEAM: Cincinnati Reds
SOCCER TEAM: Arsenal
Recent Activity
Stinson's image is my new desktop background! ALL HAIL KING CARDALE!!!
Woah, that speaks volumes about Evan Spencer.
Geez I love Urban. We couldn't have asked for a better coach.
Someone has been listening to Aaron Rodgers...R-E-L-A-X
Sweet Jesus, I'll lose my mind if that happens
TTUN right now...
Definitely. But MEGA props to Cardale Jones on the biggest hit of the night.
I'm more bothered that Wikipedia all of college football doesn't highlight OSU as the winner of the Illibuck in 2010. I know it's a vacated win...but you can't erase a 24-13 win...I watched it happen. Also, where did the trophy go?!? Did it just float in limbo until 2011? Ugh.
I like our chances, especially with an at home night game. Vegas has us as a 28.5 favorite.
I'm just glad the Illini don't have a weapon like Juice Williams right before our bout with MSU.
Composure and balls. JT has both.
Honestly, I view this as a better win than Alabama's 14-13 win over Arkansas. Or even Auburn's nail biter against a mediocre Gamecock squad.
VT is totally the herpes of the season. Here's to hoping three prime time wins ease that viral infection plaguing our playoff hopes. GO BUCKS!