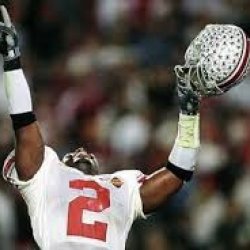 rosenbuck
---
Columbus (via Columbus)
MEMBER SINCE April 11, 2012
Favorites
SPORTS MOMENT: Attending the 2003 National Championship Game
COLLEGE FOOTBALL PLAYER: Joe Germaine, Craig Krenzel, Mike Doss, Teddy Ballgame, and Braxton.
COLLEGE BASKETBALL PLAYER: JJ Sullinger, Ken Johnson, Terence Dials, David Lighty, Threebler, Aaron Craft, and D'Angelo.
NFL TEAM: Browns
NHL TEAM: Jackets
NBA TEAM: Cavs
MLB TEAM: Tribe
SOCCER TEAM: USMNT and the Crew. Love watching Barcelona
Recent Activity
Had this started just a few years earlier I bet Antonio Smith would've taken it home in '06 when he made 1st team All-B1G as a senior, but alas it was first awarded in 2010. Great story though!
Always happen to see UM on the schedule twice, and we end the season at Sparty? Love it.
His interior pass rush ability is as good as anyone to come through OSU that I've seen. You could put together a hell of a madden team with just Buckeyes these days.
They fired Les Miles and hired Less Miles.
I'm happy Jaesean got a camp invite but it would've been fun to see him out there with all those former bucks today.
Impressive people Haskins beat? B1G Wrestling is way more loaded than the SEC in football, Nickal's path was without question more difficult. Plus he won wrestling's Heisman equivalent, while Haskins finished a deserving 3rd. If there was an all-sport-encompassing NCAA best player award, Nickal would likely be the favorite.
Thanks for sharing these, I could listen to JK all day.
Who are Daris Garland and Mike Scrage? If this site needs an editor I will volunteer...
How about just "Back to Full Health?"
I went to school with Vinny. I didn't know him particularly well but everyone I know who did thought he was an all-around great person. It's so tragic to see this happen to anyone so young, but it's particularly disheartening to see such things happen to good people. Here's to hoping.
Awesome, my two oldest sisters are UNC grads, they've always been my "other" team. I firmly believe that having this difficult of a schedule annually has been one of the reasons Izzo's teams are always so tough. Playing important games early pays off late.
Lol wow, get indignant much? You know absolutely nothing about these kids or me, but you're cursing about them and telling me I don't belong around kids. Like I said, get a life.
These are high school kids you don't know that you're talking about. Step away from the keyboard and get a life.
Being in Vanderbilt's bracket is a big oof. But we only got in because of an auto bid, so we really can't complain too much.
Thanks for posting, the more OSUBB content on this site, the better!
He's been awesome this year but it's gotta be Siakam imo.
I'll throw another out here:
I know you've played a role in recruiting, which has become its own little cottage industry that I think is tough to truly understand from the outside, and especially through social media. What (if any) differences have you noticed with how recruits approach the process over the course of your career?
I would imagine that with 300+ teams in college basketball, there are teams all over the spectrum in terms of analytics usage. I don't want you to give away any (Ohio) state secrets, but could you tell us a little bit about where OSU stands in this age of data?
Does this goober not know he works with Ed Warriner? Or does Ed have to keep his head up when he rounds corners at UM facilities?
Wow, if he views himself as a small forward I don't know what that's based on. And honestly, power forward in college really isn't that big of a difference from center. His offensive game isn't something that plays well alongside a true center, especially on a team with suspect shooting from its guards. So, bye I guess.
Man Singletary fought really hard there, he's gonna be a good one