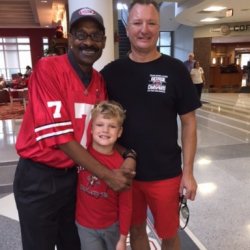 RonnyPBuckeye
---
MEMBER SINCE December 02, 2013
Recent Activity
The QB Whisperer strikes again:
https://thespun.com/big-ten/michigan-wolverines/nfl-draft-analyst-shea-patterson-undraftable-senior-bowl
Tate Martell's college career is starting to resemble Tate Forcier's (without the W against the Domers).
Hope he lands on his feet...
His 3rd down conversion against the Badgers when it was like 3rd and 14 was huge in the B10 championship game. He earned his schollie on that play too...
Someone needs to give Michael Doss Shaun Wade's (and Okudah's phone number).
Iron sharpens iron. The DB room seems to have it together in understanding their collective need for patience in moving up the ranks. Keep working with mentors and learning the ropes by covering great wideouts in practice and it will pay dividends.
ScUM has lost 13 straight when Vegas has made them the underdog. Don't expect to break that streak this weak...
They'll most likely beat Army but they won't win in Madison in a few weeks...
How about don't let linebackers try to play press coverage on slot receivers
Make it more painful and go back in time.
Don't slip when you are in man coverage on Tai Streets.
Don't let the punted ball hit your heel while blocking up 24-9 versus MSU
Don't run the ball outside twice in a row when you need one yard and Carlos Hyde is averaging 7 ypc in the 2nd half
Don't get called for targeting tied 17-17 in Iowa City
Don't jump offside when your opposition is going for it on 4th and 8 with their starting QB unavailable in a typhoon with playoff hopes on the line
Easy for me to say I know
That was slightly cathartic...
He was bright enough to wait until all our players were in the locker room...
Or this
https://www.cbssports.com/nfl/news/flashback-jim-harbaugh-once-broke-his-hand-punching-jim-kelly/
Let's continue the classic Genesis theme by reviewing last year's scUM game under the title Supper's Ready"!
Inherited talent is one thing, but if you don't have a QB that can at least manage the game, you are in trouble. i was at the Rose Bowl for the post 9/11 UCLA game where Bellisari went 6-23 and Nuge missed some field goals to boot. I forget how many times their stud tailback fumbled but we still couldn't get the W. I'm sure that wasn't the only game that year where QB play cost us a W...
If Dawkins doesn't muff the alley-oop, the zebras would have had to make even more bad calls in the last two minutes...
Taylor Lewan played at Chaparral. What could stain a program more than that?
I was enjoying some comments on MgoBlog referring to our defense as a "Big 12" defense. We didn't give up 103 points in our last two games
The Gators seemed to get an added spring in their step once Winovich did his mock Gator chop
To me picking a team to root for in this one is similar to when I watch a Ravens Steelers game. The Gators having a tailback names Scarlett scoring a TD is kinda funny...
Recall Mike Vrabel had a very pedestrian four years with the Steelers before he went to NE. My hope is Simon has similar fortune given his heart and love of football...
Not to beat a dead horse but recall that year Hamby whiffed on the block on Tambali Hall who then proceeded to force the Troy Smith fumble - game over. 17-10 trolls...
I have a buddy that played on that Princeton team that Harding mauled in the 1990 State Championship game and he said on one of the touchdowns, Korey took one of their D lineman and blocked him all the way out of the end zone ala Michael Oher in The Blindside. Supposedly the kid got up after the fact, pushed Stringer in the back to try to start something and he just turned around, looked at him, laughed and went on his way...
RIP big guy...
P.S. not to be overly nit picky but Ward went to Nordonia High School. Nordonia isn't a city but rather a high school for kids that live in multiple local towns including Macedonia and Northfield...
I'm still trying to figure out how we missed blocking that end zone punt against USC at the shoe in 2009. I gotta move on...
My issue with him is not the flag plant but him saying the singing of Carmen Ohio was part of his motivation. How about being accountable and saying "I sucked last year and/or OSU's D was really good in Norman and I did little to put my team in a position to win that game and I atoned for it"
I read an editorial this morning on Black Shoes Diaries about how Pitt needs to step up their out of conference schedule if they want their rivalry with PSU to continue to mean something. Meanwhile, Pitt plays #9 Okie State this week and PSU plays Georgia State. I think our fan base can be delusional at times but the arrogance of those folks is undeniable...
I think he should have borrowed Eddie's truck from those Nissan Heisman House commercials...
I think Curtis' new car is being customized with a picture of Jabril Peppers permanently in his rear view mirror...