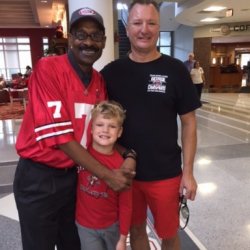 RonnyPBuckeye
---
Member since 02 December 2013 | Blog
Recent Activity
I think he should have borrowed Eddie's truck from those Nissan Heisman House commercials...
I think Curtis' new car is being customized with a picture of Jabril Peppers permanently in his rear view mirror...
Just laughable that Peppers won B10 defensive POY over Malik. Now we get to watch him move up to all pro in Indy in a couple years while Peppers is out of the league faster than you can say Justin Gilbert...
The best statistical database I've found is football.stassen.com. All time we have the 3rd highest winning% behind scuM and the Domers. You can break down all teams for any time frame between 1869-present and it takes into account the vacated win season of 2011. For example, since 1950, our Bucks have the 2nd best winning percentage for FBS teams behind Boise State. 1960 to present, we have the best %. To me, that's the modern era and doesn't take into account all those "wins" scUM had before Teddy Roosevelt was President...
Kiffin has little to brag about as to play calling given he went away from the Tide's running game in last year's Sugar Bowl and put the game in the hands of a marginal QB which the Buckeyes greatly appreciated. Although his Nostradamus like prediction of Sim's TD pass to Vonn Bell was awesome (more so amusing).
Let's see last time I recall Matthew being on the sideline of an Ohio State game was the 2006 tilt in Austin with Lance Armstrong on the wrong side. Karma certainly hasn't been kind to Lance since then and I'm in no hurry to trade any of my cars in for a Lincoln either...
After reading "Three and Out" which documents the whole RichRod debacle (written by a scUM alum), I would not want to be compared to Lloyd in any way. The guy completely sabotaged Rodriguez by going out of his way to tell all the players he would gladly sign their transfer papers right after the new coach was hired. A Michigan Man at his best...
If LeBron would have shot 60% from the charity stripe today, my eight year old son would have left the Toyota Center a lot happier today. But I digress. Bucks got it done when it mattered...
I've said for years that the biggest difference between upper echelon teams from the SEC and B10 is line play on both sides of the ball. Pre Warriner, how many of our O and D Lineman got meaningful NFL playing time in the last ten years compared to high end SEC programs? It hasn't been coincidence...
Shazier's personal foul getting them into field goal position. Roby knocking the ball out of the other DBs hands injuring himself in the process allowing MSU to kick a field goal after we took the lead. Pitt Brown being Pitt Brown. Evan Spencer dropping the big pass prior to that. Many things went wrong...
The Rose Bowl is still structurally damaged from Bellisari's 6-23 passing onslaught back in 2001. Those holes in the concrete don't fix themselves:)
Agree completely with your assessment. The 2011 version of TTUN was so much worse than their record, it's unbelievable. Conference was horrid, they did not have to play in the conference championship game and they got the nod for the BCS game over an MSU team that beat them and narrowly lost the B10 Championship game. Furthermore, they beat a Va Tech team in overtime that lost their conference title game to Clemson by 35 points or so (which in turn lost their bowl game to WVU by around the same amount of points).
I rememember running into my girlfriend's apartment for what seemed a nanosecond and coming out and Shamrock already had me hooked up and ready for tow. Then I recalled seeing the Columbus PD car in front of the building when I pulled in. He most likely noticed I didn't have a parking tag and called Shamrock so he could get his kickback. What a bunch of dirtbags. This was back in the late 80's and I'm sure it's gotten worse. Still pisses me off a quarter century later...
Beat me to the punch. Don't worry as this scUM tourney run will also be deleted from the record books some time down the road. Stauskas looks too much like Lance Armstrong to not be cheating...
When I saw Lewan won that, I was also taken aback. Should have won the "Richie Incognito in Training" award. What a sham...