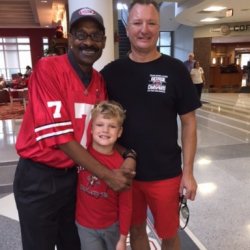 RonnyPBuckeye
---
MEMBER SINCE December 02, 2013
Recent Activity
Like Joey B's last play against the Domers but a little more benign...
If Josh Metellus is the fastest man alive why does the gap between him and whomever he's chasing always get wider as the play progresses?
Still amazes me when you watch they replayed the punt block sooo many times and the Platt still kept saying Kamryn Babb blocked it as the camera shows Olave running back to the sideline in jubilation.
i can not echo that sentiment enough especially since Diebs had just hit one from like 28 feet a minute earlier. I live in Houston (where the Final 4 was that year) and had tix in hand. That was one of the ugliest Final Fours ever with a gritty yet not particularly talented UConn team winning it all...
Loved Carlos Hyde but if he doesn't fumble early in the 4th when we are up 35-28, we win going away. They couldn't stop us and although we couldn't stop them either, they would never have gotten it to a one score game.
Harbaugh's teams don't have the mental toughness to beat even slightly better than average teams on the road. Their home field advantage will most likely be neutralized by the smaller crowds (I know it goes both ways) for Wisky and PSU. Throw in a new starting QB not named Justin Fields, four new starting O Lineman and I expect to be beaming with schadenfreude on multiple Saturdays this fall.
The '83 Carolina team that beat our Bucks was Jordan's sophomore not junior year. I think the UGA team they lost to in the next round had Dominique Wilkins. Also recall Tony Campbell missed a breakaway dunk in this one when it was still close but I guess I'll have to watch to make sure.
We got Ryan Day from New Hampshire and everything else seems to be falling in place. If scUM starts making inroads in Newfoundland, then I'm getting nervous:)
Was hoping someone else remembers that. Make it and it's 20-10. May not have mattered...
I never knew we paid our players or that scUM recruits players with better academic backgrounds until I spent time on that site (why don't they have final four banners up for the Fab Five's accomplishments again). Very eye opening.
Pretty sure that site is ground zero for Walmart Wolverines...
High dose of schadenfreude any time you beat Draymond Green:)
Still wished Buford would've passed to Diebler or Lighty for the final shot against UK in the 2011 tourney. That team should've won the Natty:(
I saw the other day former Buckeye commit Sampson James is in IU's transfer portal. I wonder if he decommitted on good terms with our staff or if he would have immediate eligibility.
"Three and Out" is a good read by Bacon as well. SCUM's dysfunction entering the RichRod era and through his tenure is fascinatingly unreal.
I would have been happy with just one more Fuller tackle-Etienne's TD after the targeting call. Holding them to a field goal would shoulda coulda...
The QB Whisperer strikes again:
https://thespun.com/big-ten/michigan-wolverines/nfl-draft-analyst-shea-patterson-undraftable-senior-bowl
Tate Martell's college career is starting to resemble Tate Forcier's (without the W against the Domers).
Hope he lands on his feet...
His 3rd down conversion against the Badgers when it was like 3rd and 14 was huge in the B10 championship game. He earned his schollie on that play too...
Someone needs to give Michael Doss Shaun Wade's (and Okudah's phone number).
Iron sharpens iron. The DB room seems to have it together in understanding their collective need for patience in moving up the ranks. Keep working with mentors and learning the ropes by covering great wideouts in practice and it will pay dividends.
ScUM has lost 13 straight when Vegas has made them the underdog. Don't expect to break that streak this weak...
They'll most likely beat Army but they won't win in Madison in a few weeks...
How about don't let linebackers try to play press coverage on slot receivers
Make it more painful and go back in time.
Don't slip when you are in man coverage on Tai Streets.
Don't let the punted ball hit your heel while blocking up 24-9 versus MSU
Don't run the ball outside twice in a row when you need one yard and Carlos Hyde is averaging 7 ypc in the 2nd half
Don't get called for targeting tied 17-17 in Iowa City
Don't jump offside when your opposition is going for it on 4th and 8 with their starting QB unavailable in a typhoon with playoff hopes on the line
Easy for me to say I know
That was slightly cathartic...
He was bright enough to wait until all our players were in the locker room...
Or this
https://www.cbssports.com/nfl/news/flashback-jim-harbaugh-once-broke-his-hand-punching-jim-kelly/
Let's continue the classic Genesis theme by reviewing last year's scUM game under the title Supper's Ready"!