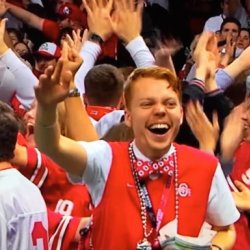 Ronnie
---
MEMBER SINCE December 05, 2014
Recent Activity
I'm sure it can be attributed to lack of air conditioning.
The pressure of social media is absolutely wreaking havoc on the mental health and well being of nearly all high school aged kids and young adults - athletes and non athletes alike. I feel very grateful to grow up without it.
You thinking this is a 50 man class??
The experience needed to play quarterback in the nfl is why I think he made a mistake leaving college so early. NFL coaches generally don't have the luxury of time in developing a QB as their job won't still be around with the win now mentality.
Auburn out recruited Georgia in Georgia? Wouldn't have expected that.
Really enjoyed the article and the concept. I would enjoy reading these on a regular basis.
Since he's a QB, probably say that he was giving himself up and rule him down without the contact.
Pretty sure the 4 year rule is a Big 10 requirement.
Thank goodness last week is finally over
It takes high character on the part of these young men to act like this. I know a lot of adults who go to 40 or maybe even their whole life without owning anything.
It's sucks to lose, but I'm not sure I could be any more grateful for this team, or proud to be a buckeye and root for them.
What a great year! Ready for next year with bigger goals.
How about all playoff games be played on turf? That was borderline ridiculous.
Great Season! Way to battle all the way Buckeyes.
Ohio State and Clemson beating the absolute crap out of each other while LSU gets a big 12 cupcake. That 1 seed meant a lot this year.
Hurts floating passes. Throw that thing.
Tough day for Grinch's guys. Yikes
Will he have to sit out next year, or will he graduate?
I saw that too. Only flat billed hat on the table, plus good position.
It'll be prime time based upon it being better matchup and location.
Time for the BIG 10 to go back to an 8 game conference schedule and pick up an FCS game.
Sadly, not the most egregious noncall of the game.
Well well well
now we rolling