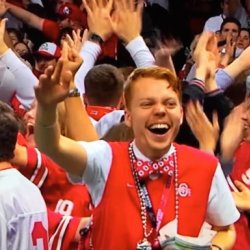 Ronnie
---
MEMBER SINCE December 05, 2014
Recent Activity
So what's the line next week?
after watching penn st the last month or so, it has to be 17 or 20.
I feel like #3 may be different after today. Kenyon will probably be happy to give that up.
Stock down: Ohio State punting. Hasn't been very good dating back to the Wisconsin game. Need to get that cleaned up before the stretch run.
I thought it was a case of more lucky than good. I can't imagine the play design was to have 2 guys at that spot. I thought he was throwing to the deeper receiver and the ball kind of floated like it was caught in the wind, and I expected Okudah to come down with it, but the underneath receiver came down with it.
I bet Dobbins is so tired of hearing about Taylor being the best back in the BIG. I expect he's coming into this game to prove something to the world, and I can't wait to see it.
Based upon 6 games using the guys Urban recruited, and using Urban's player and strength guy?
I am a big fan of Day, but your statement seems premature and quite frankly absurd, considering Urban built this program into what it is today.
Am I only the only person who pictures Jake Fromm State Farm every time I see or hear his name? The State Farm is automatic.
Watching all these low snaps today, and how bad they disrupt the plays makes me thankful for Myers this year.
I think you're way off on this assessment. Fields has only started 6 games, but his level of play is already beyond Hurts.
Texas is going to get blown out if they have to pass every down. They better get a stop here.
I hope baker loses every game he plays. Sorry Brownies.
I'm hearing the centuries song again, just like the natty. I'm getting that feeling.
It was nice to hear it loud in the stadium this weekend.
Proctor and Brown played really well in the second half.
Great play design, great execution. Now we rolling
I think rocky top gets absolutely rolled. They might lose by 50.
This game is going to look a lot like it did the last time sparty was here. Buckeyes running wild.
Do we still have to pretend that A&M isn't horrible?
So, would this California law eliminate the Rose Bowl for the Buckeyes once it's in effect?