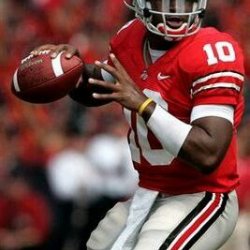 Rone2002Osu
---
Ohio
MEMBER SINCE August 31, 2018
Die hard Buckeye fan for life!
Favorites
SPORTS MOMENT: 2002 natti!
COLLEGE FOOTBALL PLAYER: Troy Smith
COLLEGE BASKETBALL PLAYER: Jim Jackson
NFL TEAM: Bengals
NHL TEAM: Rangers
NBA TEAM: Pistons
MLB TEAM: Reds
Recent Activity
Lol where else would a #97 play?
These receivers are gonna be lights out! But when they don't put up the numbers from last year cause Haskins is gone and were not going to throw as much are we gonna say they had a down year? I think Hill will have 60-70 catches but no one else will have over 40 even though the rest could get 30-40 each
Hartline, Robiskie, Herron. Those dudes could play ball but with Prior as our QB they were always overlooked and never talked about anymore
Love the all black! But for God's sake make the helmet gloss black and not matte black! Matte helmets look awful no matter the color! I WOULD LOVE TO SEE AN ALL SCARLET UNI!
Woulda been awesome to have him in Columbus. Kids are allowed to change their minds no matter the reason so no reason to be mad about this. It's on to the coaches to go out and get their backup plans and I have faith in them getting a couple of good backs to finish out this class. GO BUCKS!
Lol the Browns are Xichigan of the NFL! Haven't won shit but talk a bunch of shit before the season starts. Preseason hype train rolling through Cleveland heading up to Ann Arbor! Both picked to win the division but both will crash and burn like always. ......(Grabs popcorn to watch the show)
2000 first year Griffey Junior in Cincy against the Indians, he goes off 2 HR 8 RBIs. Oh man what he coulda done in Cincy if he could have stayed healthy!
It doesn't matter if the L's are against the east or west. If we have 2 conference losses and Xichigan has 1 they make the conference championship not us
No Shea for Xichigan I wonder why that is lol!?
1a. Jones 1b. Smith 2a. Haskins 2b. Smith 3a. Smith. 3b. Haskins 4a. Miller 4b. Pryor 5a. Jones 5b. Jones 6a. Barrett 6b. Haskins
Nope I won't ever give them credit for anything except for having the dumbest helmets ever!
HELL YES BOOOOOOOOM!!!!
I wish I knew how to put a video in here but being a 10 year old watching Montana to Taylor rip my heart out made me hate them and the 49ers to this day!
Gill will be my guy on offense. We won't have as much passing yards as last year but being the backup H he will still get more touches the Olave and Ruck combined. Smith will have 7+ sacks on the year so he's my bet on D
For me I think the 2003 Xichigan game. We were ranked 4th and they were 5th. We win that game were playing for the NC after Oklahoma loses the big12 championship game. Plus it prevents Xichigan from claiming their last outright B1G championship! MICH 96 MSU 97 MICH 98 ALL of these sucked ass as well but I had no faith in Cooper to think we would have won any of those NCs.
JTs season highs were 2900+ yds passing 35 tds and 900+ yds rushing and 11tds. Going by those numbers with Day running the offense to Fields strengths and Fields being a better passer and a faster runner then JT. Fields should hit 3500 passing yards with 35 tds and another 700 rushing with 8 tds. That should be about what he does. If he does more then that will be just a bonus and would put him in the HEISMAN talk which should mean a B1G championship and a spot in the final four.
Wow fucking BENGALS! Mack Wilson sitting there and we need a LB and you take some TE I've never fucking heard of! But you did pick up yoir 15th 6th round pick in that trade. Way to go fucking morons!
GOD I FUCKING HATE YOU BENGALS!!!
Broncos draft Lock please for the love of GOD! Elway will kill Haskins!
Come on Bengals jump the Broncos and get HASKINS!!!!
As a Bengals fan I really only want to see them draft 1 of 3 players and trade up if you havent o get 1 of them! Devin White. Dude is a difference maker on D! Ed Oliver. Pair him with Geno inside with Dunlap and the young ends. Scary d-limr right there! Haskins would be my pick period! Dalton will never get us over the hump! Sit Haskins behind Dalton this year and maybe even next year let him learn just like Rodgers did behind Favre. I don't wanna hear he will get killed or has no skill players around him. You can pick up o-line in the 2nd or 3rd rounds just like LB. You also have next year's draft to get the o-line players to protect him. He can make every NFL throw and can read a defense! DO NOT DRAFT BUSH OR GARY! It will be hard for me to root for a meatchicken player on my team! Plus I think they're both overrated! Do us a favor Mike Brown and pump some life back into this fan base and organization!
Bengals fan here. I know I'm gonna hate their pick tonight, Brown is gonna screw it up somehow. There's only 2 players I will actually be excited for and will prob have to trade up for either of them, and that would actually show me that the Bengals would be changing like ive heard about all off-season. Give me White because he will be an absolute difference maker on defense! Don't you fucking dare draft Bush! Even if he turns out to be decent(I don't actually think he will i think he's overrated) I can't root for a guy that played for TTUN! Give me Haskins! I'm done with Dalton! Dude is a decent QB but has shown he can't win the big game. Doesn't have the arm to do anything. The ONLY reason he's been a starter for this long is AJ Green! Haskins can make every NFL throw! Pump the life back into the fan base and organization by doing something big!
JTB never set the B1G record for TD passes. His top was 35. It was 38 or 39 before Haskins broke it last year. JTB owns the all time passing TDs in the B1G though
He won't ever see those numbers. He won't be able to stay on the floor enough to get them due to his foul trouble that's he's had for 2 years and will probably continue to have. Look I hope he does get better and we see those numbers from him and he carries us to a final four. I just think he's hit his ceiling and I would rather not recruit a kid that's going to be the same exact type of player that sooo many people on this site have bitched about. Give me a big that can move without fouling. Shit I would rather have a big that is quick that can play D and run the floor. Doesn't have to be offense first player. Get an offensive board and dunk it, go down and play defense for 30-35 mins a game. Not sit the bench for 10 mins a half cause you can't move your feet and cover a guy w/o fouling.