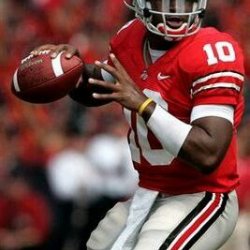 Rone2002Osu
---
Ohio
MEMBER SINCE August 31, 2018
Die hard Buckeye fan for life!
Favorites
SPORTS MOMENT: 2002 natti!
COLLEGE FOOTBALL PLAYER: Troy Smith
COLLEGE BASKETBALL PLAYER: Jim Jackson
NFL TEAM: Bengals
NHL TEAM: Rangers
NBA TEAM: Pistons
MLB TEAM: Reds
Recent Activity
.
You can tell this is a QB award when Hurts made it instead of at least 1 of the top RBs. He plays In a system that allows any QB to take advantage of the terrible defenses in the Big 12. Proud of our Bucks for making it! Now let's go beat some Tiger ass in 19 days!
Well we have 30 mins left to play. Will the 2019 Bucks show up? let's hope so! Holy shit I thought I went to mgoblog with as much shit some of you are talking right now. Calm the fuck down and have faith! Don't act like those fans from TTUN!
Dude if you don't know anything about she Bengals don't interact. Their O-line is 1 of the worst in the NFL and Finley only started the last 3 games not the entire season.
Honestly think the Buckeyes will take votes from each other leaving Burrow to win it even of he has a bad game against Georgia
I want to coin the TSUN to actually mean "The SHOE Up North from now on!
Yes he may be the starter but I have all the faith in the world that Hairball will make him the worst mccaffrey brother by a WIDE margin! Which will be a glorious thing lmao
MGO boards still down lmao! We didn't accuse TTUN of cheating or the refs cheating us or bagmen during the Cooper years...we blamed Cooper! Maybe they should blame Hairball and not everyone else! Bunch of sad sad fans they are!
I'm glad to see it under 10 that means that gives their fans more hope only to have it crushed once again!
BOOM!!! We've turned MANY 3 star players into studs that play on Sundays give the kid a chance before you say anything negative! We've had PLENTY of 5 stars that didn't match their star ranking.
45-21 keeping our 24 point win by total alive this week! GO BUCKS!
Mark my words Bama with 1 loss at the end of the year will NOT get in over a P5 1 loss conference champ period! Be it Baylor, Oklahoma, Utah or Oregon. Bama will not make the playoffs this year unless there's a power 5 champ with 2 loses
Minny needs to win out and get in the top 4 before we play them and gives us a chance to finish as the top seed. Auburn needs to win! Them winning helps Oregon and if Oregon wins out they should be #4 for the playoffs and keeps Bama sitting at home bitching that the playoffs need to have 8 teams! Fuck TTUN! Indiana cause I hate Franklin! Cyclones cause Herman is a Joke!
Lol oops my bad forgot we played week 2
I've lived long enough to know that nothing and I mean nothing is given! No matter how stacked we look this year and we look like one of the best Buckeye teams I've ever seen, we are going to have to face some really good teams down the road! I worry about Clemson, LSU, and Bama in that order and I will worry until the clock hits 0 with us in the lead
"Last year we went out there, Bosa played in our game and he was about as good as they come" Hey coach I didn't know Bosa secretly played in the Rutgers game last year /s Dude is clueless and means he's a great coach for them this week lol
I think he will finish at worst 4th and will still be behind CY who will come back and rack up at least 5 more sacks through the B1G championship game. I still think of he comes back he has at least 2nd place behind Burrow. He pretty much wrapped that shit up against Bama
45 in 11 1/2 games. Got hurt against _ichigan in the 12th game. To be fare it wasn't quiet 45 tds either he finished 5th in the Heisman voting that year.
Get well soon Mr. Sawyer. For you people that doesn't want him playing QB...I know you don't want to see our commits to get hurt but did you not play HS football??? You want to win and you want to do whatever it takes to win, it's called being a competitor! It's being a team player! Get off his coaches ass because his job is on the line just like coach Days! His job is to win games and if JS gives the team the best chance by playing QB then I'm all for it! JS wants to win a championship! Do you think when he gets to OSU he wont be on special teams? That's how he's going to get his chance to play. Are you gonna call coach Day an idiot if he gets hurt other then playing DE? No you won't! So sit down and shut the hell up!
Wow this sucks ass! How hard is it to keep clean?!?! I know everyone makes mistakes especially at that age, but holy shit you know you're going to be a top 2 pick in April, no need to take money illegally!
A blocked punt doesn't count as a turnover so that 7 points wouldn't count towards that number. Also that wouldn't have happened if Borland hadnt gotten sucked in with the inside rusher. He didn't recognize the outside rusher until it was too late so I don't blame the side step for that blocked punt
190
When did Rutgers play an NFL schedule in 15? 4-12? Might be a typo lol
Who wants milk with their steak lol?? Give me a few ice cold beers lol!
Seriously where is Mike Leach on this list?? That's who I would want to listen to for a few hours lol!