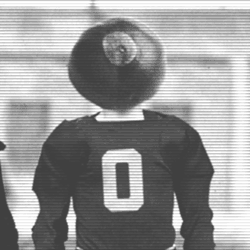 Romanovich54
---
MEMBER SINCE April 13, 2017
Recent Activity
BOOM! Dont let the door hit you on the way out.
i remember watching the Bama LSU game and it felt like Bama would throw the deep ball every other play and it was defiantly effective. keeps the DB's always wondering and theyre most likely either gonna catch the ball or get a Pass Interferece called. just dont under throw it and you shouldnt really have to worry.
Déjà vu all over again.. last years Iowa game. linebackers were horrendous. next game, Michigan State we saw a scheme change. linebackers went back to sitting were they belong and look how bad the silver bullets destroyed em. holding the 7-2 spartans to 3 points.. hopefully this years scheme change wont be too late.
" his Sideshow Bob haired ass " literally just laughed out loud.
"Marcus Hooker, who has been sidelined by injury, has been cleared to play this week."
excited to see if he has the same instincts as his brother.. Was watching highlights of Malik and company and all their picks today and boy are they missed.. i dont think ill see that kind of ball hawking on defense ever again.
has anyone heard any news about the alternative uniforms for this season ??
not here to bash or talk shit. but its an amazing thing to see Kevin use this deep arsenal to his advantage. constant read options and designed QB runs arent bad, but when they spread the ball the way they did saturday, its simoply a beautiful thing to watch. stress that D!!
"plan is early on to play everybody. Rotate them, get them in the game, play fast and go."
starting to feel sorry for the defenses we play. DB's are gonna be mad winded 1st quarter in. this is going to be a fun year.
the confidence in Haskins throws are through the roof.. straight up gunslinger.
FOX game = Gus Johnson = CARDALE JONES.. CARDALE JONES!!
Joey Burrito lol.. golden.
always room for improvement in Meyers eyes. Especially with this very young team.
the linebacker core was a big question mark for me going into this season and now its even more questionable .. someone like Hilliard needs to step up big time. he wasnt a 5 star prospect for nothin.
man does that Linebacker core need Borland.. he stood out big time from the rest of last years linebackers. especially after he led the silver bullets in the destruction of the spartans in his first Ohio State start.. had and have really high hopes for him. get well soon!
get well soon Tuf.. that linebacker core NEEDS you!
people seem to forget that Bama probably wouldnt have won the natty if they DIDNT implemented their "special package" of tua tagovailoa. i like the idea, but only for special situations... its almost as if Urbana Myer has a secret weapon under his sleeve.
yeah i wasnt too hyped when Tate committed, but after watching his highlights... changed my mind. he can really move and throws the ball pretty well too.
" undersized, former three-star prospect from Ohio ready to help fill both leadership voids "
i felt like every time he was playing , he was giving it his all on every play . last years d-line was deep in talent and somehow an undersized 3 star prospect managed to get noticed. dude is hungry to play and is mad disruptive on the line.. got a feeling he will shine next season.
hoping Rashod Berry has a break out year. dudes a straight animal and defiantly has the physical ability to become a big part of the offense..
If you think about it. We pretty much have 6 returning 5 star WR's that already have experience. If Haskins wins the QB job than hopefully we will see them truly shine, and I'm not talking about bubble screens and mesh routes..
Denzel Ward = top 15 overall pick
He's so consistant and comes up clutch when it matters the most.
would Bama take TTUN at home, in the cold, down 14 ?? this scenario could go back and forth all day.
if Bama cant win their confrence, what makes the committee think that they can win a Natty...
is it me or does Tuf Borland remind anyone else of James Laurinaitis? hell, even the 1st pic of the article looks like James.
Tuf defiantly belongs in the middle. he was blowing up every play they threw at him. .. Tuf is tough.