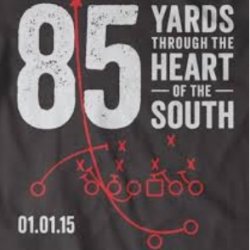 Rollin'85South
---
from Toledo
MEMBER SINCE July 23, 2015
Favorites
SPORTS MOMENT: Watching Ohio State, from 7 rows up, punish Wisconsin in the 2014 B1G Championship
COLLEGE FOOTBALL PLAYER: All Time- Eddie George Current- Joey Bosa
COLLEGE BASKETBALL PLAYER: Hate basketball but go Logan Steiber
NFL TEAM: Cleveland Clowns
NHL TEAM: Detroit Redwings
NBA TEAM: Chicago Bulls
MLB TEAM: Detroit Tigers
SOCCER TEAM: Portland Timbers
Recent Activity
If the government isn't #1 on this list, you got it wrong.
There are clear pictures floating around of Surriano with his hand grabbing the headgear of Fix. That was the issue, not hands to the face, and personally I agree with Smith. Although I think he was a little overboard in his reaction.
Get the point of how "offended" our country is becoming, but the Buckeyes have been known as the Silver Bullets for decades and never once have the anti-gun crowd came barking. Doubt they would start now, but who knows. You could be right.
I believe you mean *Rod Roddy Voice*. Bob Barker never said the catchphrase.
This probably isn't too far off with the gang we have getting together. Only there will be 30ish of us.
Great info. Appreciate the help. Guess I'm looking a little early. I'll keep an eye out.
I was always told, you're not drinking all day if you don't start early in the morning.
Do you know if they usually just sell them at the gate or can I get them ahead of time?
There once was a man from Louisana
who always wore a bandanna
its purple I'm told. His hammock is gold
and used to cover his banana.
ill see myself out.
There was one recruiting writer from Louisiana who was a LSU fan. His name escapes me at the moment.
Things I liked:
Games are televised on CBS, CBSSN, NFL Network and you can watch all games on their website or app. There are only 4 games every weekend so not super time consuming.
Faster game. No kickoffs and no extra points, so changing sides went faster not having to put special teams in for 1 play. Commercials were split screen so there was to stop in the action.
Replay wasn't a mystery man in space. You seen and heard the exchange between the booth and the field referee and understood the reasoning behind the call.
There were some good hits and not a bunch of targeting calls like the NFL.
Only thing I didn't like:
No blitz. Only 5 guys max can rush the QB. They did this because they threw the teams together with short notice and the linemen haven't really had time to gel together. I expect this to change after a season of them playing together.
Overall I'd compare it to 2 top 10 college teams going at it. The QB's were the only position that was noticeably lackluster. But even they had some decent plays.
Heres a rundown of players that I was either familiar with or kids from universities in the state of Ohio.
Arizona Hotshots
Trevor Knight QB Texas A&M
Josh Huff WR Oregon
Brant Weiss OL Toledo
Scooby Wright LB Arizona
Salt Lake Stallions
Kenny Bell WR Nebraska
San Antonio Commanders
Logan Woodside QB Toledo
David Cobb RB Minnesota
Greg Ward Jr. WR (played QB at Houston under Herman)
Jovann Letuli OL Akron
Austin Larkin LB Purdue
Jayrone Elliott LB Toledo
Nick Orr DB TCU
San Diego Fleet
Marcus Baugh TE Ohio State
Jude Adjei-Barima CB Bowling Green
Atlanta Players
Aaron Murray QB Georgia
Matt Simms QB Tennessee
Denard Robinson RB TTUN
Akrum Wadley RB Iowa
James Quick WR Louisville
Chase Farris OT Ohio State
JT Jones DE Miami(OH)
Tracy Sprinkle DT Ohio State
Jeff Luc LB Cincinnati
Doran Grant DB Ohio State
Birmingham Iron
Blake Sims QB Alabama
Trent Richardson RB Alabama
Ty Isaac RB TTUN
Quan Bray WR Auburn
Casey Sayles DT Ohio
Memphis Express
Zach Mettenberger QB LSU
Christian Hackenberg QB PSU
Adrien Robinson TE Cincinnati
Channing Stribling DB TTUN
Orlando Apollos
Austin Appleby QB Florida
De'Veon Smith RB TTUN
Akeem Hunt RB Purdue
Jalin Marshall WR Ohio State
Donteea Dye Jr WR Heidelberg
Izaah Burks DT Bowling Green
Kinda sorta. I think it's more like marrying the university. The coach is just a "friend" of the university. There may be a few different "friends" while you date. I think that is how kids should think about it anyway. They're technically making a commitment to the university, not the specific coach, although the "friends" play a big part.
You don't do the camp circuit and kiss the asses of the guys doing the rankings.
What about Kaleb Romero? He's on the wrestling squad but was a pretty decent QB in high school. http://www.maxpreps.com/m/career/gendersport/stats.aspx?careerid=b796345a-2406-e311-99e4-002655e6c126&gendersport=boys,football
You can bet they will just change it to Fake Ryan Day.
In my honest opinion, any "bodies" would've came out when the whole Zach Smith thing went down. I'm guessing there is nothing left after McMuffin tried his hardest with the Grimes story.
Man who sits on tall toilet is high on pot.
Looked around and can't find anything. Anybody have word on if Sheffield is staying/leaving?
So what if instead of Fields being a transfer he was an incoming recruit for 19. Martell didn't get fucked. That's the nature of the sport. What if we landed a 2019 top 5 star QB recruit in the country who was equally as talented as Fields? Would you say Martell is getting fucked? There is always a new QB coming into the system each year. Day went out and got the best one available. I understand why Martell might be pissed but there will always be someone gunning for your job in this business. Either put up or shut up. And getting pissed off and publicly talking shit are 2 completely different things. It's okay he's pissed but publicly talking shit and then not even backing it up?! Come on. He deserves all the criticism he's getting.
Proof he ever said TTUN was HIS dream job?
Robbins? Baskin? Did we recruit an ice cream maker?
This dude hasn't put a single second into Ohio State football. I don't know why somebody would think that the grass is greener on the other side, but I guess he's kind of looking at it like a fantasy way, I guess.
- Tate Martell on Justin Fields transfer
Yurcich will be the passing game coordinator.