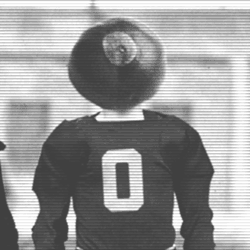 roger little
---
MEMBER SINCE March 09, 2013
Recent Activity
The Rams vs Chiefs in the Super Bowl.
Never heard of this quarterback, but good luck buddy.
Paul Keels did Reds radio one year off and on. He knows a lot about the Reds and baseball, he'd be perfect for Reds radio. Just replace a legend with a legend, Paul and the Cowboy would be the perfect team. I hate that Marty is leaving, he tells it like it is, him and Cowboy are highly entertaining to listen to.
We need some players who can shoot from the outside and we need them now. Kinda like that Diebler fella.
Great head coach, I hate to see you go. I just hope you don't wind up at that depressing espn, Thanks again, for giving us some great football to watch.
Starting with TCU game the Buckeyes have struggled to win every game, and iam forgetting the Purdue game. Iam worried about the Michigan state and Maryland game coming up. In my book things are looking mighty shaky. And those cutie all black uniforms didn't help much either. Come on Buckeyes get it together and let's go.
If you'll watch the last 2 offensive plays by UK last weekend, you'll notice the refs helped them out greatly. They should have really lost that game. Watch the UK receiver push off the defensive back with both hands and then catch the winning touchdown pass. UKs not that good, which we will soon find out. So iam not at all impressed with their football team. Even my die hard Kentucky fan brother was shaking his head last weekend, after those last two calls helped Kentucky win. He even said the refs helped them win that game.
Stick with the regular Buckeye uniforms and forget about the Halloween jerseys. What would Woody Hayes do. I think we all know.
Nobody to blame but ourselves, and I can't believe we're rated one ring above the Kentucky football program, my hillbilly relatives will never let me live this down. It's bad enough I have to listen to them brag about their hillbilly basketball team. Come on Buckeyes your better than this. Go Buckeyes!
Rex Kern was the only one deserving this honor, he was about as famous in Columbus as Woody himself. I know he didn't win the heisman trophy. But for what he did for that team and how classy a man he has been for the university, he's may only pick for the number 10.
NFL Browns QB Frank Ryan, NBA Pete Maravich, MLB. Pete Rose. And at this time of year SECRETARIAT.
Why shouldn't we win, and why should we be afraid if Gonzaga. We'll be fine, Go Bucks!
Good for Thad, iam one Buckeye fan who loves his style. A winner a class guy, I hope he gets back into coaching and wins big where ever he goes.
Well, let's look on the bright side we get to play ONE more game.
I love the game , but at the end of the game I loved the flying body bump Andrew Dakich gave the Buckeye player, sending him straight to the floor. Urban Meyer would have loved that hit. It was funny.
I'll be watching the Los Angeles Rams game Sunday. That's football at least the Rams are finally winning. Go Rams!
How many Buckeye fans out there thinks for one minute The Man Woody Hayes would put up with theses pretty boy uniforms. Let guys like LeBron James wear the pretty boy stuff and the rest of the nba.
If they can retire Troy Smith number, then they can retire anybody's number.
I would like to see our kick off return man, just take off running. In stead of running up to the 20 yard line and stop and wait to be tackled. And some of our receivers stop dropping pass that hit them in both hands. And then things should start to get better, we're to good of team to lose any more games this year. Go Bucks!
I don't care if the Buckeyes wear diapers looks don't matter, just beat Penn State. Win this game that's more important to me than pretty uniforms.