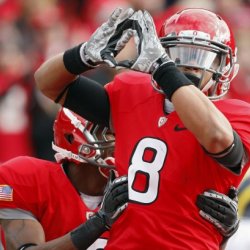 RodVedder4
Westerville, OH (via Westerville, OH)
Member since 27 September 2012 | Blog
Columbus born and raised, attended Otterbein when it was still a "college." I've known the words to "Carmen Ohio" since I was about 5, still don't know the words to Otterbein's alma mater. I'm fortunate enough to be able to attend a good number of Buckeye football home games, as my parents get season tickets and are willing to share them.

I'm also a big fan of Duke basketball, I think there are more similarities between them and our Buckeyes than people realize...specifically, people who hate both teams often don't actually know why, they just think it's something they're supposed to do. That, and people either love or hate each team...there is no middle ground.
Favorites
SPORTS MOMENT: -Watching Ohio State football win the titles in '02 and '14
-Duke basketball winning the titles in '10 and '15 (if it can't be the Buckeyes...)
-Cavs winning the title in '16

Non-title games:
-'06 game vs. scUM
-'11 Sugar Bowl vs. Arkansas
-'11 game vs. Wisconsin
COLLEGE FOOTBALL PLAYER: JT Barrett
COLLEGE BASKETBALL PLAYER: Andre Wesson
NFL TEAM: Cleveland Browns
NHL TEAM: Columbus Blue Jackets
NBA TEAM: Cleveland Cavaliers
MLB TEAM: Cleveland Indians
SOCCER TEAM: Columbus Crew
Recent Activity
So true, and this is such a ridiculous discussion, one that we wouldn't even be having had Bama lost (or dare I say, had Haskins struggled against scUM.) Like so many things, hindsight is 20/20.
The O-Zone article was right about one thing, pulling JT against Iowa wouldn't have mattered - he was a problem that day, sure, but the defense was THE problem. Still not sure why so many people are overlooking that, because I'm not sure JT repeating his 4th quarter heroics that day would have saved us.
Oh well - as we said, onto the next QBgeddon.
Makes much more sense now!
Did I spell "eye test" B-A-M-A? Oops.
Agree that Ohio State shouldn't have made it (god damn Iowa), but I don't think Bama should have either. They had the exact same type of resume that the 2015 Buckeyes did, with a shit non-conference slate and one big game they absolutely had to win in conference (and didn't), but we were left out because of it and they got in. Someone said the day of the selection, #4 won't deserve their bid, and #5 won't be able to argue. All three teams being considered for that 4th spot (OSU, Bama, USC) had fatal flaws and they seemingly took the lesser of all evils, but that doesn't mean they weren't wrong.
As has been discussed on here a lot, the problem is the committee keeps moving the goal posts, which is the most frustrating thing. The first two years, conference titles mattered. Last year, strength of schedule mattered. This year, Bama mattered. Next year? Who knows.
What a complete ass clown. Good riddance.
Garth - that was a haiku!
If anyone has a lead on the 2011 mini helmet, please let me know - I can't find that one to save my life. There are a couple of knockoff versions on eBay but not the actual one. That's the one I need to complete my collection. Thanks in advance!
Man, sounds like we were all bad luck! I tuned in when it was 49-44 good guys, and it went south from there. I REALLY hate Clemson now, we've got to get a W somehow, some way over them soon. I almost don't even care in what sport.
Great points here. I like the 4 team playoff, but I don't like that there are 5 "power conferences" and 4 openings. I guess it makes it so that a turd of a conference champ won't get in, but on the other hand, there's an argument that a conference champ team is formidable no matter what league they won. Sorry, not entirely sure where I'm going with this, just thinking out loud here.
My 8 team playoff setup would be the Power 5 conference champs, the top ranked Group of 5 team, and two at large teams. That would allow for teams like Bama this year (or us in '15...hell, '16 too) to get in. Sometimes the best team in the conference isn't the conference champ, and I'm speaking more to the 2015 Buckeyes, not the 2017 Tide.
That was a scramble, not a read, keep in mind. I have no doubt they told him to hand off no matter what.
My favorite use of "flimflam" is from a Frasier episode where Michael Keaton guest-starred as Lilith's con man half brother: "Charm is the viscous grease with which he oils his flimflam machine!"
I must run into the worst Buckeye fans when I'm outside of Columbus - every time I see someone in Ohio State gear, I always give them a hearty "O-H!" and they tend to turn and look at me like I have 3 heads. Sometimes it hits them and I get a reply, sometimes it doesn't. Always be on alert, people!
Since you asked...did they catch you on camera stealing boxes?
I was hoping to hear our guys would wave too. Love this new tradition.
Also - word to the wise - don't watch the video at work. Right as I start getting teary-eyed, my boss walked in to ask me a question and was like "Are you ok?"
This is the best analysis of pro football I think I've ever heard. Bravo, sir.
Haha fair point. I just think posting a picture of your tickets is dumb, for a multitude of reasons.
Don't post pictures of your tickets on social media, post a picture from inside the Shoe. "I'm AT the game." > "I'm GOING to the game."
#TeamJT
Always have been, always will be. Go Bucks.
I'd add 2011 Wisconsin, surprised no one else has mentioned that one. I know that season sucked, but that game was absolutely one of the best I've seen, including the ones on this list.
I'm feeling a sense of excitement around the program that's been missing for several years. Welcome Coach Holtmann, Go Bucks!
Always an upvote for a good Ghostbusters reference! I'm going to have "Cleaning Up the Town" in my head the rest of the day now. And I'm good with that.
Thank you Coach Matta. Go Bucks.
It was MSU that did that to Gavin Cupp, wasn't it? He visited here and they pulled his offer, as I recall. Lots of insecurity from these B1G schools.
Shhh, they might hear you!