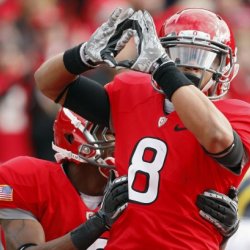 RodVedder4
Westerville, OH (via Westerville, OH)
MEMBER SINCE September 27, 2012
Columbus born and raised, attended Otterbein when it was still a "college." I've known the words to "Carmen Ohio" since I was about 5, still don't know the words to Otterbein's alma mater. I'm fortunate enough to be able to attend a good number of Buckeye football home games, as my parents get season tickets and are willing to share them.

I'm also a big fan of Duke basketball, I think there are more similarities between them and our Buckeyes than people realize...specifically, people who hate both teams often don't actually know why, they just think it's something they're supposed to do. That, and people either love or hate each team...there is no middle ground. We should stick together.
Favorites
SPORTS MOMENT: -Watching Ohio State football win the titles in '02 and '14
-Duke basketball winning the titles in '10 and '15 (if it can't be the Buckeyes...)
-Cavs winning the title in '16

Non-title games:
-'06/'18 vs. scUM
-'11 Sugar Bowl vs. Arkansas
-'11 vs. Wisconsin
-'17/'18 vs. PeeSU
COLLEGE FOOTBALL PLAYER: Justin Fields
COLLEGE BASKETBALL PLAYER: Duane Washington
NFL TEAM: Cleveland Browns
NHL TEAM: Columbus Blue Jackets
NBA TEAM: Cleveland Cavaliers
MLB TEAM: Cleveland Indians
SOCCER TEAM: Columbus Crew SC
Recent Activity
Great stats, but I hate everything about this quote:
Peeling off eight straight wins against Michigan honestly doesn't even feel that impressive anymore since fans have become so accustomed to resting easy by around halftime of The Game for much of the last 19 years.
There's way too much of that sentiment in Buckeye Nation for my liking. It would behoove anyone who feels this way to give themselves a refresher on just how fucking awful the 90s were. If we start taking the current run for granted, a '93/'95/'96-type setback is going to happen, and there aren't words to describe how terrible that would be.
Man, that Miami game in 2011 - woof. That 24-6 score is misleading, too - game was nowhere near that close.
100% agree here, particularly with that last sentence. Everyone saying, "oh, is TTUN even a thing anymore?" You're God damn right they are - the second we stop respecting the rivalry, it can turn. That said, my hatred for PeeSU and Clemson is a very close second to TTUN, but you don't keep your job at Ohio State without beating the rival. Always has been the case, always will be.
That's awesome - he knew JT was gone when he hit the 50!
Best wishes to you and your lovely bride, Kevin!
or the better part of his playing time he seemed to drop more balls than he caught
You sure you're not thinking of Parris Campbell here? I don't remember McLaurin having those kinds of issues.
Campbell certainly figured it out but I remember loudly saying at a watch party (IU in 2017, if memory serves) after a drop of a sure TD that he shouldn't ever see the field again. His fortunes turned around after that, of which I was reminded by my wife and friends every time he caught a ball for the next two seasons. #nevertweet #orspeak
No love for Terrelle Pryor in 2010?
Internet law mandates that there must be at least one thing everybody is angry about each week hour.
FTFY.
Did it to me in both. Certainly hope this won't be a regular occurrence...
Shoe was on the other foot, we were the team that was supposed to roll vs. Florida. Not to mention Urban Meyer coaching that Florida team.
Chess vs. checkers - Ohio State and Clemson aren't recruiting against the rest of their respective conferences anymore and haven't been for several years. It's a fun level to be on!
Perhaps the most remarkable thing about that block was that Nate Salley got around that corner so fast he damn near overran the kick. This game/moment was 100% the turning point of that season. Fun times!
100% agree with Fields, barring something crazy, he'll definitely be on the list, and you're right, I'll gladly drop Schlichter for TP.
This is going to open a can of worms, but here we go:
1. Haskins
2. Barrett
3. Smith
4. Germaine
5. Hoying
6. Schlicter
Let's not discount the fact that Coach Day probably sees a lot of himself in Coach Dennis - Coach Day hadn't been a head coach but got the gig, same thing for Coach Dennis not having been a full-time position coach. I love it, paying opportunity forward. That's all we need sometimes, the opportunity.
UGA may have been ranked in the top 5 but they weren't a top 5 team.
Right. Those of us that lived through the 90s will not ever take that stance.
US Bank is THE worst, for a multitude of reasons. From predatory foreclosure practices back about 10 years ago (which they lost a class-action suit over) and just generally completely shitty customer service for their normal bank customers, F that place.
Thank you - the part of the targeting explanation that everyone leaves out is the defender launching himself, leading with the crown of the helmet. What 44 for Oklahoma did in the first game? Textbook targeting. What Wade did? No - he didn't do that, he was wrapping up, he just had the misfortune of his head hitting first. That is literally the first time I've seen targeting called on a defender wrapping up. Yes, I know it was the quarterback, and yes, I know his head did hit first, but that rule was not established for plays like that.
This might be my favorite exchange I've ever seen on this site. Well done, gents. Go Tribe!
Yup. Had that ball been thrown well to the outside receiver, it's a pick for Okudah. Had it been thrown well to the inside, it would have been broken up. It was a prayer that was answered, and if that's the TD we give up on this day, I can live with that.
I think we can all agree the most disappointing life event of the year was that Hoobastank song.
Can't argue that, I loved every song on their first two albums EXCEPT for that one, and that of course is the one that took off.
Got mine. They emailed a form to fill out where you had to provide your email or mobile number, whichever you use with Zelle in order to use that service.
Correct, it sure wasn't. I don't believe in the officials being able to be any more accurate with these calls than they have ever been, and I'm prepared to not be less pissed about anything.