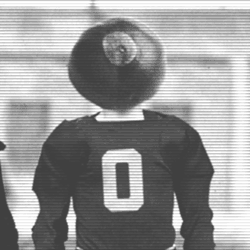 RodeyBuck
---
MEMBER SINCE September 07, 2014
Recent Activity
That article was utterly hilarious. Well done.
Thank you. That totally cleared things up.
You guys are hilarious. I gotta figure this one out later.
The line under Jim Tressell has me cracking. "Jim remarked in Wilkesian fashion, "What kind of cockadoodie nonsense is this?" and then stormed off to clear his head, returning after a few minutes". I mean #1 what is Wilkesian fashion
Oh thank goodness that you brought back Tressel moments! After having such a great time watching the game I was afraid to click on the debriefing as I did not want to be disappointed by lack of Tressel. Thank you!!!
Yeah! That's my favorite part of the debrief year after year. I feel cheated. LOL
Where is this camera man? My pitch fork is shined up and ready to go. Someone has to have some decent video.
Not cool making our kids wear THAT color. LOL
To me Travis interviews like a coach. Like he is a little stressed out and exhausted after a game and has to now deal with these media folks (even though he volunteered LOL) . The difference between him and the coaches is he gives actual answers. Really well thought out answers. The facial mannerisms have me cracking up as that is exactly how I feel when in conversations. LOVE IT! I'm really enjoying this segment.
If you are on here Travis - Fantastic job!
I spit my beer on that one. Utterly hilarious!
Miami, I've been enjoying these write ups more and more. Happy birthday and thank you for putting in the time. That was clever and utterly hilarious!
The Tressel segment had me cracking up!
I damn near had a heart attack. At least the JT haters are manning up and eating your crow. Glad to have you back on board.
I don't care about the black out or whatever it is. PLEASE wear that shirt! Dont't jinx it.
I read it - though even the OP didn't seem confident with the analysis he reported. Unclear on why your response was to attack me as being dense and simple minded I gotta say that hurt a little bit. I may actually be dense because I have no idea why you are correlating Bob to JT. Please break it down in simple terms and *assume I'm an idiot and you are so clever.
Jesus and Mary on a kit kat bar. Just pick your side and deal with it. There are no new angles that have not been brought up on this. I'm going down with the JT ship at this point if that is what it comes to. I think it is going to go well and then I'll spend countless hours looking for and responding to you hater's posts because you couldn't shut the hell up for 5 consecutive minutes and let us enjoy solid wins.
"You got BBQ back there?!"
I was cracking up! I wish he called all of our games.
Most of these were hilarious and insightful. This is one of my favorite segments on the site now. I loved it when the lady talking about Penn State was like - "we're going to tear them up". LOL
Yeah, I'm over the night games for reasons that you all have outlined. It used to be fun because it was rare and something special. I am interested in the player's prospective. So they get out of the stadium at what - 12 am, have to fly home (maybe the next day), unload their stuff, travel home, take care of personal business and have classes on Monday? I'm cool with it if the players like it. As a person who travels, this seems harrowing for a college student to do every couple of weeks which this seems to be turning into.

Son of a bitch! You just had to crap on his accomplishment. Plenty of other threads that you can use to issue your complaints. SMDH
I agree especially with #3 and #4. The 3:30 spot is perfect for me for having some fun with friends and family and then relaxing. These games take so long now I'd rather get home and off the roads before midnight.
That was hilarious. Someone please post more videos with Goldy jacking up kids. I'm sure the kids loved it to.
Yes! Congrats JT.
Where have you haters been? You monopolized the board for weeks and now...crickets.
Even when I don't agree with what they are saying, I love these fan interviews. So much passion.