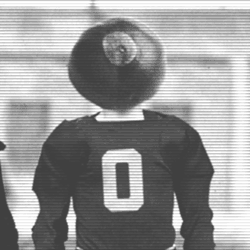 ROCKER99999
---
MEMBER SINCE September 04, 2018
Recent Activity
Took this long to separate himself from the pack?
HARBAUGH - WE'RE COMING TO BURY YOUR ASS ON NOVEMBER 30TH - WRITE IT DOWN - LOSER!
How is leaving early working out for some other Buckeyes we know?
fundamentally - ignorant.
At the end of the day, competing for National Championships - playing on national television - playing your best in front of 100,000 screaming fans - and of course, positioning yourself for an NFL career well, it's not for everyone. There are some players, such as this kid - who prefer to play on a smaller stage, for a perennial non-contender, with less competition.
AND what about Notre Dame? Essentially, sitting on their asses yesterday, when every other contending team was putting it on the line in a Conference Championship game.
SO - Don'y play a conference championship game - and you are automatically in.
LOSE a conference championship game - and you will still be voted ahead of a team that actually won?
That is completely messed up -
Hey Nick, don't bother - we wouldn't want to interrupt your "prep time".
So, are you telling us that if Oklahoma had lost - that Georgia would still have gotten in ahead of Ohio State ?
WHAT A FUCKING JOKE!
Kirby Smart can eat it! What person on the planet, with an ounce of football knowledge - didn't understand that the playoffs started yesterday! You lose - you're out! Case closed.
Who is Colin H ass - Hill ?
Drue Crisman - ALL AMERICAN!
can we use the brown word here?
is it okay to throw up now?
Actually, the clowns are already on the field ....
Just looked at the official NCAA team stats for Defense this year,
#1 rated best Overall Defense in the country - MICHIGAN
#9 rated best Overall Defense in the country - CINCINNATI
Hey, I just saw that Rashan Gary returned to Michigan's line up yesterday - after sitting out with an injury for 6 games. Everyone projects this guy to be a top 10, 1st round NFL Draft pick next year! Wow - what a surprise to see that he didn't walk away from his team to concentrate on his NFL career. Wow , how unusual .....
great words of wisdom coming from a former 1st team - All American who was never named as a captain on his team.
winners stay. losers....?
100% correct ! I also consider the current "culture" of the program. Ohio State is now considered the "shortest ticket" to the NFL. Players are only concerned with themselves - and getting out of here as quickly as possible. Commitment, Dedication, and Loyalty are non-existent - early evidence of this phenomena started last year when Denzel Ward skipped the "meaningless" bowl game. How funny I thought, after watching 1st round draft pick, Sam Darnold play the entire game! How sad I thought, after watching 1st round draft pick - Saqwon Barkley, fierecly compete in Penn State's "meaningless" bowl game - only to see his post game interview at which time he emphatically stated - "This was my last chance to play with my team mates - no way was I going to miss that!" Compare that to - Bosa recently walking out on his team mates, his team, and the university. Go ahead weaklings - start your jabbering about million dollar contracts on the line - blah, blah, blah - nice to know, how weak all of you are - and how easily you can be bought! I see Rashan Gary has been out for at least 7 games at Michigan, he will also be a 1st round draft pick next year - anyone see him walk away from the team yet?
This is what's wrong with Ohio State - the play on the field is merely a symptom of the program disintegrating at its core.
Any chance that the running backs can't see around or over Jordan at center? - that they can't see the reaction of the linebackers? - that the holes are closing while they delay a split second due to a narrower field of vision?
Let's just keep going with what hasn't worked all season....
IF Nick Saban or Dabo Sweeney coached this team last night, would Ohio State have won the game?
HOW MUCH WILL IT TAKE TO BUY MEYER OUT?