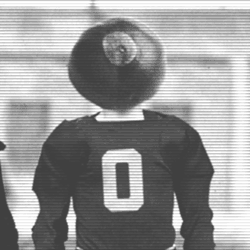 robotfood
---
from Anchorage
Member since 22 August 2014 | Blog
Recent Activity
My girlfriend was looking at me weird when I was trying to explain a football game that happened 6 years ago, but at least she knows we would have won if Braxton stayed in the game.
Is that Braxton standing behind Belichick?
Happy 50th Birthday Velvet Underground & Nico
I rewatched the draft last night and everybody but Darron Lee threw up the O-H as soon as they walked on stage. You can see Urban telling Lee to throw it up but he must've been too excited or something. Urban the Master Recruiter
Meltdown is real in here tonight...
Can we ban all the people that had meltdowns at the beginning of the 3rd quarter??
"O-H-I-O Rip his f****ing head off" is probably the best for someone his age...
This is one of my favorites, that stutter step is just too dirty.
Videos in black and white so that must mean black uniforms
Glad we got Wallace, especially after seeing that ridiculous Bleacher Report video..
TSUN forgot to teach him to track the near hip..
I like how the SEC Network didn't put "4 Ohio State" and just "1 Alabama vs Ohio State"
Congratulations sir, you were correct
At the end of this game, all of you will be saying the same thing... Idk if Chris Ash is the answere, but we need a huge reform on defense, still
On a positive note both teams from that state are losing
If I could up vote, I would. We're killing ourselves right now
It's sarcasm, but I definitely find myself frustrated at the guy
Not to mention the field markings..