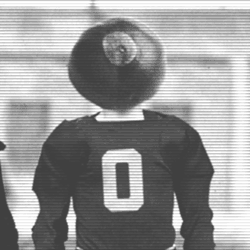 robinson819
---
Member since 28 October 2013 | Blog
Favorites
SPORTS MOMENT: Duke 2001 National Championship, Ohio State 2003 National Championship
COLLEGE FOOTBALL PLAYER: Terrelle Pryor
COLLEGE BASKETBALL PLAYER: Jason Williams
NBA TEAM: Cleveland Cavaliers
Recent Activity
Naw, it was clearly a bad look. It should not have happened like that.
He'll probably end up at Georgia, not Bama.
He is mixed at least but probably just fair skinned. But he is AA.
Jamarco Jones or Michael Jordan's numbers are wrong. Jarmarco is only 13 snaps off from Michael Jordan, not 23.
Don't believe Hill was gonna be passed. There is no proof of that.
Nobody in Ohio has better food than Cleveland.
I also am really happy they moved him. But I understand they needed the depth last year.
Get a keyboard app that allows you to turn it off.
TwoLive customs, customized nike cleats
#underrated response
Used to say the same about Warriner.
They may need to.
Munger starting would be a bold prediction.
I hope they move Campbell to H eclusively.
I would call it lack of production at DT not lack of bodies. We need some NGs but we have plenty of DTs.
Gibson is a starter, Berry moves to DE.
Remember how we used to strike out on the OL... Good times.
Bridges has good tape. He may get that offer.
We actually might have more. Potential is a crazy thing.
Took forever to see it against Clemson as well.
Or that motion Triple Option they use where the H-Back comes into the backfield.
No need to attack people guy.
Pridgeon will be the the RT, Prince the LT. I also don't the Samuel will start at RB but at HB. Weber or Dunn will be the RB. Corey Smith won't end the season a starter.
I believed that as well.
And you attack Coach K because? He's won 5 rings his way so...