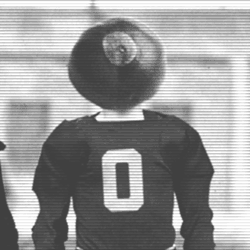 robinson819
---
from Cleveland, OH
MEMBER SINCE October 28, 2013
Favorites
SPORTS MOMENT: Duke 2015 National Championship, Ohio State 2015 Sugar Bowl
COLLEGE FOOTBALL PLAYER: Terrelle Pryor
COLLEGE BASKETBALL PLAYER: Jason Williams
NBA TEAM: Cleveland Cavaliers
MLB TEAM: Cleveland Indians
Recent Activity
I'm guessing people don't follow Haha Davis huh?
I have a few and I'll put them in descending order
1) 2019 Clemson game scoop and score.
2) 2015 Offensive Hires
3) 2017 Defensive Hires
4) 2012 Bowl Ban
5) 2010 Wisconsin It's only this low because we would have forfeited it anyway
He was the victim of an awful OL and seemingly a sub par training program.
I love that video of him breaking Buckeyes before the game and his parents draped on him after the game. So so sweet.
2018 is the best hands down. Ripping their heart out their chest when they were so sure they would win can't be topped.
I think they should try to develop Craig Young like Clemson developed Simmons. My belief is he has it in him from a size and athleticism standpoint.
What did Werner do so bad? I thought he was pretty good this year.
You haven't listened to him lately. He's over it.
To me OSU is at it's best as a zone based defense that tackles and adapts as needed. That's what we seen this year. I expect our defense to be in the ball park of last year's defense as long as everyone stays sound. Proctor scares me a bit in that regard.
No other QB in this decade can hold DH's jockstrap. He probably should have started "17 but those are the breaks.
I would like to applaud you for getting the QB position right. I'm so tired of people putting JT like he can hold Dwayne's jock strap. My only argument is I would take Dre'mont over Bennett. Other than that I think the list is flawless.
Cincy is always 10 degrees warmer.
ND is adding better outside WR to their current mix of players. This will help them greatly against the top tier of college football.
I think Day likes continuity when Urban likes change.
The LB room has crazy numbers right now with a bunch of perceived talent.
This is not business as usual but I also expect whoever they get to produce. It could be Bradford, Williams or Gibbs the player will produce while in Columbus.
I think it's the combination of a couple things. 1st we had two guys and told everyone else no thank you. When they both backed out now you are trying to re-engage relationships. Secondly I think a bunch of recruits wanted to see the product on the field and by the time they are seeing it they already like another program.
Not yet but if Day and Yurcich keep stacking QB talent then yes, I see it happening.
I don't expect White's snaps to come at he expense of Werner. i expect them to come at the expense of Borland. I think in their 2 LB sets you see Malik be a staple with Werner and Browning rotating around. Since it's single high I think it will look like a standard 4-2-5 alignment.
They have a better defensive coach. Kiffin may be an ass but he can coach offensive football.
If you fly into Cincy you are actually in Kentucky.
I love the 4-2-5 defensive alignment. Lines up to play the run with athletes to play the pass.
If our LBs are off the line and taking on blocks versus going under they will be fine.