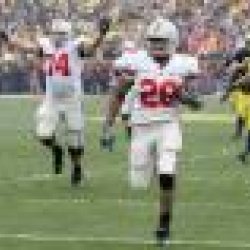 rkylet83
---
MEMBER SINCE June 17, 2011
Favorites
COLLEGE FOOTBALL PLAYER: Braxton Miller
NFL TEAM: Lions
NBA TEAM: Spurs
MLB TEAM: Tigers
Recent Activity
Miami will be the most lauded 4-7 team in the country.
He's a good head coach that will probably make them quite a bit better. They probably won't ever compete at the highest levels in the division, but if he keeps getting high end talent they will certainly challenge the lower/mid level teams.
I think I'd add 2012 @ MSU as a honorable mention. Prior to that game, we'd really struggled to beat some low level opponents at times. I remember Urban saying that was the game when the 2012 team came together and started playing with the heart they needed to. We were 2 or 3 point dogs that day as well.
Second that. I though it was a term from Frogger.
It's early but KC is in trouble. They are getting whipped on the lines.
I can't really argue with the rankings at all. Well done. My personal rankings would be;
2014 - Champions, easy one.
2019 - The best team I've ever seen at Ohio State and the best regular season. A magical year.
2012 - Probably the least talented team of the bunch and played with the most heart and guts.
2018 - Great offense, bad defense, but got it right when it mattered.
2016 - A horrible ending, but the Brooklyn Dagger play and nearly perfect regular season puts this higher on my list.
2010 - If Pryor doesn't get hurt the previous week, I think we beat Wisconsin and go undefeated. This was the year we broke the SEC curse...it still happened NCAA.
2017 - A good year but the losses to Oklahoma and Iowa were tough. It felt like Day's offense was still trying to fit around JT and it limited the potential.
2013 - Great offense, bad defense and didn't get it right when it mattered.
2015 - The most talented team but executed at a high school level for 90% of the season. Lost the only game they couldn't afford to lose.
2011 - This is what happens when you let the Walrus drive the car.
Chase didn't play for Clemson.
I think that 1994 Penn State vs Nebraska would have been an epic game, although I think Penn State would have won.
I think 1997 Nebraska would have beaten Michigan pretty handily. Imagine if Michigan didn't have that 1/2 title and ended the 1997 season on a loss...they would have nothing.
I'm so happy that his legacy lives on.
Fuck you cancer, we all hate you and eventually you're going to fall.
Example: LSU just had an alum caught on camera dapping wads of cash into players' hands on the field and the school's initial response was "Oh, it was pretend money," and they probably would have gotten away with it if Joe Burrow didn't admit it was real on a national podcast.
The fact that anyone would believe that a grown man would be handing out fake money is remarkably stupid...and the sports media went with it for days.
I agree. Why wouldn't a 5 star want to play here? It's a guaranteed high value position.
Deep down? Yes. On the surface no. I was wrong on the time as well...the Groban and Leach events weren't on the same year.
He went into a speech about people who have things coming to them and last person he mentioned was Jim Tressel amongst Michigan's other rivals.
https://www.mlive.com/wolverines/football/2008/12/michigan_succinctly_wraps_up_i.html
I don't condone the behavior, but seriously that is pretty soft.
On a side note, if I was LSU I'd put a restraining order on this clown. He's put a majority of the attention of the win on him and not on the players, where it should be.
I'm so glad that you added the Groban song at the banquet to this list. It's the most underrated event of all of the embarrassing moments for Michigan this decade. Rich Rod cried at the banquet and then Rick Leach put his arm around him and called out Coach Tressel.
Joe Burrow sounds like the next Ken Stabler or Joe Namath.
Please tell me why it took ESPN that long to write a story on it, when it happened live on their network? Any idiot knows that wasn't fake money. Seems pretty passive at best.
Of course it was. Nobody above the age of 5 carries around fake money.
It looks like the media is FINALLY running stories, but nothing substantial. No surprises here. It will be forgotten in a week.
I only wish we had one more year of Malik Hooker. That guy was insanely good.
I could be wrong, but didn't we dial Cincinnati because TCU dropped out of the home and home?
Meanwhile at ESPN headquarters.
Yep, I imagine millionaire guys like him out for the evening carry tons of fake cash on them instead of the real cash they have.
He could accept the job right now and just finish out the Titans season. Maybe it's already happened behind closed doors, but the Titans season is not stopping the process from happening.
Who the hell carries fake money with them to a game? I'll wait...