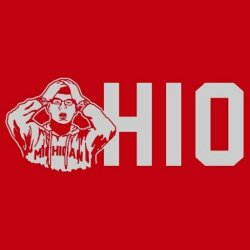 RKC
---
MEMBER SINCE November 13, 2013
Recent Activity
Can't wait to watch the Buckeyes crush this parliament.
At first, I thought the question was sarcasm b/c the dubcast is only about 50% football and 50% other stuff like tv show recaps and ask us anything. Alas, the questioner really didn't know that 11W is involved in at least 2 podcasts that I'm aware of: the dubcast, and the eleven warriors radio hour on wbns. Dubcast is put out by the site and I think the radio show is aired at some point during the week and wbns puts it out in podcast format. If you can't find both in one podcast catcher try another catcher. For instance the radio hour does not show up in stitcher as far as I know.
Talking about football is actually what makes football such a great spectator sport. Each play is about 8 seconds long. There's about 40 seconds between snaps and plenty of other breaks for subs, etc. The reason we all love spectating is the action but it's all the downtime in the middle of plays to talk, react and forecast. It's part of how spectator sports have become popular in the states. Baseball commentary used to be the biggest thing and likely the reason it was so popular initially on the radio. Football is more visual and took off with television and the analysts. Soccer and hockey don't have the same breaks and struggles in this regard. Basketball is kind of in the middle, i guess.
We love talking football. Heck, I read the comments on 11W and sometimes even comment on them. Then I'll go to someone's office down the hall and talk some more about it. I've never put on pads or played more than backyard football but I love talking and listening about.
I recall that was Dontre's only meaningful playing time against TTUN. I believe he was injured or something each of his other times. Still he made his time on the field memorable!
Always wanted him to get some more payback for this.
Someone up top wrote about Haskins playing in two more games to get to the 5000/50 marks if OSU had a better defense. I argue a slightly different look at that same notion: a better defense might get Haskins two more games but it's also likely that a better defense might have netted him smaller stats and fewer records.
The records and stats are amazing. One of the knocks on Tua was that his stats weren't as great b/c he rarely played meaningful snaps in the second half and most the season without playing the 4th quarter. One of the knocks on Murray was that his team's defense was so bad so he had to stay in the games till the last drive. I think Haskins' situation is a little closer to Murray's. OSU's defense didn't shut teams down very much this year and Haskins had to stay in games a long long time and actively try to pass for yards not for stats, but to win. I'm not knocking the guy. Love watching him play and will root like crazy for him in the future but if the OSU defense had played up to half way its normal standards, Haskins would likely have not broken all of these records.
It takes a special circumstance like this year's team and this year's QB to get to these stats. It felt like a stereotypical Big 12 type team this year (with better punting).
I wonder if Jones and Haskins are planning with the coaching staff to only play a portion of the game. I think Saquon did that for his final bowl game. He played a few series and sat b/c he and the coaching staff had planned for that. Seems like a fair balance from a consumer of the sport's point of view.
I agree with above comments that Dwayne handled himself well. Better for him is just being pictured with those two. While Kyler might not be NFL size a lot of folks think Tua is and will be a high pick next year. Dwayne is several inches taller and seems bigger in the images and the above image stands out. Likely made himself a few bills just being pictured.
Great list. Thanks for putting it together.
#11 has got to be Kenny G's 2012 game to help keep the undefeated season going. Just the images of Meyer celebrating at the end have got to put it at #11.
i'm guilty, i clicked or the article. if we can make a pact to not click on any of them, anywhere, maybe it'll go away faster.
I promise not to click on this horrible story and articles written about the ongoing drama. anyone else?
Thanks for posting the link - any thoughts to adding it to Stitcher?
I love many things about this hire though I think there's a wide receivers coach in Houston that plays some smooth jazz and needs to come back at some point.
What I love most is that B. Hartline is only a few seasons removed from the NFL. I have to assume he has some of his paycheck money leftover so this $105K is just a little sum for him and he's doing this b/c he loves coaching and will really work hard at this position.
well researched. I guess I can't accuse you of homerism.
Just before the Marcus Hall double-bird salute, were Dontre Wilson's only minutes against Michigan. Always wanted to see him light up TTUN.
Love the double-bird salute but didn't like having to explain it to my 5 and 7 year olds back then.
Great story. Thanks for sharing and it's good to hear about coaches spending time with kids without pads on.
also, wasn't urban a psychology major?
Welp. Young and foolish is the easy excuse here. Glad no one got hurt and this young man likely has years ahead of him to prove himself responsible.
It's about 445p central on April 27, 2018 and *ichigan still sucks.
Does KBD have a nickname? The villain was always a fun name but I don't recall one for KBD. KBD does not count as one.
Congrats!
Might be a nice off season thread - greatest buckeye nicknames, i.e. el gaupo.
A different uniform would be novel. Go back to leather helmets and no pads. Tackling, blocking and hence, the plays, would be so different than what's on television now and allow the players to be more recognizable. The novelty would draw in viewers immediately even if they are just waiting for a car crash. Just as the previous XFL pushed production techniques, this might actually push the discussion of player safety. Heck, might even be able to get some rugby guys to join in as well.
Wasn't it just last year we were worried about him being hired away by the Bearcats and Fickell? Good for him and let's hope the DB train doesn't slowdown in Columbus.
A bit out of the box but why not put one of our offensive guards or tackles on the D-line.
For example, Orlando Pace, was incredible on offense and that how he was positioned. Does anyone here think he couldn't just clog up the middle and take on two or three blockers himself. I don't know if he could wrap up a running back's legs and tackle but he would eat up blockers like crazy.
Just a thought since this is a dreamlist sort of question.
Perhaps I've had too much nog already.