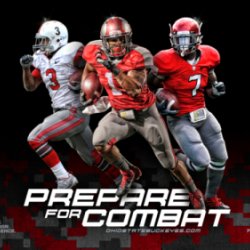 Rjpfish2
---
SE Alaska (via Bryan, OH)
MEMBER SINCE December 13, 2011
Favorites
SPORTS MOMENT: Any time Paul Keels and Jim Lachey are on my radio
COLLEGE FOOTBALL PLAYER: Chris "Beanie" Wells
COLLEGE BASKETBALL PLAYER: JJ Redick
NHL TEAM: Columbus Blue Jackets
NBA TEAM: Cleveland Cavaliers
MLB TEAM: Cincinnati Reds
Recent Activity
Steele Chambers anyone? LB seems to be under control.
Seeing lots of references to Rashan Gary and Jabrill Peppers even though Mattison was not the primary recruiter for either one. Still pumped for the hires! Go Bucks!
In reference to playing MSU, they HAVE to want it more. The talent level is far less across the board. And Meyer admits he prefers ace recruiters. Sparty develops players because they MUST! It is the only way to win with the 6th ranked class in the conference two years running.
2 bad losses in 2 years, definitely the fault of out-of-state recruiting. Ridiculous... I suppose we lost to VT in 2015 because we signed Grant Schmidt and Torrance Gibson that year. SMH All 3 of those losses fall more on the coaching staff than anyone, definite lack of preparation.
And crediting just the defense and Herman for the 2014 Natty is equally ridiculous. Bosa and EZE played out of their minds. It is a team effort, win or lose. Tom Herman didn't win tOSU anything!
I liked it when Paul Keels used to refer to the annual 'Spring-Game-MVP-who-didn't-do-jack-in-the-regular-season' as the winner of the Bam Childress Award.
Not very... Did you read the article?
I thought the same thing, but how good are Farrell and Hausmann really? Both were highly touted recruits and yet both have been leapfrogged by Berry, who may be an athletic freak but is still a converted DE.
+1 for Bo
Agreed. Placing the blame for the LB's struggles solely in Davis' lap is unfair. Chalk it up to injuries and inexperience. If not at WR coach, I'm all for a Special Teams ace. Aside from punting, this phase of the game has needed addressed for a few years now. Consistently underwhelming on kickoff returns considering the athletes we're recruiting. And if I see another kickoff go out of bounds I might just have a stroke.
I like where we are at, giving Dwayne or Joe the keys for the next 2-3yrs with Tate as the wild card. As good as Emory Jones is, I see why he would weigh his options. Basically, he ain't gonna sit and he ain't coming here to play school.
I like what I've seen from Cornell in limited duty. 280 isn't exactly undersized either. Same weight as Barrow and heavier than Bosa, who plays inside occasionally. Robert Landers isn't a giant but he holds his own on the interior...
I think they will only go as far as Bob can take them. CBJ need a healthy season from him to go anywhere.
McGregor spent a lot of time running away from Diaz with his hands down/back turned. Diaz should've scored points for Octagon control.
Glad to see KJ Hill's name in there as a punt returner.
I don't disagree with the rule and I do understand it. What I don't understand is how over half of NCAA D-1 football players are covered in "sleeves" of tattoos, many of which cost exorbitant amounts of money. Why are they not being investigated?
He actually traded his own property for said tattoos, so they weren't actually free, which makes the entire "scandal" even more ludicrous.
I really want to go to East Lansing and get some revenge this year. But I'm thinking Nebraska will be just as good. Hard to pass up a November night game in the Shoe. Decisions....
I'll take them off of your hands. Do you have PayPal or what?
I'm definitely interested. What is your number? (Since you already have one in mind)

Thanks for everything Birm. Best of luck in your future endeavors. You will be missed more than you know.
Rory who? Jordan Spieth PGA Tour 2017.
Spot on about the lack of endorsements. Sid and Ovi are only making $10-12 Million annually from their contracts too. Nick Foles, Denard Span, Coco Crisp, and Andrew Bogut all get similar paychecks from their respective teams. Talk about criminal!