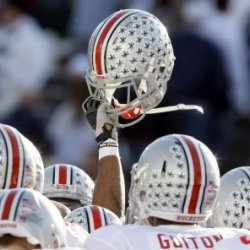 rightfield
---
Ohio (via West Lafayette)
MEMBER SINCE December 03, 2011
Favorites
SPORTS MOMENT: 2002 National Championship
COLLEGE FOOTBALL PLAYER: Eddie George
COLLEGE BASKETBALL PLAYER: Evan Turner
NFL TEAM: Bengals
NBA TEAM: 76ers
MLB TEAM: Cincinnati Reds
Recent Activity
Most appropriate take so far " Alabama has out spent FSU for talent of late".
Bingo!!
This is no different than when the US decided to let their Olympic athletes get paid. It finally put them on an even playing field with the communists who had been paying their athletes for over 30 years not so under the table. The sec has made a mockery of the idea of the amateur athlete with their football and basketball programs ( if you ain't cheating you ain't trying) especially the last 20 years.
This just puts every one on the same playing field again. Side note- no one will benefit from this as much as Ohio State will.
That 3 game gauntlet will be really, really tough. The sec is smart to have "Chicken Shit Saturday " set up in their schedule to protect their brand. The B1G should follow suit.
Always respect the rivalry and the rival. It makes the victories taste better. They do seem to feel good about themselves so this should make this years victory taste as good as last years. Picture Lucy pulling the football away from Charlie Brown again and again.
45-10
No let up. Backups in whole 4th quarter.
No one is wanting to see the Shoe ever go away, the question is what if major structural problems happen which they eventually whether you want it to or not. The ground foundation is not the same as the Roman structures mentioned earlier. The Shoe is very close to a river and has a high water table. That in of it self will take many years off the life of a heavy structure like the Shoe. If it goes the way of Yankee Stadium then I would like to see it replicated as near as possible to its current location with a partial roof over the top deck like old Riverfront Stadium or Washington Husky stadium.
To find a true champion out of about 60 power conference teams by "voting" for 4 of them to a playoff is ridiculous in of itself but add that there is very little out of conference play and that the season is about 12 games . No other sport in the world has such a backward way of declaring its champion.
There needs to be a 10-12 team playoff with the winners of the conferences getting a home field game. There has to be some built in criteria before the season starts on how to earn a spot in the playoffs. Not a vote- can you imagine if the NFL or HS football did that. Jeesh
The difference being , Calipari has been caught several times cheating in recruiting and works for the school that has been caught cheating more times than any other school .
Urban, has never been brought up on charges of cheating.
College basketball reeks of corruption and Coach K , North Carolina ( fake classes) and Calipari are the poster childs of this era of absolute wild, wild west lawlessness. With a NCAA that has no teeth, the rats are playing and "winning".
The players need protected from themselves ( maybe one or two players a year are ready to play against men in the NBA and I doubt it is even that many) but "shelving " them for a year of Maturity in the college ranks has helped ruin college basketball.
It is high time to let the players get paid for their likeness and also encourage the ones that can not handle college to go to the European leagues or G League.
It never gets old seeing such a snob infested, collection of wannabes take it in the chops again and again.
As a Bengal fan, this reminds me of a HC hire back in the 80s. A little known offensive genius from IU.....who once grabbed a PA microphone and said" We are not from Cleveland so quit acting like it!"
I would trade Oklahoma for Georgia. Georgia hasn't won a NC in about 40 years and maybe 3 conference championships during that same period. The state is flush with HS talent but kids there seem to have a free agent mentally and not raised Bulldog diehards. Auburn , FSU and Clemson sit right on the GA state line and live well on their pipelines into the Peach State, let alone what South Carolina, Tennessee, Alabama and UF ( Ohio State too) steal out of the state.
Over 80% of the top 30 players from the state of GA live within an hour of ATL airport and you are as likely to see any other SEC shirt or hat worn there than UGA . Outside of Atlanta you find your hard core Bulldog fans but that is not where you find many top tier players.
Well as Mindsrfer mentioned earlier I may be treading close to our commenting policy boundaries....
Q- Where do you find the best football players in the world? A- the NFL
Q- What do 85% of the NFL players have in common? A- Black American Males
Q- Where do 75% of Black American males live? A- In former slave states. (SEC) check out the population map.
Q- when did southern college teams begin to turn the tide on winning NC from northern teams? A- when southern teams allowed more and more blacks to play on their teams. Miami and Florida State were the first to fully integrate and they dominated the 80-90s until the SEC finally decided that winning was more important than color of the guy wearing their jersey. This fact has a lot more to do with the the NC shift to the south than population shift. Up until the late 80s , all black southern colleges ( Grambling, etc.) were fertile grounds for the NFL to draft from- Too Tall Jones, Walter Payton, ect. Those players now are allowed to play for Alabama, LSU and Florida.
No team has ever earned a spot to be in the CFB playoffs to date. When there are no preseason prerequisites to "earning" a spot in the playoffs and it's just a group of dudes voting for spots then there is no " earning". It is just a step up from the days when the national champion was voted on. With so much money in the balance no one can be trusted to give a bipartisan vote.
Sports are meant to be played on the field not in a voting both.
I like Urban's chances given the same playing field that Sabin and Dabo are given. Easy schedules and a ESPN push.
You can't win the championship when you don't get picked to be in the final 4 and there were a couple years that if we were allowed in I am sure we win it. A whole different narrative if we were picked over another team with similar resume. That is why this playoff needs expanded to 10-12 teams. As it is now, no #1 seed has won the NC.
2 - #4 seeds have won it. Who's to say the #6 or #10 seed could not have won a championship by now. I believe if the playoffs were 8-12 teams, that Urban would have won one - two maybe even 3 more championships. BUT, you can't win it if you don't get voted in. Voting for a playoff field of teams is the least intelligent way to determine a sports champion.
No bag men to deal with in the NFL unlike the SEC.
Marty will be missed. I tuned in to hear Marty and the Reds for many hundreds of games
North burg, that sounds very legit. I was close to a kid that was 7' and ended up a first round pick in the NBA. He experienced the same treatment in HS and it took a lot of fun out of the game for him at that level. The refs don't know how to call a game with someone that much bigger than everyone else. The typically end up allowing all kinds of cheap shots to try to even up the competition and opposing coaches have no means to stop someone of that skill level so it turns into what can we get away with to stop "the giant". .. Stomp on his feet, elbows in the crotch, elbows in the back, constant hack men put on them, muck up the game, triple teams, constant grabbing. They took "hack a Shaq" to another level.
I hope he can hon his game better against better competition and better refs.
What are tickets going for?
The curtain has been pulled back enough for everyone who wants to see that the process is a joke. Communist hockey tournaments in the USSR were run with more integrity than this.
I am guessing there will be about 50,000 empty seats for that one. LSU and UCF fans to get on a plane to go to a game, I have to see it to believe it. It will actually be out of both of their time zones so no chance this gets half full without free tickets being handed out to the locals.
I can not even imagine the uproar if the NFL got its playoff participants from the same idiotic method that D1 college does. The Cowboys would be in every year , with a bye and a home game.
Tiffin Buck. I like where you are going with that but to take it one more step for the purpose of rewarding the conference champs ( which makes the regular season more important). Here is my 12 team line up.
1) conference champs get a bye and a home game- except for the worst rated conference. It's champion plays in the first round but gets a home game. So, the top rated team in the country could wind up a 5 seed if the rest of its conference isn't carrying its weight. So even a game like Georgia vs Citadel adds or subtracts from the whole.
2) no repeat or same conference games in the first 2 rounds. This is to encourage interesting match ups from different areas of the country. I.E. Georgia has played north of the Mason Dixon line once in the last 50 years.
Washington at UCF winner to play at Alabama.
Florida at Notre Dame winner to play at Ohio State.
LSU at Michigan winner to play at Clemson.
Penn State at Georgia winner to play at Oklahoma.
This adds significance to winning your conference which enhances the regular season. Each conference is ranked according to records and strength of schedule by computer. It rewards tougher schedules for all teams, conference champions, eliminates most of the smoke and mirrors.