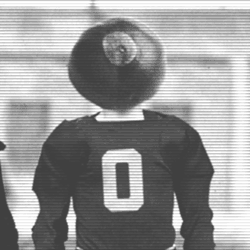 rider1
---
Member since 30 August 2010 | Blog
Recent Activity
It appears this is inaccurate. https://www.landof10.com/michigan/michigan-football-kareem-walker-dismissed-michigan-denies
I don't know anything about Chat Sports reputation. I certainly didn't intend to spread a rumor....but now that I'm looking, i can't find any sources to confirm
As passers, Terrelle Pryor Sr. & Braxton Miller make Joe Thomas Barrett look like Tom Brady.
Joe.Thomas.Barrett! Winner!
Adam Stewart comes from a big Buckeye family. He had offers to work in the NFL but decided to follow his heart and stay. Kudos to JT and to all of the staff that made his quick return to the field possible!
Going to UVA on a wrestling scholarship!
Northwestern held SB to -7 yards in the 1st half. Do that x 2.
Good advice - thanks for the response. Staying 10 days..thanks again- go Bucks!
I hate Russian nesting dolls.....they are so full of themselves....I'll just go now...
KR started 111 of 112 games and had 80 consecutive games in double digit scoring. Finished second in voting for NBA rookie of the year. Great 2way player.
Mike Brey- would be another decent option
Josh Pastner Georgia tech and Rick Byrd at Belmont can both coach- a couple outside the box thoughts
I want Crazy Frank Martin.
Great, as always Curt. Thank you. I wouldn't say so to Mr. Snyder, but those warm-ups really resemble an ugly bathrobe. Go Bucks- let's make those PSU fans cry (again).
What if Tate moves to TE like Ricky Dudley? Get him some cleats!
Thanks Curt- love your updates. Yuuuuuuuuge melt down over at Black Shoe Diaries-they were so smug! What an entitled bunch those kitties are.
Snyder pins- Bucks win 29-18
Bucks up 5 with only Mr. Snyder left
Is he left-handed? If that's his off -hand......
Another vote for Yurcich- innovative and gutsy
As Corso would say" not so fast my friend"....lots of groundswell on talk radio about Michigan getting in the CFP. No way that happens, right?