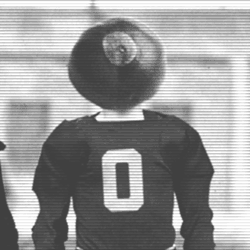 Rico411
---
Dayton Ohio (via Dayton Ohio)
MEMBER SINCE August 17, 2018
Favorites
COLLEGE FOOTBALL PLAYER: Orlando Pace
COLLEGE BASKETBALL PLAYER: Larry Bird
NFL TEAM: Bengals
NBA TEAM: Boston
MLB TEAM: Reds
Recent Activity
Did i read there is video of consent ??
They wont be if they keep singing 3* diamond in the ruff recruits.
Why no BOOM ????
" who has it better than us" hahahaha
Michigan Blows
I waa thinking the same thing that maybe coach Day pulled back on the offensive play calling so not to show to much to other teams.
Im worried about coach days game management it feels like he almoat got out coach by Lane in the 2nd half.
What a magical season there's a lot more adversity in the 14 season then just the quarterbacks that team had a lot of guts and focus
Woodson been drink to much of his shity Wine.
Man the kid called it and was 100% right.
Buckeyes will finish in the top 5 maybe even as high as 3rd barring no major decommits and they have a great season.
This will have a huge effect on recruiting when a player can go to Cali and get paid to play but the rest of the country they are not ....the NCAA would have to ban them from championship play duenti the unfair advantage they would have in recruiting players .
I'm good but I was just reading about his 5.5 over/under commits article.
I thought we were supposed to have like 4 or 5 kids commit this weekend ?
Bravo sir
OSU will be up by 3 TDS by the end of the 1st quarter and that's game over.
BOOOOOOM !!!!
The CFP should expand to 6 teams .
When did they break up ??
This one hurts and after losing this recruit I find it hard to believe that we finish in the top 10 for this class. Smh
Of course he had to be wearing a OSU shirt in the mugshot.
So where do we finish with this class ? Top 10 ?
So people cheat and your saying we should reward that behavior ??? It doesn't matter if we pay player's there is still going to Schools, agents, boosters or whoever that will still pay these athletes to come play at there school. It not like the schools will pay these kids a couple dollars and all the illegal cash payments will stop. The bag man will continue to pay these kids no matter what we pay them.
Very logical statement
Maybe you should pull your head out of the sand and quit acting like a little girl's lol