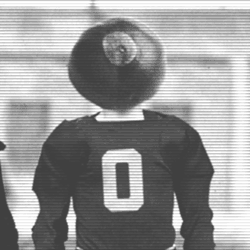 rick
---
MEMBER SINCE August 21, 2014
Recent Activity
Yeah. Hearing Musa Jallow is gone too.
Expect one more transfer ...
Some of the new and old coaching faces were out last night earning there paychecks checking in on some top football taken in Pickerington. Larry Johnson and Al Washington were for sure there (possibly Mattison as well) checking out the basketball game between Central and North. Jack Sawyer and Chris Scott of Pickerington North both play basketball. Lorenzo Styles from Central attended the game but does not play basketball. Sawyer finished the game w 28 points and 12 rebounds. The kid is a absolute stud athlete.
2019 Recruits we could still end up signing to bolster our depth along the line ... obviosuly keeping Doug Nester is a must but I'd be happy adding any of the below names as well
Innok Vimahi - Hawaii recent offer
https://247sports.com/Player/Enokk-Vimahi-46038963/
Dawand Jones - Indianapolis, IN (several recent crystal balls to Ohio State)
https://247sports.com/Player/Dawand-Jones-46052090/
Darnell Wright - West Virginia (likely Tennessee)
https://247sports.com/Player/Darnell-Wright-46035563/
Johnathon Allen - Dayton (likely Indiana) Unsure if staff feels like who is truly a take
https://247sports.com/Player/Jonathan-Allen-46050417/
The next signing period will be interesting to see if Day can address the line needs
Alex is a DE. Way to light to play on the OLine.
For Wright, Alabama can't be an option any longer with how many kids they have signed which would leave only Tennessee. Idk why a recruit of his stature would go to a Tennessee program who just went 5-7 on the year. 3 of their 5 wins were against absolute cupcakes (Eastern Tennessee, Charlotte and UTEP) and outside of the Auburn win, they were largely non competitive against teams with a pulse. Pruitt didn't show any signs of turning that program around. I'd think if OSU wanted to make a late push it woukd possibly make Wright reconsider.
Is there any interest in Darnell Wright? He is a highly rated 2019 OT that had a OSU offer from Huntington, West Virginia, close to where Nester is from. He has yet to sign and his crystal ball is to Tennessee?? It shows he has an OSU offer, did we cool on him for some reason ...
The other name I didn't see in the artical above that I thought we were pursuing is 3 star Dawand Jones. The huge OT 6'8 375 from Indianapolis. Any info on where he is projected to go?
If we don't add a 2019 lineman late, I'd love to know who is out that from a graduate transfer perspective that could provide stability to the OL room.
The other site is reporting Day flew to LSU to speak with Bill Busch about replacing Grinch as Safety coach. Busch apparently has ties to Ohio State as quality coordinator coach and worked under Ash at Rutgers before being hired at LSU. Could be an upgrade to grinch. Time will tell but Day seems to be making all the right moves to this point. Grinch proved nothing in his time here, but best of luck to him.
I think in addition to being compared against Oklahoma we should be compared to Notre Dame. We will have two common opponents, Michigan and Northwestern, and if our wins are more impressive then the committee has to take notice. Additionally, the lack of a conference championship as an Independent should hurt Notre Dame. If they were playing in ACC it would solve everything as the winner of Clemson/Notre Dame would get in as ACC champ. Reviewing Notre Dames schedule and results are not jump off the page impressive and neither was their last performance of the year vs USC before sitting idle. If I am the committee I'd have to rank the Bama, Clemson, OSU, Oklahoma, Notre Dame. All that being said it doesn't matter if we don't win impressively against Northwestern.
Where has Demario McCall been? I know he isn't a regular on offense butI haven't even noticed him in the Kickoff return game either. Is he injured?
Everybody should go listen to the interview McMurphy did with 97.1 The Fan. (Paraphrasing here ...) First question is how did he hear about the Zach Smith allegations and he essentially says from being around college football you hear things at other schools. Sounded pretty innocent at the time but now it might connect some dots and somewhat validates Snooks reporting w McMurphy's own words. McMurphy also mentions Courtney Smith called him back after verifying him by calling friends and checking into him ... could those friends Courtney Smith checked with be the Hermans?
Sorry i cant figure out how to link the interview but it can be found over on Bucknuts.
Agree to disagree. The kid is a stud and in your backyard. It's fine. He won't be a Buckeye anyway. Urbs will slow play him like he does all local athletes. He'll likely end up at Michigan, MSU or Penn State and we can come back to debate this topic in 4 years.
The staff needs to offer 2020 QB in their own backyard ... absolute monster runner with a cannon of an arm. 6 rushing TDs in the state championship game. SIX!
https://247sports.com/Player/Demeatric-Crenshaw-46040013
For Gillison and Henderson they were both told to wait around on tOSU while they pursued other out of state/national recruits and neither were fond of the approach. They simply wanted to go where they were celebrated, not tolerated. tOSU might want to take a different approach w Dewayne Carter (Central), Crenshaw (Central) and Jack Sawyer (North).
Saw this on TOS ..
https://ohiostate.247sports.com/Bolt/Ohio-State-Buckeyes-target-Josiah-Fulcher-talks-about-his-visit-to-campus-113542110
That win will be a huge recruiting tool for Holtmann and Company as I'm sure other recruits had similar responses.
I am not an X and O guy w football but I did appreciate some of the confusion their presnap movement caused along the defensive line. I just felt like they didn't have the horses to compete w MSU. Also, I noticed Grinch was on the sideline and not in the booth. After Schiano moved to the sideline midyear this season, I wonder who will go to the booth bw him and Schiano next season.
My apologies but you know it's true. The last d1 kid out of wheelersburg in hoops goes all the way back to burelson in 2001 to Wright State. It's not typical fertile recruiting territory. That's all.
Some highlights:
https://youtu.be/9f-NmY4qd1Y
Watched the state championship games and was not at all impressed w Potter. He was stone walled and pancaked all night against Pickerington Central.
Typically, in 3rd and long, a LB will go off for a DB to play the nickle package. An unfortunate byproduct of losing a LB is a lot of open space created when the pass rushers get up field and the DBs get downfield, covering receivers.
This is what I am used to seeing where a LBer comes off the field, but in the scenarios I saw us get beat it appeared #39, who was not in on 1st or 2nd down, was in on 3rd and long and he is listed as a LBer. This is why I was confused. I was expecting an extra Safety or CB but not a LBer
Appreciate all the responses.