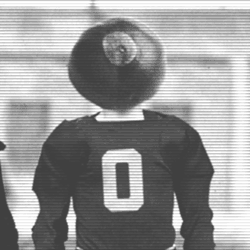 Revolution.is.my.name 1890
---
MEMBER SINCE February 04, 2013
Favorites
SPORTS MOMENT: Cie Grant 2003.
NFL TEAM: Miami Dorsalfins
NBA TEAM: Cavs
MLB TEAM: Tribe
Recent Activity
Maaaan. The sky is not falling. F*cking reeelax. Peterson has them motivated (and his defenses always scheme very well). Offense is moving the ball well, just need some finishes. Haskins has been very accurate when given time. Some people in this thread need to breathe a bit...
Nah, gotta catch the ball
I'd settle for a run between the tackles with a true RB at this point.
Bama is running the ball very well unlike Ohio Sta.....oh, wait, the OSU coaches didn't call running plays. Got it.
Bama attempts to run the ball?
What a perfect fit he would be in Miami!
They're really gonna get shut out. Coaches did an absolute pitiful job. What an embarrassment.
Clemson isn't even outplaying the Bucks at this point. It's like Meyer is trying as hard as he can to avoid giving Weber the ball and establish some type of run game. Crazy, he seems to have forgotten that a strong running game won then a fucking title a couple years back.
I'm just glad Weber is on track for 5-6 carries for the game. He's not a weapon anyway, so I totally understand why he doesn't have a single carry.
I've said that all week. It's not broken if he's "pain free". Get out here with that. AC joint sprain, maybe, but likely still have discomfort. I don't buy any of it. He's not playing if it is truly broken. If he does play and it is truly broken, the safety of their players lies just below what movie to play on buses home in terms of level of importance. He is gonna get wrecked tomorrow and potentially harm himself much, much worse.
There is a clear difference between gamesmanship and being a total idiot. Harbaugh can't seem to differentiate the two. There isn't a human with half a brain that thinks Speight is playing. No way they prepare for both, it's O'Korn. Speight has no chance of playing.
I dunno, ask Matt Stone and Trey Parker why they made this South Park episode over a decade ago. They're not usually one to create a controversial show. Weird.
Then he doesn't have a broken collarbone. This is a smokescreen....or, like I said, there is no broken collarbone.
Am I missing something? What is ignorant?
Why did reports say he broke his collarbone? If he did, he has 0% chance of playing.
Wish I didn't agree. Sparty has to be thrilled the OSU game plan is playing exactly into their hands.
Maybe not after a couple more looks.
The dude for Mich State did head butt Weber in his defense.