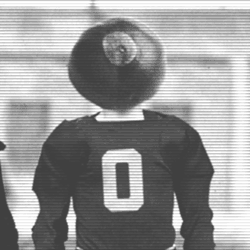 redwoodz
---
MEMBER SINCE August 07, 2015
Recent Activity
Sometimes it just takes a little time and patience in this insta gratification world.
Maybe he's a witch? Or a small church? Does he float?
seems like some of our LB's have been here for 10 years now. I'm not hating just saying.
can't lose to the schmucks up north!
Great news! Coombs developing this kid, well the sky's the limit! Kids electric!
How many months do we have to wait.....lol.
Yep agree with most everybody all I care about is Ohio State.
Everybody is sleeping on Jack Miller, dude can sling it!
well ya can't get everybody, but its strange we are having trouble at the running back spot.
I'm having Jamie Bosley and what's his name flash backs!
Uh. Guess coach isn't putting up with anybody's shit.
Borland is a tough player, but he is so slow.
ITs hard for me to get over the feeling of being cheated this year. Next year needs to be payback for all of college football to witness! And we need this crew to take it to the next level! Whens the first game?
I can't read any more of these I'm just ready to sit on my couch and watch em line up and hopefully see our guys smack the shit out of them!
Revenge is a dish served best cold.
I was trying to be funny but I guess there's nothing funny about the Cooper/Michigan years. Lesson learned.
Back then the talent level between the schools was always pretty even. I think the difference nowdays is the most uneven its ever been. But this year I think we may have the strongest roster top to bottom we have ever had.
great read. Ohio State has superior players, superior coaches, superior facilities, superior game plans, superior halftime adjustments, superior fans and the Cooper years were just a "mirage"! Lets win a NC!!!
If I was Day I'd just make up outlandish stuff I'd say I do when it comes to the rivalry just to F with them!
Eh, I'm still waiting for Bijan to decommit from the Herman Texas dumpster fire.
Put him in the system for a year or two and you never know how good a kid will be.