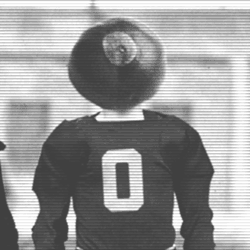 redscoon
---
Member since 30 November 2016 | Blog
Recent Activity
Where can you catch the post game presser? Need to hear Matta explain this.
Has there been a less likable team than this?
Matta should do the right thing and step down. This is pound for pound the dumbest team in country.
Consistently shocked by how dumb this team is. After years of making the same mistakes, it has to fall at Thad's feet. Unfortunately, recruiting is no longer masking the coaching shortcomings.
Tough to make up ground when you play this bad defensively.
And the season long clinic on how to lose must win home games rolls on.
Thompson has to get stronger at the rim. Gather yourself and go up strong.
If you replaced Thad Matta in the program with some other random name as head coach, people would say this is one of the worst coached teams in the country. Consistently amazed at how many little things we get wrong every game. Not to mention us getting outworked every single night.
Caught a huge break there.
Much better 2nd half, but still a ton to work on. Have to come up with better possessions in the closing minutes. Lyle isos are what everybody expects. And defend without fouling. Please. Nebraska had nothing going offensively and they were put on the line almost every trip late.
Difficult to watch this team and come to any other conclusion than them being poorly coached. Come out of a TO and the worst shooter on your roster chucks a 3 in the final minute.
Why do all of the bigs insist in walking into shooters? You have good position, just play big. Nebraska can't get anything going offensively, but we foul every trip.
Getting whatever we want offensively when we take our time. Have to execute and not rush.
4 chances to take the lead have resulted in 2 missed free throws and 3 ill advised shots. That is how you lose.
Have any of the coaches informed CJ that he is a 21% three point shooter?
Koenig has been in school for 13 years and OSU still hasn't figured out you have to force him to drive.
100% in favor of a complete coaching overhaul at this point. This looks like a group of guys playing a pick up game, not scholarship athletes at a big time program.
Loving handling the ball in crunch time makes me wonder if the coaches even care.
Have to defend without fouling late in games if you want to win.
That last defensive possession is pretty much this team in a nutshell.
I can get excited by a team getting these results that is undermanned, but smart and tenacious. Unfortunately, we are quite talented, but dumb and lazy.
Loving and Lyle should be the leaders of the team, but their execution and decision making in crunch time is consistently terrible. Wild shots, turnovers, missed defensive assignments. The same crap keeps happening.
The final sequence of a missed free throw, a needless foul when you were in good position defensively and Lyle coming up the court on cruise control and settling for an awful shot is very fitting for this squad. Talented enough to be in position to beat just about anyone, but constantly failing to make the plays when they matter most.