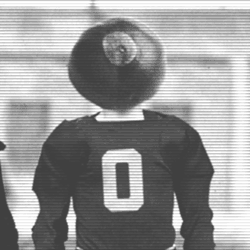 RedQueenRace
---
MEMBER SINCE September 02, 2010
Recent Activity
Badgers don't seem to have much of a pass rush.
I don't remember the details of Bryant's transfer but if it took effect before the championship Dabo could not give him a ring per NCAA rules.
Stated within the rule (Bylaw 16.1.4.2) is : Awards for winning a conference or national championship in a team sport may be provided only to student-athletes who were eligible to participate in the championship event.
https://web3.ncaa.org/lsdbi/bylaw?bylawId=15465&division=1&adopted=0
Probably meant mierda (Spanish for "shit") but it could have been merde (French for the same).
Wow. I thought Kaleb was going to get called there.
74% and 83% and they go 1-2, miss the front end of a 1 and 1 and another 1-2.
Meanwhile Hosuton's 48% FT shooter is knocking both down. Just one of those nights.
Just too easy for Houston on offense.
Andre was fouled. No call.
These were two pretty even teams.
ISU was overseeded at 6.
I'd be happy if we could make a mid-range jumper.
Man. How can a D1 guard miss so many shots so badly?
They need to go to KW in the post until Iowa State does something to stop him.
If they can maintain that blistering 2 of 11 from 3 they had in the 1st half they might have a chance.
This looks like 2 mediocre B1G teams playing.
Washington has not been good on the floor.
So wide open and bricks it.
Chucking 3s and they aren't falling.
Lol. It looked like the Wolverines were told to look more enthused.
PAC-12 regular season champ is a 9-seed. Was the league that weak this year?
Rebounding was pretty even. MSU had 1 more offensive rebound and 2 more defensive rebounds, but on 4 more Buck missed shot opportunities. That's pretty good against a team that rebounds as well as MSU, especially with Kaleb out so much of the game.
Definitely agree on the TOs. I also did not like seeing Loyer and McQuaid, neither of which look particularly fleet of foot, beating defenders off the dribble for easy chances in the paint.
Like Wisconsin, another good job of not giving up.
Rest up and make the most of whichever tournament you get a shot at.
The B1G is deep and competitive but I don't see anyone at the top of the conference good enough to win the tourney.
MSU is built well to win in the B1G. That hasn't translated to the tournament of late.
Does anyone on this team drive to the basket with some kind of plan?
No movement and launching 3s. OSU scoring drought under way.
Did not need that shot there, Duane.
Don't see that as KW's foul. He was there and outside the circle.
Sigh.
That's 3 or 4 times these slow dudes have easily got to the paint / basket.