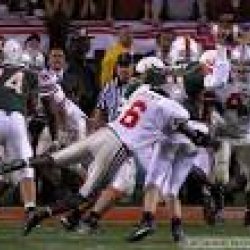 Redjim91
---
MEMBER SINCE July 22, 2014
Recent Activity
Buckeyes - 505
Purdue - 396
Total - 901
PROMOTION: $1 Bud Light Drafts. :)
that is funny,painful, and too truthful.
i'm watching him right now but they keep calling him "Brandon" and he is playing for Notre Dame
Had to upvote. Ferentz was my first thought also.
C - Bench - no doubt
1B- Perez - HOF
2B - Morgan - GOAT
SS- Vizquel - best defensive SS ever
3B - Schmidt -best player ever to play in Athens
OF- Aaron, - Should be on everybody's list
OF- Griffey Jr. - 10 gold gloves and 630 HR
OF- Reggie Jackson - haven't seen him mentioned. Mr. October.
P- Tom "Terrific" - haven't seen him mentioned either
Great article. Thank you for sharing.
Great news! With the exodus of buckeyes and indians this winter, 2018 was looking a little rough.