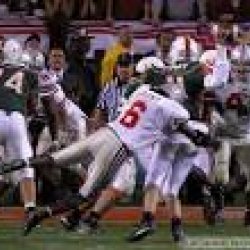 Redjim91
---
Member since 22 July 2014 | Blog
Recent Activity
She's alive???? Poor Manti can't get a break.
No it's just common sense. 4-0 is better than 5-2. If you value just wins then you must think Phil Niekro is a better pitcher than Bob Feller because Niekro won more games.
Terry Bradshaw 4-0. Tom Cheater 5-2. I'll take Terry.
It's fitting that a quality human being like Luke replaces a douche like Tuberville
Harbaugh said his favorite Bob Marley songs were "Thriller, Beat It, and Billie Jean."
New Phila Quakers are going into uncharted territory. Good luck to them.
"Sparty was in the playoffs last year"
are you sure? I didn't see them.
What's next? The defense sucks too!!
Is Jerry Sandusky available on a work release program?!!? Shit
Awesome young man. His block was crucial to "85 yards". Not the best athlete but a great football player.
This will be the start of a great year for Dontre Wilson. Gareon Conley will dominate on defense.
very true. #5 and #54 will always be my favorite Buckeyes. Houston is now my favorite NFL team.