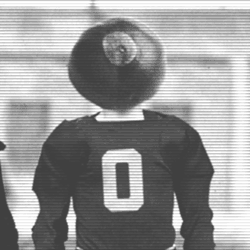 readnguy
---
MEMBER SINCE July 03, 2018
Recent Activity
All moot now...
How are we all gonna handle it if this Corona virus panic causes the season opener to be postponed...or even worse; canceled?
Guess it is a moot point...but the correct spelling for the brothers who played for Dayton back in the 60's is "Gottschall." Sorry, my error!
Dayton Flyers were my team back in the mid-late 60's too...caught the games on 1290 on your radio dial. Like NP, I was a Fairborn kid and loved Coach Donoher and his troops; the May brothers, Jim and Jerry Gautschall, Bobby Jo Hooper, Rudy Waterman et al. Funny, I remember all these guys from over 50 years ago, but can't remember but a couple of the Buckeye players from last year! A word to the wise for all you youngsters out there... DON'T GET OLD!
Something that has gone over-shadowed a bit in all the excitement is that the Bucks have hit 84% (93-111) from the line in the last five games! I don't care what conference you play in; that's some mighty fine FT shootin'!
What's the over/under on how many days out it will be when When I Needed You fails to post? Personally, I believe he is in for the duration! Love your loyalty, brother!
Because Kaleb and Liddell combined for 14-19 and the team shot 24-28 from the line!
Brad Underwood always looks like somebody just crapped in his Italian shoes...
I kinda like Aaron Blake...or is that A A Ron Balockay?
As an old school baby boomer, it's gotta be from the TV classic, "The Andy Griffith Show"...followed by the theme songs from other 60's TV shows; "Leave it to Beaver," "Bonanza," "Hawaii 5-0," and "My Three Sons."
I doubt MSU is THAT desperate...but it would sure be fun to see his wife up in the Sparty stands...especially on those COLD Michigan Saturdays!
As I mentioned in an previous post, I am not an avid follower of college and/or free-style wrestling, but I know enough to recognize an amazing feat when I see or hear about one. In the 1972 Olympics, Dan Gable won six matches on his way to a gold medal without giving up a single point against some of the best in the world! I have mentioned this when discussing or comparing various great moments in sports history and am often given a "so what?" response. In your opinion, how does Gable's accomplishment stack up against other truly great athletic moments ?
Just saw that Sammy Sasso has joined Pletcher and Moore as the #1 ranked wrestlers in their respective weight class. I have been watching more wrestling this year than in years past and have been very continually impressed with Sasso's work ethic and absolute refusal to not give all every second he is on the mat!
A young man decided that he would like to buy a dog for his new bride; a beautiful blue-eyed blond. "I think a Labrador Retriever would be perfect for us," he told her. She replied, "You might want to rethink that dear. Have you ever noticed how many of their owners go blind?"
A wealthy 78-year-old Texas rancher married a beautiful 25-year-old blond and soon found that he just couldn't keep his hands off her....so he fired every one of 'em.
What do you get when you cross an elephant with a hooker? A three-quarter ton pick-up.
How does a team go from studs to puds overnight? Hard to figure!
Wesson played better as a fatty! Kyle Young gives ALL every game while the others give little. At some point he may just throw up his hands and give up...like many of us!
Seems Young has all the heart and all the hustle!
The E.R. doctor found the worried husband pacing in the waiting room and announced, "Sir, I am so sorry...but you wife just doesn't look good at all.' The worried husband replied, "I know...but she has always been good with the kids and she IS a danged good cook"!
A newly employed bank teller was counting money very rapidly when the bank president walked in and stated, "Your accounting skills are impressive; where did you learn them? "Yale' was the response. "Well then, we are quite fortunate to have you working here. By the way, what's your name, son?" to which the young man replied, "Yames Yackson."
Anyone remember playing Jarts with the sharp, pointed steel tips?
A guy walks into a bar after losing a civil case, and proceeds to get a bit inebriated. He climbs up on his bar stool and yells out, 'All lawyers are IDIOTS!" A guy in the back of the place stands up and yells back, "Hey buddy, I resent that!" to which the drunk dude responds, "Let me guess, you're a lawyer, right?" The guy yelled back, "No. I'm an IDIOT!"
When I was a seventh grader, my English teacher was some old crone we referred to as "Old Lady Andes." As the years passed and I continued through high school and college, I gave little thought to any of my former teachers, particularly my seventh grade English teacher. As a shock to many, I ultimately became an educator myself, taking an elementary teaching position over an hour away from my hometown. As the years flew by, I was occasionally reminded of those perceptions I held of my teachers, so many years before. Well, a few years back, on a visit to my hometown, I learned that "Old Lady Andes" had passed away and sadly, I read her obituary in the local paper. After performing a little rough math, I discovered that "Old Lady Andes" had been a mere 31 years of age when I was a student in her English class...
Winning at Penn State today will be a monumental task...and the guys certainly DO NOT want to bend over to tie their shoes!