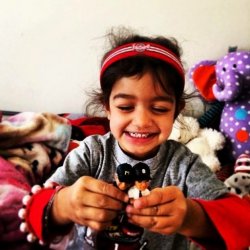 RCRoy45
Washington DC (via Marysville, Ohio)
MEMBER SINCE June 06, 2012
Roy Roychoudhury is a 1994 graduate of the Honors Accounting Program at The Ohio State University. Roy grew up in Marysville, Ohio loving the Buckeyes. Whether it was counting down the months, days, minutes, then seconds to the Michigan game, or sitting on the edge of his seat listening to the Buckeyes on the radio with his brother, Roy has always had a strong passion for sports, and particularly the Buckeyes. The idea for these books germinated when Roy's youngest daughter, Maeve Anne Parker, was born. Roy's new mission was to put his older daughter Emerson, who was two at the time, to bed each night. Emerson started to ask Roy to tell her stories, and Roy shared the tales and legends that he knew best. Emerson was riveted with each one. Some of her favorites included the 1979 Ohio State Michigan Game (now The Buckeye Block Party), the 1985 Ohio State - Iowa game, the 1986 Masters, and Game 6 of the 1975 World Series. Roy's wife finally suggested that other fans would probably be interested in these stories as well, so they contacted a publisher and started this journey. These are his first children's books. Roy has always had an uncanny memory for remembering minute details and facts about a multitude of games and statistics. He flexed these muscles when he won his only game show appearance on Sports Geniuses which aired on Fox Sports in 1999. Roy lives in Ashburn, Virginia with is wife, Anya, daughters, Emerson and Maeve Anne Parker, and dalmatians, Jaysi Mae and Sally. Roy thrives on running. He starts nearly every day with a five mile jog. Starting in 2005, his dogs were his daily running buddies. Four years later, his daughters joined in the fun. In the true spirit of Woody Hayes, neither snow, nor rain, nor heat, nor fog, will stop him from completing his daily ritual.

If you would like to contact Roy, please feel free to email him at roy@buckeyekidsbooks.com.


Favorites
SPORTS MOMENT: Greatest sports moment for me was beating Michigan in the 1979 Ohio State / Michigan Game - it was the first time in my young life that I had actually watch them both:

1. Score a TD against Michigan (We could not score a TD in 76, 77, 78)
2. Beat Michigan

I will never forget sharing the moment Jim Laughlin (or Mike D'Andrea for you black opps) blocked the punt and Todd Bell returned if for a TD. We beat Michigan and went to the Rose Bowl!

A close second was the int on the 2 point conversion to beat Michigan last year. The reason.. my 4 year old daughter, Emerson, ran to me and knocked me down she was so excited. It was the first real great Ohio State moment I shared with my children. We both cried. Amazing.

How firm thy friendship....
COLLEGE FOOTBALL PLAYER: Keith Byars / Chris Speilman / Cornelius Green / Cris Carter / Bosa Boyz
COLLEGE BASKETBALL PLAYER: Clark Kellogg / Carter Scott / Jim Smith / Jimmy Jackson / Mark Baker
NBA TEAM: 1976 76'ers
MLB TEAM: 1975 Reds
Recent Activity
The band part at the start reminded me of all the extraneous stuff in close encounters- the rest is great
Always 1979 - chuck hunter - blocked punt - magic!
https://youtu.be/ESWCwS00fSk
Enjoy - hope it's only the first of many of these special moments
Just ordered my RecTec 700 Nd it should be here Thursday of game week... looking forward to it and Thanks again for all the input
Had never heard of them - but thanks to you it looks like this is the direction I'll go... really appreciate it!
A lot of dads refuse to raise their daughters by encouraging critical thinking and being strong independent thinkers - they give them the Disney Princesses and then are angry when they grow up hating sports and engaging in mean girl behavior... they don't raise their daughters with the same passion or motivation they would if they were a boy and then - those things are hard wired by age 10 and very hard to undo...
The Adam's Ribs episode is very popular with them as any prank fests with Frank Burns and any of the Col. Flagg
LOL .... as Nick Saban says - "low achievers don't like high achievers and high achievers don't like low achievers"....
I have two daughters 8/10 that are both top 40 golfers in the world for their age - they are rabbid Ohio State fans - to the point that my older daughter printed 62-39 on her golf balls for the upcoming world championships next week , love the Rockford Files and love watching old Johnny Carson interviews... they can name most any Johnny Cash or Skynard song... their favorite movies are Casablanca and Doubke Indemnity and they have never once watched a Disney princess movie - it's been awesome ... very awesome...
LOL.... Ok.. sure... kids with attitude issues should not have their Precious Fortnite taken away from them. I beg to differ with you regarding electronics... of course not every kid will head down the worst path.. but the evidence is growing and overwhelming that there is a serious issue going on with electronics today.. which are far different than playing Atari or Nintendo when we were young.. today's game's are far more immersive and open to addictive and narcissistic behavior.
HERE is an article discussing the move away from electronics by silicon valley executives
HERE is a video from today's WSJ discussing the harmful brain effects of video games
HERE is an article discussing the effects on critical thinking

HERE is an article discussing the rampant narcissism with the level of technology use today...
HERE is an article discussing Fortnite addiction... I mean this stuff is real.. and it didn't happen with Pac Man or Space Invaders
I mean I get that it's easy to let electronics babysit your kids and it keeps them quiet - and many people engaging in these things don't want to face up to the realities of the situation - using tactics such as saying "I played video games as a kid and I'm fine" or "Why aren't there more shootings in Japan"... it is clear that electronics:
1. Clearly devalue the development of traditional social development with peers and adults
2. The AAP (American Academy of Pediatrics) states that their research shows that electronics tend to steer kids away from physical activity,
3. Allows children (and adults for that matter) to immerse themselves in a virtual world that can be manipulated in ways that are not consistent with real world activity and as a result they will learn behavior patterns that are not proper or conducive to positive personal relationships with peers or possible mentors

I'm not saying that everyone should be Amish and not use any technology...but hours of alone time with an IPad or and IPhone are not good... social networking by teenagers is not healthy if it is not at all monitored and supervised... immersive games such as Fortnite are not a healthy way to develop relationships
My two cents are this - I would eliminate the electronics. Period. Fortnite is the absolute worst thing a kid (any kid IMHO) should be doing - electronics allow for an kid to develop unnatural social personalities that will seep into their regular life. The issues with electronics are tremendous - and maybe you will have to slowly ween him off them. We have two extremely competitive young golfers in the family - and we have never allowed electronics for play of leasure time and we see the differences between them and the kids who live on fortnite or just have free reign on their own electronics. I am of the personal belief that giving your kid electronics is akin to giving them cigarettes (actually worse because one can't undo the harmful effects or years of this exposure- if you smoke for a year and stop you likely wont have long terms issues).
The top executives from silicon valley all take their kids to schools with ZERO electronics and there is a reason they do - likely your son has other social anxieties but I'd wager that these have been emboldened by electronics and he can be what ever he wants without supervision of consequences in this world and it leads to a narcissistic personality which it seems like he has.
My two girls certainly are not angles but my younger one in particular would be a living nightmare if she has constant electronic access - it's tough enough as it is - athletically she is gifted - she had been DC Player of the Year in her good tour back to back years - but it's kinda like we are raising Will from Good Will Hunting - and we are living the painting scene then the scene at the Boston Common like 25 times a week...
Any way my suggestion would be to start there and consult a good family therapist or psychologist to guide you on how to properly achieve this as he is older and the cure itself could lead to a boatload of other even more serious issues..
seems to me like you love your son a lot and I really feel for you - good luck on this journey and I'd also suggest you take a listen to Jake Owens "Startin With Me" then listen again with your son - maybe even Brad Paisleys "Letter to Me" - I cant imagine how difficult this must be for you and your family -
I just don't know that it was a very good fit here...
Hoiberg will bring in tons of transfers and he will win - it's the only formula to win there... seems like Miles was doing the same thing.. but Hoiberg has already demonstrated success doing this. Miles will find his stride quite nicely at at high mid major like Kevin Sampson has... If I were Miami (OH) or Kent State or some other similar program that was once strong but now on lean times.. he's a great match...
Best song hands down IMHO is "Life by the Drop"...
Women's golf team did a great job over the weekend... My daughters keep close tabs on this as they would love to play for them some day... they are one of the most consistently successful programs at Ohio State making the NCAA Tourney nearly every year
The 1979/80 team always gets over looked... Herb Williams / Kelvin Ransey / Clark Kellogg with Carter Scott and Jim Smith... that was a potential Final Four team (would have made 3 B1G in the Final Four that year)..... ran into Larry Brown's UCLA team which had upset #1 DePaul in the Sweet 16... to me that team is better than either the 92 06 or 09 team
Man - not particularly an NFL fan - but if the patriots could draft TM that would be just a picture perfect match...
funny.. people say college athletics is so awful.. it's nothing compared to the cheating rich elites will do to get unfair access to things they feel their kids are entitled to... (then they can go on social media and decry one political party for treating the poor unfarily.. as they cut in line infront of more deserving people all the time but I digress) I'm not sure Teddy Kennedy would have even gotten into Harvard... and certainly would not have survived a blatant cheating scandal had it not been for the money and influence of his family. The ever growing access to information is now just exposing these practices that have been going on for decades if not centuries... I agree with the above statements regarding especially the Ivy League schools and private school.. their admission standards are so vague that they can pretty much let in whoever they want.. the bigger issue of course is the untaxed income these people received for unfair access. I also thought there was a supreme court decision involving TTUN where it was ruled that schools could use affirmative action in their admission process... this was clearly bribery and cheating instigated by a third party who received a cut of the cash moved back and forth.
Yes.. having already served a suspension for such.. I tempered my actual reasoning and documentation quite a bit for reasons you mentioned.. but having worked in Hollywood many years ago... the mechanics of these changes can come completely from the higher ups.. especially in these times..
I was extremely disappointed in TD Season 3... I thought it started off in amazing fashion and took a strange left turn about half way through the season. I come at this from an interesting perspective. I had not seen any of the TD series prior to this season. My wifey and I watch all tv together and once we had kids - she took a hardline NO against any shows with dark topics... but since we watched Broadchurch a year ago we watch more of these things..
Anyway.. After watching the first two episodes of season 3 - i had listened to a TD podcast which said this season was related to season 1.. so we stopped season 3 and started season 1. I feel that Season 1 was one of the greatest tv dramas ever made. We binge watched this over two weeks and each episode was truly riveting and the finale I felt was poetic justice and perfect end to the story.
I can't help but think that Season 3 was completely re-written at some point in the filming. There are strands that are started and then completely contradicted by the finale.. The biggest is where the young brother was in panic looking for his sister... then we find out that never happened because he was accidently killed and died immediately. There are several other items that follow the True Crime narrative that either remain unanswered or are just completely reversed by the end. I also can't help but wonder why the story was rewritten - one of my thoughts is that given the current political landscape HBO asked for a different ending - the original story was changed and redirected. It seems highly likely that Ameilia was if not one of the core villains was selfishly motivated to exploit the crime for her own profit. I also think that one of the best acting performances - the tortured dad (Tom Purcell) turns out to be a completely wasted effort. His role turns out to be meaningless - as evidenced by the strange press conference and call from Julie Purcell where she says "You are not my real father" - seems likely she was actually talking about the attorney general who was motivated to bury evidence and end the case... For some reason the show took a hard turn away from the related plot in season 1.. and it showed in the change from true crime to melodrama over a few episodes. Even the quick reveal of what actually happened by Mr. June... seemed straight out of an old Scooby Doo episode. Poorly constructed and just cheapened the genius of the first 2-3 episodes. I think this was originally written to demonstrate the same corruption set forth in season 1... but then they realized by setting the story in Arkansas when they did... the state government was run by largely one party with a future president as governor and tying attorney generals or other officials to some sort of child traffic ring was a direction that they did not want to go... which to me explains the complete left turn in the story line.
I actually don't get to golf much... but I travel all over with my girls as they play very competitively
In the last year they have played the Ocean Course at Kiawah, Scioto, Murifield and Congressional... They are 8 & 10 now... it's crazy to see the courses they have been afforded the opportunity to get on...