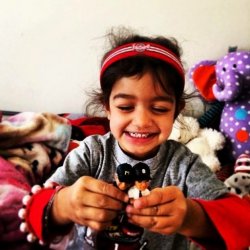 RCRoy45
Washington DC (via Marysville, Ohio)
MEMBER SINCE June 06, 2012
Roy Roychoudhury is a 1994 graduate of the Honors Accounting Program at The Ohio State University. Roy grew up in Marysville, Ohio loving the Buckeyes. Whether it was counting down the months, days, minutes, then seconds to the Michigan game, or sitting on the edge of his seat listening to the Buckeyes on the radio with his brother, Roy has always had a strong passion for sports, and particularly the Buckeyes. The idea for these books germinated when Roy's youngest daughter, Maeve Anne Parker, was born. Roy's new mission was to put his older daughter Emerson, who was two at the time, to bed each night. Emerson started to ask Roy to tell her stories, and Roy shared the tales and legends that he knew best. Emerson was riveted with each one. Some of her favorites included the 1979 Ohio State Michigan Game (now The Buckeye Block Party), the 1985 Ohio State - Iowa game, the 1986 Masters, and Game 6 of the 1975 World Series. Roy's wife finally suggested that other fans would probably be interested in these stories as well, so they contacted a publisher and started this journey. These are his first children's books. Roy has always had an uncanny memory for remembering minute details and facts about a multitude of games and statistics. He flexed these muscles when he won his only game show appearance on Sports Geniuses which aired on Fox Sports in 1999. Roy lives in Ashburn, Virginia with is wife, Anya, daughters, Emerson and Maeve Anne Parker, and dalmatians, Jaysi Mae and Sally. Roy thrives on running. He starts nearly every day with a five mile jog. Starting in 2005, his dogs were his daily running buddies. Four years later, his daughters joined in the fun. In the true spirit of Woody Hayes, neither snow, nor rain, nor heat, nor fog, will stop him from completing his daily ritual.

If you would like to contact Roy, please feel free to email him at roy@buckeyekidsbooks.com.


Favorites
SPORTS MOMENT: Greatest sports moment for me was beating Michigan in the 1979 Ohio State / Michigan Game - it was the first time in my young life that I had actually watch them both:

1. Score a TD against Michigan (We could not score a TD in 76, 77, 78)
2. Beat Michigan

I will never forget sharing the moment Jim Laughlin (or Mike D'Andrea for you black opps) blocked the punt and Todd Bell returned if for a TD. We beat Michigan and went to the Rose Bowl!

A close second was the int on the 2 point conversion to beat Michigan last year. The reason.. my 4 year old daughter, Emerson, ran to me and knocked me down she was so excited. It was the first real great Ohio State moment I shared with my children. We both cried. Amazing.

How firm thy friendship....
COLLEGE FOOTBALL PLAYER: Keith Byars / Chris Speilman / Cornelius Green / Cris Carter / Bosa Boyz
COLLEGE BASKETBALL PLAYER: Clark Kellogg / Carter Scott / Jim Smith / Jimmy Jackson / Mark Baker
NBA TEAM: 1976 76'ers
MLB TEAM: 1975 Reds
Recent Activity
I'm pretty sure TCU backed out of the game this year -which is how we played UC - but to be clear - has Alabama best Auburn - they get in over OU and miraculously LSU stays the 2 seed and we are the #1 seed playing Bama in the Fiesta Bowl...
I used to really like Cowherd but he is so commercial now - nothing seems sincere
More correctly - they took JK out by ripping his ankle in the pile - and tried to put him in concussion protocol - they are a dirty team.
Thanks for the kind words - both my daughters are actually top 30 world ranked golfers and the older one (11)has played AAU BBall in northern VA since she was in first grade - so it's great they understand competition and the razor thin margin between success and defeat

They have been raised in the crucible of Ohio State culture since they came out of the womb - so it's fun to get to share these moments with them...
Damn the 1979 AFC Championship Game and the Oiler TD thst wasn't - replay has jumped the shark for some time in the NFL and now it's like that in college A replay is the HOA in Del Boca Vista and has way overstepped their boundaries
Gone:
JK
Chase
Okuduh
Wade
need a lock down corner to emerge as well as a HR threat out of the backfield - and Zach needs to really improve over the off season to be a Chase Young type difference maker if we can get these - we are back in the playoffs next year and if not - will be a challenge to win the B G
It's DieHard - Bucks are John McLean and Clemson is the snarky terrorist
yippie kya
Losing Jeff Okudah on signing day would be crushing.... this is like losing Annette ... maybe...
This was very well done and accurate - if anything this will create some of the same motivation we had vs Alabama in 2014 which actually is the best thing we could ask for... bring it on I say - we'd have to beat them eventually anyway... I'm pumped up - Go Bucks!
It was more a function of JT not being able to throw the ball downfield - so the issue was more the loyalty to JTB... combined with the issues of Warriner and Beck... and Michael Jordan getting hurt early all led to a slow motion blowout...
look at our game vs TTUN - what in that game indicated that we could throw a pass downfield?
Airfare is the big issue - seems like from DC - flights are $1200 round trip? Was thinking about going but doesn't seem like the airfare makes it a tough get with a family of 4... Wifey may strangle me if I booked these haha - anyone having any airfare luck?
The band part at the start reminded me of all the extraneous stuff in close encounters- the rest is great
Always 1979 - chuck hunter - blocked punt - magic!
https://youtu.be/ESWCwS00fSk
Enjoy - hope it's only the first of many of these special moments
Just ordered my RecTec 700 Nd it should be here Thursday of game week... looking forward to it and Thanks again for all the input
Had never heard of them - but thanks to you it looks like this is the direction I'll go... really appreciate it!
A lot of dads refuse to raise their daughters by encouraging critical thinking and being strong independent thinkers - they give them the Disney Princesses and then are angry when they grow up hating sports and engaging in mean girl behavior... they don't raise their daughters with the same passion or motivation they would if they were a boy and then - those things are hard wired by age 10 and very hard to undo...