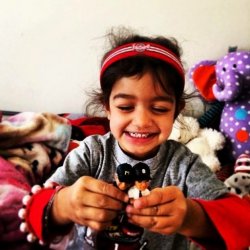 RCRoy45
Washington DC (via Marysville, Ohio)
MEMBER SINCE June 06, 2012
Roy Roychoudhury is a 1994 graduate of the Honors Accounting Program at The Ohio State University. Roy grew up in Marysville, Ohio loving the Buckeyes. Whether it was counting down the months, days, minutes, then seconds to the Michigan game, or sitting on the edge of his seat listening to the Buckeyes on the radio with his brother, Roy has always had a strong passion for sports, and particularly the Buckeyes. The idea for these books germinated when Roy's youngest daughter, Maeve Anne Parker, was born. Roy's new mission was to put his older daughter Emerson, who was two at the time, to bed each night. Emerson started to ask Roy to tell her stories, and Roy shared the tales and legends that he knew best. Emerson was riveted with each one. Some of her favorites included the 1979 Ohio State Michigan Game (now The Buckeye Block Party), the 1985 Ohio State - Iowa game, the 1986 Masters, and Game 6 of the 1975 World Series. Roy's wife finally suggested that other fans would probably be interested in these stories as well, so they contacted a publisher and started this journey. These are his first children's books. Roy has always had an uncanny memory for remembering minute details and facts about a multitude of games and statistics. He flexed these muscles when he won his only game show appearance on Sports Geniuses which aired on Fox Sports in 1999. Roy lives in Ashburn, Virginia with is wife, Anya, daughters, Emerson and Maeve Anne Parker, and dalmatians, Jaysi Mae and Sally. Roy thrives on running. He starts nearly every day with a five mile jog. Starting in 2005, his dogs were his daily running buddies. Four years later, his daughters joined in the fun. In the true spirit of Woody Hayes, neither snow, nor rain, nor heat, nor fog, will stop him from completing his daily ritual.

If you would like to contact Roy, please feel free to email him at roy@buckeyekidsbooks.com.


Favorites
SPORTS MOMENT: Greatest sports moment for me was beating Michigan in the 1979 Ohio State / Michigan Game - it was the first time in my young life that I had actually watch them both:

1. Score a TD against Michigan (We could not score a TD in 76, 77, 78)
2. Beat Michigan

I will never forget sharing the moment Jim Laughlin (or Mike D'Andrea for you black opps) blocked the punt and Todd Bell returned if for a TD. We beat Michigan and went to the Rose Bowl!

A close second was the int on the 2 point conversion to beat Michigan last year. The reason.. my 4 year old daughter, Emerson, ran to me and knocked me down she was so excited. It was the first real great Ohio State moment I shared with my children. We both cried. Amazing.

How firm thy friendship....
COLLEGE FOOTBALL PLAYER: Keith Byars / Chris Speilman / Cornelius Green / Cris Carter / Bosa Boyz
COLLEGE BASKETBALL PLAYER: Clark Kellogg / Carter Scott / Jim Smith / Jimmy Jackson / Mark Baker
NBA TEAM: 1976 76'ers
MLB TEAM: 1975 Reds
Recent Activity
Interesting.. golf... wonder if he will upgrade to the real Scioto from Riverside....
LOL... I'm not Amish dude... really.. why does an 8/9 year old need to use an electronic device? You drive a car... does that mean it's hypocritical for you to not let your 8/9 year old do so....
The Fortnite thing is ridiculous... Our girls use do NOT use electronics hardly at all - they are 8/9 and do not have an IPad or IPhone and when we got a new mini van as we drive all over the place for their golf tournaments.. there is no tv nor any electronics.. doesn't matter if it's a 1000 mile drive. These electronics are become so destructive and my experience is that you can tell the kids that have some electronic restrictions and those that have none (I understand we are on the eccentric side) - I'd rather have my kids smoking cigarettes for a year than have regular access to electronics - it's less harmful. I told my school this when they tried to push the kids to have their own laptops.. if my kid smoked cigarettes for a year then stopped.. the harm would be muted.. compared to a year of their childhood lost with their face in electronics and the damage that does to the brains development... I don't know what the answer is to these electronic addictions.. but it's a serious issue..
the second part of that is not fair at all... UM3 understands at this point we needed that score for the playoff committee... I do not think it was wrong at all to have DK in the game... stuff happens.... and of course I wish he were not hurt... but be careful what you wish for sir.. as if we end up in the Rose Bowl.. you are likely looking at Haskins, Jones, and some others maybe not playing at all...
Here are some pertinent thoughts about this year's game...
* Urban wins rivalry games... and wins them with regularity.. he's done it everywhere he has been.
* For those who question the leadership on the team... We have pulled out three notable comeback wins on the road... all without Nick Bosa (our comeback v. TCU was without him)... we could have folded our tent in any of them... TCU / Penn State / MD... and to me that flips a script that has been long written.. teams with no leadership don't win games on the road from behind in the second half when breaks don't go their way.... we are doing it somehow
* We had over 700 yards of total offense v. Maryland and a running back with over 200 yards rushing...that is against a respectable Defense - this seems be getting lost in all the distress about our D... again we found a way to win
* I know the transitive property typically is not relevant.. but I do think the IU games are pretty similar games as ours was the week after our brawl vs. Penn State and their was the week before they played us.. both at home... On offense we score 7 touchdowns and Haskins throws 6... TTUN scores 1 TD and gets 6 field goals. I cannot believe that Indiana has a better Defense than we do...
* it seems to me that TTUN has caught several of their opponents at the right time:
a) ND before the QB switch.. otherwise they get destroyed
b) Nebraska early in the year with an injured QB
c) Northwestern - the week they lost Larkin at RB
d) Penn State - with an injured QB
My point being... we aren't playing Alabama this weekend... we are playing a team that is better than past TTUN teams.. but winning Saturday is not the upset of the century... they have led a somewhat charmed life with their schedule....
Probably the best most honest analysis I have read - GoBucks
While Arnette isn't Shawn Springs - missing him for Purdue was a problem... still if we are aware for the FG fake and Hamilton doesn't try our for Hamilton by doing the twirl in the punt and we had any red zone success - it's a different game
If it is then the odds we win just went up 80%
Honestly if he can be a late first round draft pick and go to a team like the Patriots or the Steelers... or even a middle of the pack team like the Redskins why not? I hope he crushes it in the NFL.. and is motivated to leave a legacy here the final 5 games..
this game really worries me... if we are not focused this will be a contest heading into the 4th quarter.. which won't be good... we need to end this early
if we played Duke it would be like our 1990 March Madness game v. UNLV with LJ and his crew... we would hang tough then fade at the end...
I look at it this way... if you look at Purdue and the talent gap vs us compared to their emotion and excitement - now take our team - make us underdogs at home and give Urban a week to motivate this team and we will come out like Purdue did against us and I like our chances - like really like our chances...
hope we get there with everything on the line... to me this is a replay of the '74 barn burner just waiting to happen
If we win out he deserves it... if not.... I mean... are you kidding me?
Yes.. of course.. if UM becomes UFM... then we will win out... my fear is that he will not