RC
---
Westerville, OH (via Marietta, OH)
Member since 03 October 2010 | Blog
Favorites
SPORTS MOMENT: Being at the Rose Bowl Game in 1997
COLLEGE FOOTBALL PLAYER: Chris Spielman
COLLEGE BASKETBALL PLAYER: Danny Manning
NFL TEAM: Denver Broncos
NHL TEAM: Blue Jackets
NBA TEAM: Chicago Bulls
MLB TEAM: Kansas City Royals
SOCCER TEAM: Nope
Recent Activity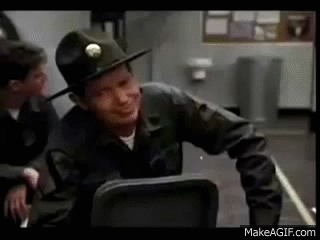 It's not looking good. 7-3 bad guys in the 3rd quarter.
He would have to sit out a year. And if Bill Self couldn't get the best out of him, I don't see Thad doing so.
Looks like his parents made the decision for him. He should have left it up to his nephew.
You're crazy. Washington should be the only team worrying.
Yes, apparently every person matures at the same rate. We should hold him to the standards of LeBron, KG, and Kobe. Kobe never did anything wrong (Colorado). Because Russell is out there doing some horrible stuff with all of the arrests he's had. Does he need to mature a little, sure. But people need to give him a break. If the worst thing he ever does is to accidentally expose a 30 year old man for being a POS, then he should be okay.
You're probably better than Mark Sanchez.
Ah, the old "they didn't want it" excuse. Yeah, I'm sure that the players on Carolina didn't really want to win the biggest game of their lives. If they had only wanted it more, they would have surely won the game.
And nice job of picking out only the mistakes Carolina made. I mean, let's forget all of the chances the Broncos gave away. Talib taking his helmet off and giving Carolina a first down instead of it being 4th down. Vasquez' holding penalty negating a 1st down inside the 5 and forcing a FG (likely costing Denver 4 points). Peyton's inexplicable INT when the Broncos were in a position for a relatively easy FG. There were mistakes on both sides. One team just took advantage of them.
It's a shame you couldn't watch the game. You missed a good one.
Prayers for the Sylvester family.
I was at the game Sunday vs Maryland and Matt Sylvester was there. When they recognized all of the past team captains he was out there with his daughter in his arms. Unimaginable that just a few short days later she would be gone.
The difference in the game was Lyle. Ohio State has him, Maryland doesn't.
If that was the case, he wouldn't start.
Further proof that football as we know it is dead. Put flags on them already or make it 2 hand touch. This shit is ridiculous.
I'm not boycotting but I won't be watching either because I don't care about any of the teams. I actively hate Alabama and really dislike Michigan State. I get pulling for the Big Ten. But that is more of an SEC thing to me (rooting for your own conference) and I can't root for Connor Cook. I guess I hope MSU beats Alabama and loses to whoever they would play in the Championship game.
You keep posting this. Excuse me if I don't let Elliott determine how I feel about a person or his actions. Zeke has his opinion, I have mine. Him being great at football doesn't mean we should all feel the same way he does about this incident.
Until I read this, I had no idea Pat Forde was still alive.
So, unless you wear a size "Small", you apparently needed to order this shirt within 5 minutes of this posting.
The shirt he's wearing is awesome, I need it!
Apparently the start time is 4...ish.
I know there are many "Buckeye" sports bars in Florida, but I am in the Florida Keys this week. Does anybody know of a Buckeye friendly bar in the Keys (specifically Islamorada)? Go Bucks!
I don't worry about it anymore. I don't want to sound super weird, but Jesus was hated too.
He should have known he'd be crucified for this statement.