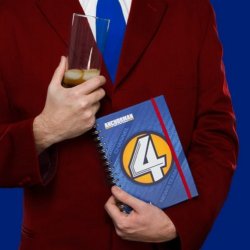 RBurgundy4
---
Greater Philadelphia area
MEMBER SINCE October 04, 2015
Favorites
SPORTS MOMENT: Will Smith mixing it up with Kellen Winslow, Jr in the '02 NC game. Zeke for 85. Cardale in Bulldozer Mode. Eddie destroying ND. '97 Rose Bowl. Yankees collapse in '04. Steroid Baseball was a good time.
COLLEGE FOOTBALL PLAYER: Spielman, Pace, Doss, Braxton
COLLEGE BASKETBALL PLAYER: no interest
NFL TEAM: Eagles, by proximity. Tepid interest in the NFL.
NHL TEAM: I love the Blackhawks white uni's. Best in sport.
NBA TEAM: no interest
MLB TEAM: Appreciate good baseball. Hate the Yankees.
SOCCER TEAM: no interest
Recent Activity
Wow. That was a fun match. Great win.
Yes, please. Every time they lose I smile all week long.
Got caught. No chance.
Never in a million years did I think I'd see Luke go for bonus points. He's the 2-1 master. Awesome.
Nunzio is an asshole, plain and simple. He kept his starters in from start to finish, scoring with just over a minute left vs the Bucks 3rd &4th team travel D. The guy is a short-sighted dick. I get that he may be trying to get the full time job at RU and his responsibility is to RU, but that was a dickhead move. I swear, I would bury that jackass by 100 every time in the future if I were Day, OSU or other. Jerk move, IMO.
Saban wanted to provide Tua with an opportunity to run the 2 minute offense, which is completely understandable because there's only one way to do that at game speed. You can't coach scared of an injury. This sucks for Tua, but shit happens. Saban may be an ass, but not for this.
Ash made a terrible career decision and deserves no sympathy at all. If he legitimately thought that he could turn RU around in 3 years grossly underestimated his starting position. Or, worse yet, he may have grossly overestimated his own ability. Either way ends in a quick firing.
My reason for hating RU is personal. That's where I met my wife.
Hansen brothers for the win. I'm listening to the f*cking song!!!
"going a flawless 14-0 across both disciplines, outscoring his competition by a combined 139-10." So, that's good, right? /s. Holy domination, Batman! Yikes.
Expectations. At this point I'm pretty confident that Shea is nothing beyond Tathan, Part Deaux (actually Part One). He's a little guy with little hands. Big heart, wants to do well, but he's small and has a weak, inaccurate arm. That's just not good for a QB at an allegedly high level program. He'd be awesome at Temple or Buffalo. There's a reason the Offense continues to forge ahead in years gone past and that reason is the QB with the Oompa Loompa hands. The expectations for Patterson were simply set too high from the jump. Not necessarily his fault, but who cares? He plays for UM.
Getting way ahead of ourselves here. Presumptuous, at best. Can't we just get through one week at a time? Rutgers looms in 6 days, for chrissake!
The execution on the OS kick broke UMD's will. They just flat quit after that gem. All but a few turtles, anyway. Crazy-great play. #ruthless
Yep. Hence, "Too many other guys around him, which is actually fantastic."
Thank you, AV. Good to have rasslin' back. Wish it were on BTN, rather than just streaming, but oh well. Confident there will be a thorough write up afterward. I wish my name was Real Woods.
Maryland has a board where they discuss football? Seriously? Adorable, if true. Really? Is there a UMD board?
Yeah, no. Not happening. Need to be THE stud on a contender. Fields is A stud on a contender, tho he absolutely is indispensable. Too many other guys around him, which is actually fantastic.
Awesome. 3:30 start, over by 4:00. I'm good with this. My family appreciates it, I'm sure.
Yeah, the PAC12 is just soft and it's been proven repeatedly over the last several years, not just a couple. I'd truly plae a solid G5 team over the PAC12. They ass.
Unreal, isn't it. Gotta keep that narrative alive. Shmd.
Anyone else notice Rinaldi celebrating with Cookie Monster like it was his own win?
Bama gave up 46....at home! STFU, Danielson. Just stop, fool.
Just over a minute left and Danielson starts the campaign for Bama as a second SEC team in the CFP. Lol.
Ridiculous.
Holy contested catches, Batman. Wow. Been several in this game. They're both getting after it.