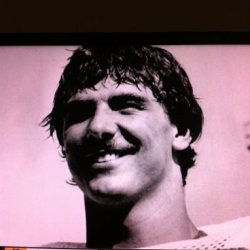 rblackbu
---
Ohio (via Ohio)
MEMBER SINCE May 09, 2013
Recent Activity
Are the Buckeyes still in on safety Peppercorn Sanchez out of Dutchhammer, KY?!?
Thanks for your work Zack! Updates are great.
Anyone have news on the 2021 kid out of Sloppy, OH? Bill Gass reported the Buckeyes were in on some sleeper athlete named Bronco Concrete.
What's the latest on Bingo Portersmith, the fat DT out of Gotchaville, TN?!?
Spread the wealth. Love how Wilson is using 4 TEs.
Who out of the Frosh class hasn't shed their stripe? Given how deep we are at LB with many returning next year, dies Cade Stover get moved to DE?
Ever since Urban Meyer read Lead For God Sake, he gets so insincerely sappy with players he "loves"....Baker Mayfield?!?!? Love him like Tebow, Braxton, JT, Zeke...weak
Full "Kourt" Press...welcome to OSU!! Giddy up
First play of the game vs Florida Atlantic, they take it to the hose 80 yards :). Buckeyes win though, 56-14
Round out this class with Court, and the two kids from Tucson AZ...hellofa 2nd class for Day & Co!!!!
Iron sharpening iron when they both arrive on campus!! Christman and Sawyer...for many practices and at least 3 years, those boys will be making each other ELITE!!
How many National 100 recruits over the years have come out of Tucson, AZ? Probably none. I thought OSU was wasting their time with both prospects, glad I was wrong. Let's close the deal with the two dudes.
Don't forget Mr Whiff's BAD tackling too
I gotta think that is Grinch's bad call. Regardless, they both cup their farts and take loooooong sniffs.
On paper 2019 and 2020 have brought size and depth. There don't seem to be any gaps when you add those 9 dudes up. Looking ahead to 2021, what are we looking at in terms of how many we offer should everything stay static?
Rob Kelly, Donnie Nickey...now Shaw!! I see him being an elite safety, multi-year starter and solid leader. Great instincts and fearless attack of LOS!! Good luck kid
Any chance OSU can bottle up what McLaurin and Campbell had and supply it Harris?!? If Harris can keep working at it like those guys, skies the limit. It's up to him.
The Cincy trio...it'll come down to which school will line the coaches pockets from Princeton...my $$ is on LSU...make no mistake, those kids will be steered by their HS coaches and they will get paid.
KId looks like a hellava TE prospect :) Go get'em Holtman and Crew!!!
Why we go National for a TE is confusing me. We have PLENTY of talent every year in Ohio at a position that doesn't require 5 or 4 star talent to be successful. Look at Iowa's 2 TEs taken in R1 of the NFL draft. 1 was a walk-on, the other a 3-star get out of Nebraska. Shame on OSU for NOT offering Lachey and letting a program like LSU beat them to the punch. Get these kids that WANT to be a Buckeye in the fold and let Mick do his magic.
I gotta believe the zone read with Fields will be back in play. This will significantly open up them lanes for Dobbins to duplicate his success in 2017!! I am curious how Alford will choose to rep in Teague and McCall.
Anyone hearing about the LB OSU visited the other day, Bronco Concrete out of Toledo St Francis? Diamond in the ruff...nephew of Jason Ott
Something about Hamilton tells me this kid is gonna have a breakout year...has the size to be an impactful player. Didn't realize we had that many 5th seniors. Leadership amongst the players should not be an issue...go get'em fellas!!
Under Tress...McMullen and Zwick had 1st crack at QB and both BLEW IT...in steps Krenzel and Troy!! Granite no injuries, but Tress made switch when necessary and no knew what to expect from Craig and Troy
Love Robert Landers! Great motor, great attitude and great cowboy hats. But NO WAY 67 is 6'1...saying he is 6'1 is like saying Joe Bauserman was the most accurate QB in OSU history.
i see Harrison playing himself into a 1st Round Pick.
A great double whammy!!! We get a stud kid/QB and we get him out of PSU country. Great to have 2 elite kids from 2021, 1 on D and 1 on O...they'll help recruit and round out the class very nicely. Welcome to THE OHIO STATE Kyle!