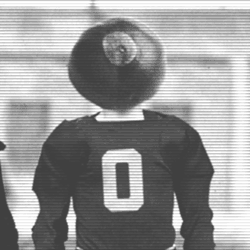 RB
---
Member since 17 March 2011 | Blog
Recent Activity
The link to the pic from 2011 w the walrus is priceless. PRICELESS.
Agree. Many first year OL starters take their lumps and break out year 2. Prince is a blue chipper and I think it shows this year.
S&G wins that game 9 out of 10 times. Handful of bad breaks made the difference. Diebler hobbled and not on his game, craft in foul trouble/fouled out, bad foul calls and Lighty missing a shot he makes 95% of the time. Take anyone of those away and we win. Plus the blatantly missed TO.
Great dedication to specialist frank! Thank you for your service and awesome pic!
I predict a major resurgence for the program over the next three years. Good things to come.
Best option, of the realistic candidates, from the state art.
Dline unit is ridiculous. Off the top of my head I'd venture to say we have at least 12 guys that would start for about any other b10 team and probably 10 that would be recognized as all conference at year end in that scenario. Am I too far off on that?
Elflein came on strong from the start. Prince was a full time starter a year earlier though as a true soph. That said elf was pretty damn solid his first yr starting his rs soph yr. more reliable early on than about author lineman we've had recently that I can think of. Decker, Linsey, mewhort all took their lumps. Before that the brew crew struggled early and often. Then we're getting back to mangold. Mangold wore rattle snakes as condoms his freshman year....
You throw an underclassmen into a starting role and you are bound to see tough games against the top competition, period. I am willing to bet mr prince ends up as an all conference guy and drafted in top 3 rounds.
Really good point regarding non-conf. Is the weak schedule something Thad pushes for? Is it that we want the home game revenue and don't want to do home/away splits with other majors?
Major upgrades for sure and hopefully a more efficient hierarchy. Things got convoluted the last 2 years on the offensive staff. Plus, we didn't have the "architect" to design a comprehensive offensive system- warriner and beck just aren't at that level. Welcome to columbus mr Wilson.
I'm perplexed in the optimism some have in potter. Funderburke also and especially Beverly. That said, I think Trevor Thompson could turn into a first team all b10... oh wait, well shit.
It's hard to pass on the limited edition Elvis Presley dinner ware set.
Or someone who's parents don't trust to go off to college on his own.... so his dad has to go with him.
Good call, Ohio state is really strapped for cash. Lets just further deteriorate the bball program to save money....
I will be incredibly disappointed and very surprised if gene doesnt make the move. He's the CEO in this scenario, and a very good one in my opinion. Time to make the difficult move.
I will be severely disappointed in Gene if he brings Thad back next year. Gene is to good of a leader to let the program continue floundering. Mediocrity is not OK anywhere at Ohio State, especially in the men's basketball program. THIS season is the year Thad got to cash in his equity and get a final chance at turning things around. There is zero chance he pulls this program out of the nose dive it has been on for 4 years. Recruiting is not there, development is not there, culture is not there. I only hope we get the chance to give Thad the heartfelt send off he deserves.
Tend to agree with BSK, recruit ranings are not an exact science. I think offer lists are a slightly better indication. I think it is very telling that no other majors or high majors offered Beverly. If anybody is hanging their hopes on this guy to come in and turn things around as a frosh, then I think that is just another indication of how far the program has fallen in the last 4-5 years.
Beverly is a 3 star who we "stole" away from Miami (OH) and George Washington. 67th ranked PG and #337 overall. With this staffs track record of developing players, I will take you up on that.
Sword- I am interested to know where you dug up up the "veterans" piece. Robert Haubrich was my grandfather, so that is extra cool to me. I have a couple cool pictures, including one similar featuring the o lineman, but have never seen this one before. Any idea where I could find a reprint? thanks in advance.
Content with mediocrity? Gross. This is not 1985, there is no reason Ohio state cannot be a top 15 program in the country.
The whole event was a comedy of errors. Total BS about 90% of the tix being given away, MAYBE 50%, but it looked like many more civilian fans than servicemen, all dropping $500 to watch a shit show unfold.
Craft is the man though. Entire delay he wouldn't stop shooting buckets. Entire team hit the lockeroom during delay, and craft was going around the arc and back with Jent. Cool seeing Jent launching sweet looking 3's again.
to summarize: Awesome idea for awesome cause executed by morons.
It sounds like there are no tickets available to general public for the CC event. Last years event in SD had 7,000 tix, almost exclusively for military personnel, with a very small amount going to each school (200 each I think). I have read that the Yorktown is signficantly smaller, meaning even less seats will be available this year. It would be a once in a lifetime opportunity to be in attendance, but I don't think that is even possible for the normal fan. Obviously a great cause, and very cool event for Ohio State to be associated with nonetheless.
This is my thought on how scoring breaks down next year, Assuming we miss on Parker.
Tank 19-20 ppg, Craft 12 ppg, Lenzelle 8 ppg, Ross 12 ppg, Amir 8 PPG, Rav 6 ppg, Sam T 6 ppg, scott 4 ppg.
25 a game would be rather impressive. Big Ten scoring leader is usually at 20 max. I don't think anyone has gone for much more than 21 ppg in the last 10 year sor so. ET was national player of the year w/ around 20 ppg (6 apg and 9 rpg didn't hurt the cause). I hope you are right though, that would be a ridiculous season, especially if the team ends up being highly competetive.