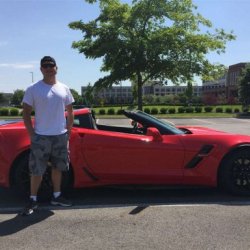 razrback16
---
Gahanna, OH, USA
MEMBER SINCE August 04, 2011
Recent Activity
Hope you're right. I certainly won't be watching a second of the playoffs.
I definitely won't be watching any games other than OSU Vs. USC.
Agreed - I saw a clip of Mike Leach being asked what he thought about the playoff field and as usual he had a comical response with a lot of truth to it and he'd said something along the lines of the playoff committee basically ignoring the on field results and deciding they would just do their own thing.
It just feels like the committee ignored the guidelines they're supposed to go by. If not Ohio State, then USC should've been in there. Not Alabama who didn't check a single, solitary box to deserve the bid. Didn't play for their conference title. Played a weak schedule (2) less FBS opponents than both USC & OSU. No solid wins to speak of. The only top 15 team they played, kicked their asses.
It just leaves a bad taste in your mouth going forward. This is the first year where I feel strongly that some tweaks need to be made to the playoff system whether it be expansion, or more rigid direction to the committee that you need to go by on-field results, and not just what part of the country you're representing.
Ya, that's basically how I feel. I can see why some didn't want OSU, but out of the 3 teams vying for that spot, Alabama was easily the least deserving. USC should've been in if not OSU even though OSU had the best resume by far of those three teams.
Ya, I personally will not be watching the playoffs.
This is exactly correct, on all points. +1
Like I've told people this past week - even for folks who hate OSU and can't get past the Iowa loss, at minimum USC should go over Alabama. They at least played a full schedule and won their conference. You don't reward a team like Alabama for playing cupcakes, not winning a single game against a top 15 opponent, and not winning their conference. Just awful.
That's what common sense would tell you, but then you look at Alabama's schedule from this year. They had 1-loss, didn't even play for their conference championship, and literally beat zero top 15 teams. Just a joke of a schedule. Played 11 FBS opponents compared to 13 that Ohio State & USC played but they got in over Ohio State & USC. This committee is sending a clear message that strength of schedule doesn't matter. Winning your conference doesn't matter, and beating quality teams doesn't matter.
In short, yes.
Bottom line, if we'd scheduled a high school team like Mercer instead of Oklahoma, we'd be in the playoff this year. Basically if we'd traded schedules with Alabama we'd be in.
The thing we don't know is if future committees will do what this committee did and essentially ignore the items they are supposed to use to evaluate teams - strength of schedule, conf. champions, etc. Like Joel Klatt mentioned, they basically ignored the 'on the field' data such as Ohio State beating 2 top 10 teams while the only top 15 team Alabama played, beat the crap out of them. And the fact that both USC & Ohio State played 13 FBS opponents (and won their conferences) while Alabama played 11 and didn't even play for their conf. championship.
If this is going to be the standard, then yes, by all means you schedule cupcakes moving forward. ZERO bigtime matchups, maybe a couple MAC teams, and a mid-major like Pitt / Kentucky / Cincinnati / etc.
Personally, I do hope we make scheduling adjustments, but I'm not sure Gene Smith will do it.
I always wondered how different the game might have been with a functional defense in Scarlet & Gray. I think we saw it in 2014.
Yep +1. You're going to struggle to beat good teams with a non functional defense. So many people focus on that 4th and 1. Urban said this spring that we didn't lose that game because of that 4th and 1 and I agree with him. He says they had 3 units who were not functioning like they should have been. The LBs & DBs were non functional in 2013. How many huge plays did they give up against MSU? If they had done their jobs we would have won. Same against Clemson. Thankfully the ship got righted in 2014.
Absolutely. Offensive Line was the most consistently underperforming unit during Tressel's regime.
Very nice writeup Ramzy. I actually just got married this past April. I let my wife completely control the wedding as far as which location in Florida (beach wedding), date, decorations, etc. I only had 2 mandates:
* Can't be during football season
* Can't be on spring game Saturday in April (4/12 this past year)
She met both requirements and everyone had a great time at the wedding. Get married in springtime people! Listen to wiseman Ramzy!
No doubt, got some Michigan fans at work that came over to me this past week and were mentioning how they felt the same way about MSU's fanbase. Gettin' a little big for their briches considering their mediocre program history.
Ya I really wish we could get satellite here. The spotters for Dish Network came out and were clambering up on the roof and looking for anywhere possible that they could mount the dish and couldn't find a way. :( I'm stuck with Cable for now.
Get satellite if you can. I would, but too many trees around my house. :(

This is what I will likely have to do. I contacted CBS Sports to see if they will be streaming the game in HD as I was willing to buy a one month subscription to their site, but they couldn't give me an answer, so I'll probably just have to use an SD streaming site to watch the game and hook my laptop up to the living room TV. It kinda ticks me off that as much as I pay for WOW cable they can't set a pay-per-view contract up for people to pay to get CBS Sports Network for one friggin' thing. Most Buckeye fans are fanatics and would be willing to pay for it. I tried switching to a satellite company but I have too many trees in my neighborhood and can't get line of sight to the satellite. :(
Just hope Damien makes it official soon.
:D
That's how I took it as well.
I love watching that team suck.

Eh, MSU is a mediocre overall program whose fans cannot handle winning very well. Same thing happened with Wisconsin when they beat us in 2010. Their fans acted like they were national champions and had been dominating us for decades. Now fast forward to now when we've beaten them 3 years in a row and you can't find a Wisconsin fan with a search party. MSU will be the same way once we beat them again for a couple years. They had a very good team in 2013, but they need to learn to dial it down a bit and get some perspective. When their fans start acting like it's not a big deal to beat us, that's when we'll know MSU has actually become a national program on par with the elites like Ohio State.
Gleitman as well. Looking good for the good guys.

lol +1, thank you sir for the correction!
WayCraken -- call Mark Stoops for us and get a game on the schedule. Kentucky is so close I don't know why we don't schedule them more.