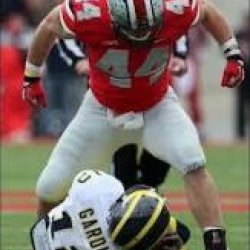 Raynstorm
---
Member since 23 December 2012 | Blog
Favorites
SPORTS MOMENT: 2002 National Championship Buckeye Win/2008 Philiies World Series Victory game 5
COLLEGE FOOTBALL PLAYER: Joey Galloway
COLLEGE BASKETBALL PLAYER: Jim Jackson
NFL TEAM: Philadelphia Eagles
NHL TEAM: Flyers
NBA TEAM: Sixers
MLB TEAM: Phillies
Recent Activity
Didn't Birm just get off the radio like 2 minutes ago? That man is lightning quick with the Hurry Up. I hope Clark has a great year. Great job and great info on both, Birm!
Great Work, Ramzy, as usual!
As a frequent (OK, constant) Bourbon drinker. Ramzy is spot on. You have to find what works best for you, by trying several bourbons on different ends of the proof scale and varying mash bills, then comparing ....
My recommendation: I recently did a smell test, a color test and then a blind taste test with my neighbor using Eagle Rare, Maker's 46, Basil Hayden's and Booker's.... It was fun and educational!!
Also, I did find a Pappy 23 YO this year on Jan. 3 while out to diner with my wife and another couple. My buddy and I proceeded to drink the entire bottle at $39 a glass ( As my wife knows this was a 3+ year search, I got the OK at the start, but she was pissed when she had to walk me to the car and then drive us home.) EPIC Night.
It was as advertised, plus it felt like a great end of a treasure hunt. ( I am having trouble copying and pasting a few pictures from my phone as proof. cause you always need the proof.)
9 hours straight through from south jersey. Having a 4 AM corona or two right now. Just checked into the hotel 5 minutes ago and My kids (6 & 3), just woke up and are on the iPads in the other room. I sure hope they get some sleep this long weekend. Hopefully I'll see some of ya'll tomorrow night!
I am driving over from South Jersey with my family, wife and 2 kids (6 and 3 yo). It is about a 9 hour drive for us, so we are leaving on Thursday night. We are all pumped! I am just crossing my fingers that my kids are going to be sleeping for most of the drive.
Anyway, any advice on what time to get there on Saturday? A walking tour of the campus? Is there anything that I need to make sure we do, other than the game, of course? We are staying downtown at the Sheraton, so I guess it is pretty central to a lot of things.
Thanks
The Usual Suspects, Wedding Crashers, Half Baked
Devin and Bennett are both going in the 1st Round
I think Devin Smith and Michael Bennett made themselves some extra money and moved significantly up everyone's draft boards with their play during the magical 3 game run. Bennett had somewhat of a quiet season with a few good games, but he exploded and played like a man possessed on the big stages. In the last 3 games, he helped dominate the line of scrimmage against the run game and you could just see his presence on a good amount of passing plays with his pressure up the middle.
To be honest - I was concerned with Devin going into the season and his ability and skill set to be a true # 1 WR. Last spring, I even thought at one point that he may fall down the depth chart behind M.Thomas, C. Smith, or one of the young guys. Then, he gets in that car accident in July and escapes without injury, but you had to worry about maybe the impact mentally. (E+R=0)
The season starts and bang.... Barrett to Devin Smith 80 yard touchdown against Navy. Big Plays. Huge 3 TD game against Wisky. I think he went from a middle round (3-5) pick, up to the 1st round with his senior year performance. With his response to his personal adversity and the fact that you can see he worked hard on his game to make himself into a play maker, he is really the type of guy that you hope has a long career. Although I cheer for all buckeyes in the NFL, I am really pulling for Devin.
"Officer, sir. The man that robbed the bank is over there on that street corner....
Ha. I was just saying the # of days we are going to be there to get any suggestions on what to do on Friday and Saturday nights.
I am heading there this year with my wife and 2 kids, ages 6 and 3. It will be about an 8 to 9 hour drive from Philly for us. It will also be the 1st time in the shoe for the family. We can not wait.... My son is amped up about wearing his new "undisputed hat and shirt, plus his Braxton jersey" while we are on our trip. I am also taking my buddy and his wife and kids on the trip. We are currently working on our mode of transportation. It is a 3 day trip for us, so do we drive separately or do we go " Giant Winnebago" to make it easier for the kids, plus easier for me, as I drink my Basil Hayden's and a 12 pack of Stella's out of my championship cup while my friend drives for many hours. Seriously, this is what we are considering!! (Actually, I am mostly pushing this idea to pay for this option myself so I can drink while someone else drives. It seems the most win-win!)
Spring game, yes --- but as a lifelong fan, this needs to be memorable for all parties, so go hard or go home! We took my son to the Navy game and sat 1st row this season. We still watch it on the DVR every now and then, so I can see how far the team has come, and he can see a tiny version of himself in the corner of the end zone on TV. Such a memorable experience
Anyway, any suggestions on where to stay, what to visit, and where to go with young kids on Friday and Saturday would be greatly appreciated. We are counting down the offseason days to the spring game.
618,
For every crisis, there is a smiling face, opportunity, there is time. People always care. Please reach out and call 800-273-8255. Talking and reaching out helps. You can see right here that people want to help anyway they can
I so miss BUCKSFAN changing icon Fridays for the offseason. It seems so long ago. I couldn't wait to check it 20 times a day to laugh my ass off.
Awesome, Birm! Thanks for the heads up.
Boom Boom.... The Sequel
UFM getting it done this weekend!
Love my Sunday Coffee paired with some BOOM!!!! It's a beautiful thing.
This defense is going to be scary deep with speed and size... When this kid develops with Mick, he could be an "in the box" safety or OLB with sick closing speed. Congrats to Mr. Dean and our coaches on bringing in another stellar student athlete. Love the Inked write up, Birm!
Isn't it easy to cheer on these types of kids.... Urban keeps bringing in great talent and always has, but these guys also seem to have high character. This team is just one of the most enjoyable groups to watch play and are also just very likeable individuals. It continues to be a "bright future at Ohio State." Come on NAtional signing day.
Thanks, Birm! Awesome update.... As usual. There will be a ton of football talent(current and future buckeyes) celebrating this weekend. Great timing!!
Before I go to bed, I read Birm's The Hurry Up to get my recruiting fix. I arrive at work in the morning, get my coffee and catch up with DJ and the Skully daily. Partake in some phenomenal prose by Ramzy when he finds the time to write something epic. I thank all you guys for all you do and the fabulous product you produce everyday.... I think the least we can do is click on an ad with girls in a bikini while at work and show some support.... (Random gif below is because I have watched the NCG 10 times already and it feels like living the dream every time the clock hits 0:00 and we are National Champions. Plus, today is my birthday, as well.) All kidding aside, I have been coming here for several years almost daily and the info and the community is second to none.... This is just the start of an awesome year of being a Buckeye and a part of Eleven Warriors....Cheers
As I'm watching the warm ups, all I can think about is "we're stretching and you're a kicker." Plus, that energizing Kerry Coombs speech that was recorded by zeke's dad, Stacey Elliot back in 2013. So I went and watched it just now.... We are a family! We are The Ohio State University. I recommend watching it again if you have a few minutes. It is so fitting and shows how this team is built, like a family. Confident right now! I feel like the Kool Aid Man.... Where is the wall to run through???? We are gonna do it tonight!!!!
Let's get ready to rumble.... I Can't wait! This team was built for this... Let's get it done boys!!
I agree with Knarcisi. Gladiator
Great News for a Great man!!