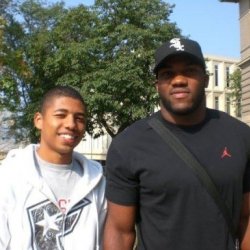 rawlinsriles
Chicago (via Chicago)
MEMBER SINCE November 10, 2014
Chicagoan by birth, Buckeye by choice.
Favorites
COLLEGE FOOTBALL PLAYER: Terrelle Pryor
COLLEGE BASKETBALL PLAYER: Evan Turner
NFL TEAM: Chicago Bears
NHL TEAM: Chicago Blackhawks
NBA TEAM: Chicago Bulls
MLB TEAM: Chicago
SOCCER TEAM: Japan National Teams
Recent Activity
Will be there in person! Go Buckeyes!
A hoss for sure
Yes, a double beating. This was my senior year of HS before going to tOSU and man did I get a ribbing.
I think everyone knows it is Demario McCall.
https://www.elevenwarriors.com/skull-sessions/2017/09/86028/ohio-state-buckeyes-football-demario-mccall-penalties-field-goal-lol-rutgers
Another unique feature of Haverfield is that sexes are separated by floor, rather than by wing, as is common in most dorms.
May have never met the wife if this was the arrangement when I was there. She was my neighbor ;)
Not having Curtis Samuel should be a reason by itself.
It's a bummer that we have solid post position play this year, a cog we usually lack, and don't have much to show for it as a team.
I don't eat apples from that place.
Thanks for telling me about Kellogg's.
Sorry I wasn't more clear. The big issue is drinking at the wedding and getting back from there safely.
1000%
I even got a special section on the website dedicated to my cause.
Yes, I've looked into the bus and that seems plausible.
The Uber/Cab though...
What if my money is used for recruiting funds. It could be the coach up there's next recruiting tactic, kind of like this trip to Italy.
I hear you, but it actually works out because it is being held on Sunday over Labor Day weekend. Plus, the Buckeyes kickoff the season on a Thursday oddly enough.
I have not. RV may solve both my problems. I just don't want to drink and RV.
I'm putting my money on DLo
Long's is gone, Fly Pie is gone, next thing you're going to tell me is Burritos Noches is gone :(
Hamstring looked better
Sign me up for those OSPD positions though... $150K
I'll be present tonight rooting for a Basketbucks victory!