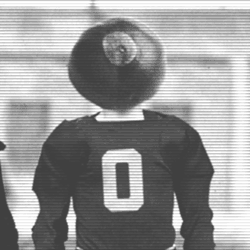 Rapping Bum
---
Victorian Village
Member since 30 July 2012 | Blog
Favorites
COLLEGE FOOTBALL PLAYER: Troy Smith
NFL TEAM: Cleveland Browns
NHL TEAM: Columbus Blue Jackets
NBA TEAM: Cleveland Cavaliers
MLB TEAM: Cleveland Indians
SOCCER TEAM: Columbus Crew
Recent Activity
It is The Factory of Sadness, not of horrors.
Nice to see 11W give an interview to an athlete of lesser known program at OSU.
Too bad is wasn't UFM who woke up in the new Bugatti.
Link to poem brings up a blank page, on Chrome at least.
Not round one, but Brian Robiskie.
Toasted, lightly buttered, all around pretty good. Could have been a tad more toasted, but overall good.
7/10.
Look like, after doing some research it looks like 'Glasses Guy' is the headmaster of Ricky DeBerry's school.
http://www.stchristophers.com/contact
I agree. 6'6/280 (can't teach size), great offer list. Why has this kid not been offered? He would probably commit in about two seconds, I would imagine.
JO, Jack, Paul Brown, Woody, Tress, Archie, Cy Young, and Jerry Lucas.
No mention of Miss Elizabeth (RIP) to go along with Macho Man's write-up?
If this final isn't Macho Man Randy Savage vs William Tecumseh Sherman, I will be disappointed.
O'Connor transfered to Colorado State.
BOOM.
WHACK.
THUD.
TAR BLOOD.
Now I want some Buckeye Donuts. Thanks Ramzy.
Paul Brown is smiling.
Maybe he will be on the Browns in 7-8 years.
This breaks my heart about the Pasta New Oreleans.
Once I made the mistake of subbing out the marinara for alfredo sauce.
MV: 'And that Jamal, is why you do not cook bacon naked'.
Nice knowing you, El Guapo.
edit: Why all the downvotes? He will probably be kicked off the team.
Last talent I remember from Benny was Ray Williams.
Who is that at 1:18?
Hartline?