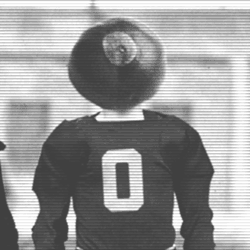 RangerJunior
---
Minnesota (via Twin Cities, MN)
MEMBER SINCE August 03, 2015
Favorites
SPORTS MOMENT: Braxton to Devin, vs. Russell Wilson and Wisconsin, 2011... and now PSU 2017... and now Stefon Diggs against the Saints
COLLEGE FOOTBALL PLAYER: Malcolm Jenkins
COLLEGE BASKETBALL PLAYER: Emeka Okafor
NFL TEAM: Minnesota Vikings
NHL TEAM: Minnesota Wild
NBA TEAM: Minnesota Timberwolves
MLB TEAM: Minnesota Twins
SOCCER TEAM: Germany
Recent Activity
James' prediction: 74-65
Vegas Line: OSU -9
Over/Under: 139.5

Hmmm... Makes u think, for sure
I have a really hard time determining how good this team is. We're dominating a weak conference, and lost all of our difficult non-conference games before we got to January. I think it's difficult to put a finger on how good this team really is given the lack of quality Big Ten teams. 2 seeds are no-joke!
It's amazing what they've done to this point and they're fun to watch. I'm thrilled they'll be playing in the NCAA tournament, regardless of seed, draw, or location.
Love this perspective. Any reasonable fan would have laughed at you post-Iowa if you said we'd win the Big Ten and finish #5 in the playoff rankings at the end of the regular season.
I'll never forget how fun the 2010 Rose Bowl win was. That team lost to USC and Purdue, but beat Oregon in the Rose Bowl and the Ohio State fanbase was ecstatic. I'll be in a similar mood after we beat USC on 12/29!
We've really got it made.
I just realized this... December 2 could be a wild day on FOX for Buckeye and Wisconsin fans.
Buckeyes Basketball plays at Wisconsin at 5pm on FOX
Buckeyes football could be in B1G Championship against Wisconsin at 8pm on FOX
Could Gus Johnson call both games?!
Great analysis, thanks for the time you put into these articles.
On the 3rd & 9 in the second overtime, where Samuel essentially single-handedly saved the game with his "Run Across Ohio," the call was a swing pass. Similar to JT's touchdown in the first overtime, their LBs and secondary flowed to Samuel. JT could have walked into the endzone from 24 yards out if he kept and ran up the middle... Just something I noticed.
It's all for naught anyways... Go Bucks!
Thanks for the help! It's a fairly quick trip, Saturday morning to Tuesday evening. So not a lot of time to do too much exploring. Obviously going to take two days to hit the main attractions plus the Christmas flare. Sneaking in a Rangers/Devils game. Planning to see the Rockettes and possibly a Broadway play, and will get to High Line for sure.
As far as food -- we love Italian, so some good pies will be a must and probably an evening dinner at a steakhouse or something unique to NYC.
Beyond that, doing my research and trying to crowd source from Buckeye Nation to make sure we make the most of our time there.
I'm still too new to start a topic, and not sure this will get seen, but taking the girlfriend to NYC in mid December to get in the Holiday spirit. Never been to NYC, so looking for any helpful tips... Things to do and see that aren't clearly obvious to a tourist, good restaurants, etc...
Planning on staying near Midtown and going to a Rangers game for sure. Appreciate any insight!
Best: Can't decide ...
MoC and the Buckeyes vs. Texas Tech in 2002
Braxton and the Buckeyes vs. Wisconsin in 2011
Worst: Can't decide....
Pryor and the Buckeyes at Wisconsin in 2010
JT and the Buckeyes vs. Virginia Tech in 2014
Good thread discussion
Great Situational, Ramzy.
I didn't have a sore throat till I read this and now it's scratchy. Thanks.
I don't post often, but It's Michigan week. The MSU game is over and it's time to move on from this loss, even though it stings. The coaches and players will learn from the MSU game, and will be more prepared for Michigan because of the loss. A win against Michigan would go a LONG way, and sets the tone for years to come. I am excited, and as a fan, it's important to remember that we've been spoiled since Urban got here. I wouldn't bet against Urban in this rivalry game. He is going to want this one, very badly. O-H!!
I ruined everything.
I'm at the game right now. Michigan fans are silent, and it's incredible. They're speechless
300 because I know no one is silly enough to actually think Northern Illinois is going to pass for an even 300 yards against us and I am late so all the good answers are taken (69-269, nice)
Been a lurker for a few years but officially signed up recently. Saved this article from last year. It's an absolute thing of beauty. Thanks for writing, Ramzy, and I am looking forward to your 2015 piece.