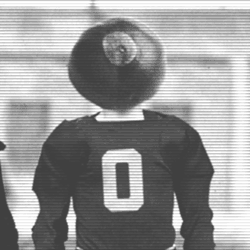 rand443
---
from Zanesville / Upper Arlington
MEMBER SINCE December 08, 2012
been going to games since 1968
Favorites
SPORTS MOMENT: going onto the field after another win over TTUN
NFL TEAM: raiders
NHL TEAM: Blue Jackets
MLB TEAM: orioles
Recent Activity
M Jordan was over shadowed on his college team , much like Tom Brady at TTUN
i had no fingernails left
Section 4 bb
did he ever start for the BUCKEYES ??
and yet he was drafted by New England
perhaps LOWERING prices on basketball tickets would increase attendance
if not total revenue in the long run
many of the players and coaches from that game are gone
hardly the same game
I'm more worried about people in our part of the country
I feel like we played POORLY and yet we beat a top ten team by eleven (WARRIORS)
stats say we dominated
Brady Quinn is too pretty to fight
many of their fans had already LEFT by then
O U bobcat named Rufus ??
in and around campus there are dozens
https://www.flickr.com/photos/tommarker/sets/72157608106134034/
i love the fact that they use scarlet and gray lettering to write with
free mixers !??! HELL YES
stop raising prices and the crowds will return
is the baloney sandwich named after Coach Harbaugh ??
how many leagues are there ??
to me ,going to the 3;30 ruins watching other games
I did NOT see TTUN among the choices
enjoy what ever you chose to do
I hope her name is NOT Mary
as on Mary Chrisman
rookies are cheaper than established talents
so you're telling me there's a chance
OSU 5 Nwest 3
after eight minutes
first to thirty wins ??