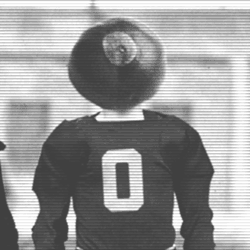 ramymora
---
San Francisco Bay Area
MEMBER SINCE August 19, 2014
Favorites
SPORTS MOMENT: Maradona's Argentina winning the 1986 World Cup
COLLEGE FOOTBALL PLAYER: Troy Smith
COLLEGE BASKETBALL PLAYER: Jimmy Jackson
NFL TEAM: New York Giants
NHL TEAM: Montreal Canadiens
NBA TEAM: Los Angeles Lakers
MLB TEAM: San Francisco Giants and Cincinnati Reds
SOCCER TEAM: Argentina
Recent Activity
Can we swap our men's basketball players with U of Cincinnati?
Let's double the size of our football stadium
Nebraska isn't going to make him taller. At 5'9 he is not going to be an every down NFL receiver and if they sold him on this and he believed them, he is a fool. Having said that, I wish him the best of luck.
He will be a captain at OSU, some day.
Could this mean that Wariner is gone?
A great and a classy Buckeye. With all these underclassmen declaring, it should help our scholarship crunch.
Hire Rick Neuheisel to run our offense and develop our QBs. Bama seems to convince great coaches to join them, I am sure we can pay top $.
Does anyone know Meyer's Florida teams pass rankings while he was there? I bet they were dismal just like here at OSU. The man doesn't recruit or want to passing QBs. He want his QBs to run the ball and wins with outstanding defensive lines and special teams. Anyone hoping for a top passing attack under Meyer is dreaming.
Clemson had the youngest team in CFP in 2015 and almost beat Bama in the championship game. Losing the way we did last night was more than just youth.
He made several bad hires at Florida when he lost great assistants and it led to his demise there. He just hired a Fickel replacement who was an average DC in the NFL because of their close friendship. I just hope he replaces Beck, Smith, and re-assigns Wariner to a different role.
Our playcalling and playbooks are ordinary and lack creativity. Last year we all blamed the dual QB system for the inconsistent passing game. But, we also saw JT struggled whenever he came in for CJ.
Our offense is too vanilla and we are not developing enough playmakers nor are we developing WRs, TEs, etc. While Haskins, Burrow, Martell, and Emory Jones may be better pure passers with stronger arms than JT, they will struggle in an offense where everyone in the stadium knows what they are trying to do. This is not all JT's fault. Get better coaches on offense that can develop and take advantage of all of our talent. Weber had one stinking carry in the 1st half and Meyer didn't know this until the post-game press conference. How many times did this year we see either Webber or Samuel not get enough carries for an entire half yer Meyer keeps preaching 50/50 balance between run and pass?
What about Special Teams. When will we block punts and field goals? When will we coach and develop great punt returners?
If Meyer doesn't make changes to the offensive staff soon and refrains from hiring his friends, we will not get better. This offense has been regressing for two years, and it is not just JT who has been regressing.
It is Thad Matta's fault.
Is Dontre Wilson playing? I haven't seen him all night.
I would do anything to watch him play one more time in scarlet and gray.
I didn't watch the game, but the discrepancy between our football and basketball program has never been this great. On the one hand, we have a football program hauling in top recruiting classes and competing for national championships every single year despite losing assistant coaches and having inexperienced freshmen on the team. On the other hand, we have a men's basketball program that is struggling to just make the NCAA tournament. Are we not recruiting the right players? Is Lyle that most overhyped player in recent memory? We are losing recruits to Xavier, Butler, and other smaller schools. There's no sign of improvements anytime soon as I don't see great recruits coming and I don't see a coaching staff developing players better than they have over the last few years.
We have five weeks to hire an offensive/QB consultant to band-aid the passing game and playcalling.
I would love to see a tracker of all Freshmen who lost their black stipes and their actual playing time.
The point is that you don't put your weak/worst DBs (Arnette and Webb) on the other team's best receiver. They were being abused by Carr and no adjustment was made. You put your best DBs against the best receivers and if you get beat, then at least you tried. We are not making adjustments on both ends with this coaching staff.
Is coach Meyer in denial about Wilson returning punts? Seriously, why is Wilson still returning punts? Three years in a row not able to handle punts, making poor decisions and never making up for his mistakes.
Sorry, but what good team has Michigan played this year, outside of a home game against Wisky?
No matter how we look at this, it will be Joey's loss "if" he ends up missing significant playing time or the entire season. His first camp and year are the most important in his career. The Chargers fans will get over it once he gets his first sack.
Why are we talking about the Cavs here? Isn't this an OSU football site? What's next? We cover the Bengals, Indians, Reds, etc?
With many moving to NFL and/or graduating, where does this put the total scholarship number available for 2016 class? We have 18 recruits so far in what was supposed to be a class of 22 recruits, but I am wondering if this may be a larger class now?
It was the same offensive game plan we called against Penn St. It worked then because JT was able to escape the tackles and run as he only threw four passes total in that game. Nobody complained about the boring play-calling after that win.The other difference is that our defense made so many timely penalties that kept Sparty's drives alive. For some strange reason we have been playing very conservative offense this entire year especially against good teams. I expect the team to be even more conservative this Saturday unfortunately.