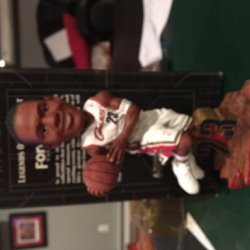 raiders91sc
Van Wert, OH (via Grover Hill, OH)
MEMBER SINCE October 10, 2016
Graduated from tOSU. Retired from The US Army-Infantry.
Favorites
SPORTS MOMENT: 1991 OHSAA Basketball State Champions
COLLEGE FOOTBALL PLAYER: Braxton Miller
COLLEGE BASKETBALL PLAYER: Jimmy Jackson
NFL TEAM: Cleveland Browns
NHL TEAM: Columbus Blue Jackets
NBA TEAM: Cleveland Cavs
MLB TEAM: Cleveland Indians
Recent Activity
After u graduate college u shouldn't wear a jersey with another mans name on the back.
But live and let live.
Borland looks good all week in controlled drills/practice. Browning still learning and makes mistakes at practice.
But game film doesn't lie. Borland usually in right position but doesn't make many big time plays. Browning is getting closer to being usually in the right position and makes big plays.
This is the only thing I can think of why Borland plays more than Browning right now.
Borland must look incredible during the week in drills to make 2 different staffs forget what they see on game film on sunday.
quit watching it and watch fox sports 1.
how many advertisements do I have to see/watch to see one film clip. 11 plays and 11 commercials.
make sure ur inspector really inspected the house for issues--mold, foundation issues, roof leaks, etc.. with so many people flipping houses a lot of hidden secrets being over looked. ur average home inspector spends a hour in there and just checks the boxes.
no mechanism for collection?? I use collection agencys with court judgements with no issue.
Ohio is not bad on time in evictions. You do a 3 day eviction notice. After 3 days you file in court and usually get in front of a judge in 2 weeks. 3 weeks is longest I have waited. Usually a judge will allow 1 continuance requested by the tenant so u wait another week. Come back to court and if ur paperwork is correct and ur reason legal judge gives tenant 3 to 7 days to move. I usually ask for a 3 day removal. So around 30 days. I always ask for lawyer expenses from tenant. Make a deal with the devil(collection agency) and get ur past rent, damages, and lawyer fees.
They won that tournament on defense and teamwork. I was a nervous wreck watching that game last night. It felt like watching the FB team playing for the national title.
Buford and Lighty dominated on both ends of the floor.
Craft's defense was incredible.
Diebler, Gibbs, Ravenal, Ross, and McCamery all had stretches where they helped in scoring, rebounding or defense. Total team effort.
Their defense was for 4 quarters and carried them all the way to the title.
Happy the guys got paid.
I wonder if they would trade this title and the 2 million in for a NCAA title at tOSU.
I was wrong on Gibbs. tOSU wouldn't be in the finals without him in that game.
Buford Lighty and Craft just beat back to back teams that probably had 6 or 7 NBA players and they cant even get a cup of coffee.
https://247sports.com/college/ohio-state/Sport/Football/AllTimeRecruits/
Why isn't Sulley playing?
Deshaun Thomas on roster wonder if he is playing next week.
Why do they keep playing Gibbs and Pigram? the difference btw them and the other 7 players is staggering.
Lighty and Buford have to play good and Craft stay out of foul trouble in the next round to advance.
Thank you Shark for your sacrifice and thank you for making my military career better.
they have the same problem that they had in college. no one on the roster can get buckets by themselves when needed. Sulley is close but in todays game playing in the post limits you.
Fredette with the help of the their big post player just outscored them.
Helped my Uncle train horses and I gamble to much. So I have spent way too much time at the track. It was an easy call. The race being the Kentucky Derby made it very difficult. First time in 145 years and the biggest race in the world. I wouldn't want to be those stewards. If he came out a 1 lane and maybe a 1 and 1/2 lanes and interfered he might of gotten away with it but the horse came out 4 wide.
The jockey's excuse was the horse got scared from the crowd. I half believe him. They are 2 year old horses so they haven't raced much plus the conditions were really bad. I would of expected that good of a jockey to pull him back to the rail once he got out of the 1st lane. But shit happens with 2 years old and on conditions like that.
He is my favorite because he is so dumb!
Haskins better be drafted by Washington or he is dropping way down
rumors going around about Dad, family, and business they are in.
Like I said rumors.
Seems kinda weird but in todays world everyone is crazy.
what does it say? cant read it
I'm not a big hockey fan but it seems like there is more upsets in hockey then basketball in playoffs. Both play series and not 1 game and it probably shouldn't happen more.
Is this correct and why?
Fields didn't come here to run the ball. This kid wants to be a NFL QB and has been working hard to be that for the last 4 years. The QB guru he has been working with during the summer isn't teaching him how to rush for 100 yards.
Will tOSU run the QB more this year than last year? Yes, Haskins couldn't run to save his life. JT averaged 800 yards a year. I would expect Field's highest to be maybe 600 yards his 1st year and will continue to fall each year.
A good poll question would be Fields over/under 500 yards on the ground next year. If I didn't see the spring game I would say under but after watching that I would say over.
I agree not all tech is bad but it is something to look at. Tech doesn't affect every kid the same way but again it is something to look at.
There is a big push with the ultra rich right now for less tech for their kids and more human interaction. At school and at home. I don't know if it is a fad, has sound science behind it or just because they have money to burn. It is something to investigate for ur kids.