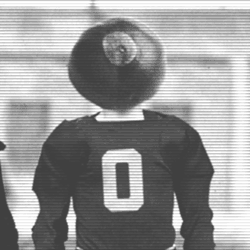 raiderred
---
MEMBER SINCE June 25, 2013
Recent Activity
My guess is he won't be coming here unless he's a scholarship player.
This is why you need to get a qb every year. Never know what's going to happen.
Would have guessed this would be more of a Michigan problem to be honest. Surprised mccaffrey and peters haven't transferred with how harbaugh takes grad transfer qbs.
Be a monster get. Was really under utilized by Nevada this year. Nevada just liked using more experience players. Don't think we really have a chance at him but he would be a Home run get.
This certainly ruined my day
I think a lot of people are missing how great it will Be for Wesson to battle against diallo in practice. Wesson always struggled against length in games. He's never had an ideal big to practice against so I think Diallo will help improve Wesson just as much as Wesson improves Diallo.
Yeah theres plenty of guys that do. One was ochai agbaji from Kansas. He was given a scholarship by Self and told that he was going to most likely redshirt that year. He accepted it still. He ended up playing because of injuries and the drama at Kansas but he was projected to redshirt for them this year. So yes, it does happen a good amount.
He's going to be good. I probably would have offered him with the 13th scholarship we have on the premise he knows he is more than likely going to redshirt and is alright with that.
Agreed. Was a good ft shooter so shows he has some potential for a mid range game.
I mean over half of them they aren't. Duaster, SI, athletic and Espn don't have them ranked. So a majority don't have them ranked which is my point. They are rated so low when they were a top 25 team for a majority of the year and return basically everyone was what i was saying. Think that would be a sign for a guaranteed top 15 ranking at least.
Preseason polls are worthless but I think 15-20 range is fair. Know what we have already is a solid nucleus but need to see if Carton and Walker take this team up a notch from last year. If they do, I think this team has all the pieces to be more of top 12 team. Only thing I really see missing, assuming we get another big, is a go to scorer on the wing who can slash and create his own bucket. Otherwise, this team was already an elite team defensively and should only improve upon that and the offense for next year.
Side note: surprised Iowa isn't highly ranked let alone ranked in some of these polls. They were for most of the year and return everyone from their rotation except one guy. Got a lot of size and a really good pg in Bohannon.
Loved these assistant coaches. Sad to see him go. Luckily I think Carrollton is locked in at osu at this point. Pedon will be the one that hurts the most so hopefully he stays this year. Just an awesome recruiter from all accounts.
Yeah completely agree. He put up solid production for a big guy in his first few years that had no confidence in his knees. Id say he was better than expected for how bad his knees were hampering him. It stinks because you saw all the talent and gifts he had at OSU when healthy. I mean the guy even shot a pretty decent ft percentage with his opposite hand. Just one of those things where it wasn't meant to be. And it sucks because he will always be known as the guy taken before KD. A true bust is a guy like Anthony Bennett. Greg Oden doesn't deserve that label.
I mean the Greg oden team has to be the best team I saw not to win a national championship in the 2000s. They just ran into a buzzsaw and played perhaps the national championship team of the 2000s. Sucked that year of oden had to coincide with a team that returned practically everyone back and won a national title the previous year.
The biggest killer was the Brandon knight shot in the sweet sixteen. I think we were clearly the best team in the country that year. Bufford basically shot us out of the game that year. That was the most painful buckeye game I've seen because that should have been our year and to lose it on a game winning shot on a crappy player like Brandon knight made my soul leave my body that day.
Why would he be grad transferring from Harvard? I agree he'd be the perfect player to get from the grad transfer market for Ohio State because we need a guy who can be a go to wing scorer and get his own bucket. But I mean he missed all of this year with injury but still has one more. It would make sense next year him grad transferring for a fifth year because ivy league schools don't take fifth year players for some reason. I highly doubt this year though. Not like Amaker is leaving and Harvard is always a top two team in the ivy with him. I mean they should have won the ivy this year but they suffered a ton of key injuries like Towns. And they are going to be even better next year with basically everyone back. So it doesn't really make sense for him to leave this year and not a lot of players transfer out of Harvard historically under amaker.
It said less than an ounce. We don't know how much they had. And maybe they just buy in bulk. A lot easier to justify having those guys on the team than some others.
And one of them is former osu commit Brenton cox. Man I really wanted him. He played a good amount as a freshman last year too. Looked good. Would say we dodged a bullet but less than an ounce of marijuana are pretty low on the list of bad things you can be arrested for. Lot less serious than the other players on the teams problems.
My alma mater Denison Unviersity is having a solid year. Ranked #14 in the country right now. Usually a top team in the NCAC. Really get a lot of kids from the Northeast.
Yeah it has even this year. There's a big man on vcu named Michael Gilmore I think. He started off at vcu, transferred to Florida gulf coast and then transferred back to vcu for his senior year. It happens I guess.
Agreed. You don't need 3 centers. Centers have become if anything obsolete. You want versatile players who can play multiple positions. Get Diallo and the best grad transfer you can as you said. Preferably a good slashing wing who can make plays. Need a go to scorer on this team and it becomes dangerous.
Or he could have just disliked the head coach?!? He wasn't recruited by him and Jordan hasn't proven to be a great head coach yet. Guys transfer for a lot of reasons. Not just one solely. He was a top 100 recruit in high school. Probably has high expectations and wants a brand new start without an already established starting center on the roster.
Completely agree. PG is the most stacked position in the nba too and it's not like a wing where you can play the 2, 3, or even sometimes the 4. It's usually only one pg on the floor all the time. It's a shame because he got to be a top 5 player in nba history to never get an all star appearance.
The OP states above clearly that he is a graduate transfer.
Wouldn't be opposed to this. Solid player. But I think he's looking for more playing time and not less. And I can't imagine him wanting to come here with kaleb and himself probably unable to play together. So that leaves around 12-14 minutes a game on average kaleb is not going to be playing. Can't imagine he'd be happy with that but worth a shot.
Very true. I think he was a great fit for college and his style of play. He really was phenomenal at mining the transfer route too. Think he would turn Nebraska around.
I also think the Bulls are a mess of an organization. Hard to win there when the higher ups like Garpax are so incompetent.