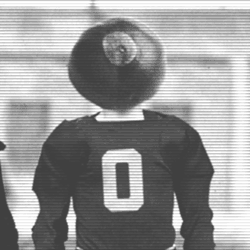 raiderred
---
MEMBER SINCE June 25, 2013
Recent Activity
AE with the CB for Ransom to the good guys.
Don't think this warrants a forum post. Not like he's a star player on their team. Wasn't even one of their 3 best receivers. Not really news unless we are trying to be a Michigan board here
I have a pretty good feeling Kaleb is going to explode this season and be all big 10. He had absolutely no help this year and we were so reliant on him. Going to be much better around him and he will benefit with less focus on him. He gets unreal positioning and post moves on the block. Just needs to clean up the finishing as holtmann alluded to.
Does that mean he will leave? Does anybody know the round drafted that people usually stay vs. go to the mlb?
Exactly. More exposure to top recruits. Reason why top coaches like Coach K do these things.
Christopher oats turned out to have a pretty good year for Kentucky last year. Started a game or two.
I don't think any sane fan has been questioning LJ these past few years or this year. Think his track record is recognized by almost every fan and gives him the benefit of the doubt.
I doubt he could practice everyday and is not the athlete that Diallo is anymore. But yes Greg definitely helped him out with some offensive moves
Maybe could help with our lacrosse team a bit too with some playmaking. What a great athlete.
This team is loaded. And I expect Wesson to really improve this year. Especially around the rim. He gets such incredible positioning but doesn't always finish. Think having another center on the roster to actually practice against, and who is a defensive shot blocker, will really improve his game
Yeah but osu baseball is nothing like osu football. They aren't signing the top players in the country, let alone the state. Osu football is more comparable to LSU baseball. Osu baseball isn't normally signing players in their class that are being drafted very high in the mlb. They aren't being gutted like a top program because they aren't getting the best players. Osu baseball recruits sort of like Maryland football where a lot of the top talent doesn't stay home.
That the University is still insisting on changing the name is one of the dumbest decisions. These guys represented OSU well as students and deserve/earned the respect to wear that name proud as great alumni of the University.
They didn't update it after this years draft. We should be tied with usc for most first rounders.
I mean we got Sullinger and Thomas before him. Koufos and Mullen's even though both of them were not great. And Conley and oden. I'd say never is a stretch. If holtmann wins, we tend to be able to keep at least some of the five star players in our backyard.
Love Holtman. He's building a roster so well for a team that isn't a blue blood. Such a smart move to get a talented transfer every year. Allows Holtman to coach him up for a year and get him in his system. No national title contending team is ever going to play 10 guys let alone 13. Might as well use a couple on transfers like this. Holtman is really doing an amazing job building this roster and depth. Could not be more impressed with him. Absolutely got a steal from Butler with him.
Took a prep year instead of going to college so they became eligible.
Our year this time guys. After wake forest ruined the great run last year. Keep it going men.
Be a heck of a get. On a really bad team but still the best player. A really good and ideal stretch 4 who can shoot the three. Be an awesome get.
Look I hate Clemson as much as the next guy but to say he's definitively better than Renfrow is asinine. Dude put up twice as many yards in his college career and stepped up big with the game winning catch in a national championship game. Worked his ass off from walk on to scholarship.
Not at all. I'd say gaining two starters is a hundred times better than what we have lost. Especially since one was the number two player in the country and the other was all conference
According to Jon Roth stein we have shown interest in Shawn occeus, a guard from northeastern, and nysier Brooks, starting center on Cincinnati this past year. I know brooks has to sit a year but not sure about occeus. Interesting holtmann has approached a guard and a big. Occeus is not much of a scorer but a tenancious defender that won defense player of the year his sophomore year. Injured for over half the year this past season. I'd be happy with either.
My guess is he won't be coming here unless he's a scholarship player.
This is why you need to get a qb every year. Never know what's going to happen.
Would have guessed this would be more of a Michigan problem to be honest. Surprised mccaffrey and peters haven't transferred with how harbaugh takes grad transfer qbs.
Be a monster get. Was really under utilized by Nevada this year. Nevada just liked using more experience players. Don't think we really have a chance at him but he would be a Home run get.
This certainly ruined my day